Biking through the Heart of the Tuscan Countryside
With lush rolling hills, medieval towns and meandering roads keeping it all together, Tuscany is a biker's idyll. There is something eminently peaceful in riding through hilltop towns that have stood watch since the Middle Ages, passing vines tended by generations of winemakers and savouring traditional cuisine made from the freshest and tastiest local ingredients. This is the region you imagine when you think of Italy - home to olive groves and cypress trees, Roman battlefields and Renaissance churches, and a who's who of charming villages - from tiny Trequanda and Montisi to Gaiole in Chianti, Siena and Pienza. A trip perfect for friends and families!
The Journey - 6 Days/5 Nights 
Days 1 & 2 - Val di Chiana 
We depart Florence and travel by private coach
to the Val di Chiana, the largest and broadest valley in the Apennines and a rich agricultural center. Our destination is a noble home outside of Trequanda, where we will get comfortable on our bikes. From here we will cycle to tiny Montisi, arriving in time for lunch at the cozy trattoria of Signor Bindi on the edge of his olive oil estate. After a heavenly repast we'll descend into the valley towards the hotel. Keen riders have the option of cycling on to Pienza. Tonight we'll reconvene for an aperitivo al fresco before dining on the delicacies prepared by Locanda dell'Amorosa's talented chef. A fitting ending to a fine first day!
The following day's ride is through rolling countryside, passing such charming (and charmingly unfrequented) villages as Borgonuovo and Farneta, en route to our very special private picnic at Casa Lungarella. This isn't a restaurant - the Lungarellas are a delightful Tuscan family who have graciously invited us into their home for an afternoon of food and fun that you won't soon forget. If you've never danced in cycling shoes, today will be your chance! Either way we'll be thankful for the activity as a way of working off Sara's irresistible tiramisu.Tonight we will regroup for an informative tasting of Tuscan reds before heading to the neighboring town of Bettole for dinner at our friend Walter's acclaimed restaurant in a picturesque villa.
HOTEL:  Locanda dell'Amorosa, Sinalunga
For Carlo Citterio, the Locanda dell'Amorosa is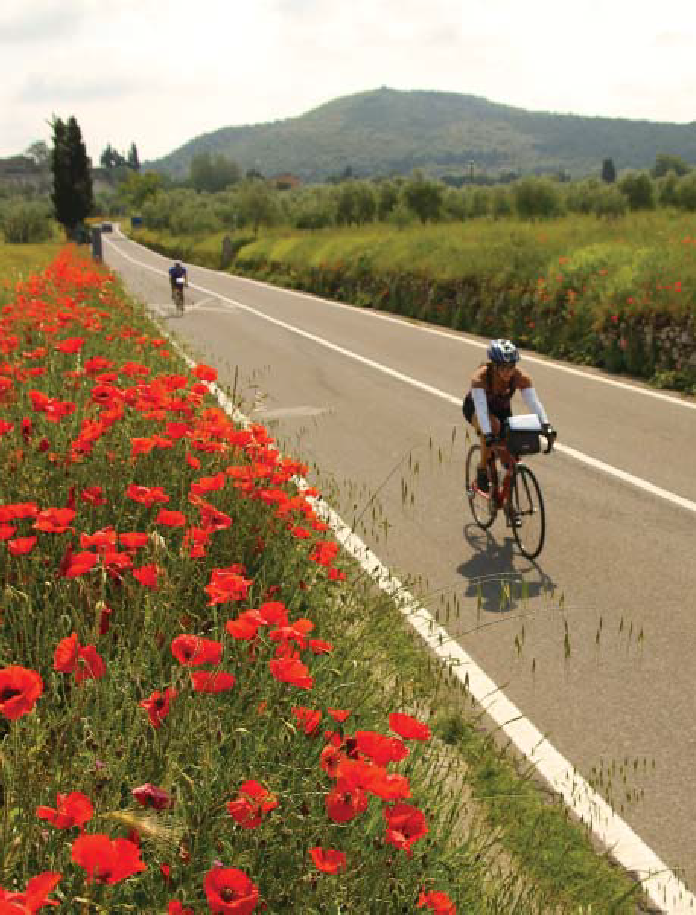 a work in progress and a labour of love. When he set out to restore the property that has been in his family for centuries, his first step was to convert the stables into a superb restaurant. Soon other buildings were refurbished: your bedroom may well have been a clock tower or the hunting lodge. Literally translated as "lodging of romance," the Locanda exudes just that, and has long been a favourite retreat.
THE BIKING: 
Day 1: A 31 km (19 mi.) warm-up ride from Trequanda to Sinalunga via Montisi, with a few medium-sized hills. Those up for an extra challenge may cycle an additional 23 km (14 mi.) to Pienza. Elevation gain: 480 m
Day 2: A 50 km (31 mi.) ride through the valley. There are two options today: a 31 km (19 mi.) extra loop, and the Century Ride through the picturesque Val d'Orcia stopping at the small hamlet of Montichiello (109 km/68 mi.), which presents several more climbs. Elevation gain: 370 m
Day 3 - Cypress Trees, Olive Groves & Spectacular Siena
On today's ride we'll see some of the most stunning scenery of the week as we pedal through the crete (pronounced cray-tay), the clay hills leading northwest to Siena. Those wishing to ride a little more can take the long route, passing by the monastery of Monte Oliveto Maggiore, with its remarkable fresco cycle. Either way, you'll leave your bikes at an organic winery just ouside of Siena and taxi in to town, avoiding all of the traffic.
Time to explore the city for a late lunch on your own before freshening up at the hotel, just steps from the main square. This evening we'll enjoy a walking tour of the city's most famous sites with our local historian: glimpsing inside Siena's 13thC cathedral - one of Italy's most striking pieces of cathedral architecture - as well as visit the Piazza del Campo, location of the famed Palio horse race. Tonight, we'll be sure to give you our top suggestions for a night out on the town as you are free to explore Siena's bustling restaurant scene. 
HOTEL:  Grand Hotel Continental
Located in the heart of historical and vibrant
Siena, the five-star Grand Hotel Continental is a converted 17th century palazzo, originally designed by the baroque architect Giovanni Fontana. Ponder the history of this majestic, beautifully frescoed building as you sip prosecco in the courtyard or take advantage of its location by heading out to explore Siena's bustling scene.
THE BIKING:
Day 3: A fairly challenging 43 km (26 mi.) day with scenery that justifies the effort! 
Days 4 & 5 - Chianti 
This morning you can either sleep late and linger over breakfast, or else head out on a longer morning ride. Either way, our jaunt through the beautiful vineyards of Chianti takes us to Brolio Castle. The estate is still home to the descendants of the Baron Ricasoli,"inventor" of the blend of grape varietals that make up the now-famous Chianti Classico appellation. You will have a chance to sample some of the estate's famous reds while partaking in a delicious lunch of Tuscan charcuterie and homemade pasta. The afternoon ride to the hotel is relatively easygoing, giving you a chance to take a dip in both (that's right, both) swimming pools at your hotel. Tonight we'll re-group for dinner in the hotel's praiseworthy restaurant overlooking the extraordinary Tuscan countryside.
Our final day offers an exquisite loop ride through the rolling hills of Chianti, with its wooded groves and hilltop vineyards. We'll visit the well-known villages of Gaiole and Radda, both postcard-picturesque, and we'll give you our suggestions for lunch on your own in either. This evening we're in for treat: we've been specially invited to a private tasting and dinner in one of the region's top wineries, complete with a million-euro view across the Chianti landscape. We won't give away any more details, however, lest we ruin the surprise!
HOTEL:  Le Fontanelle, Pianella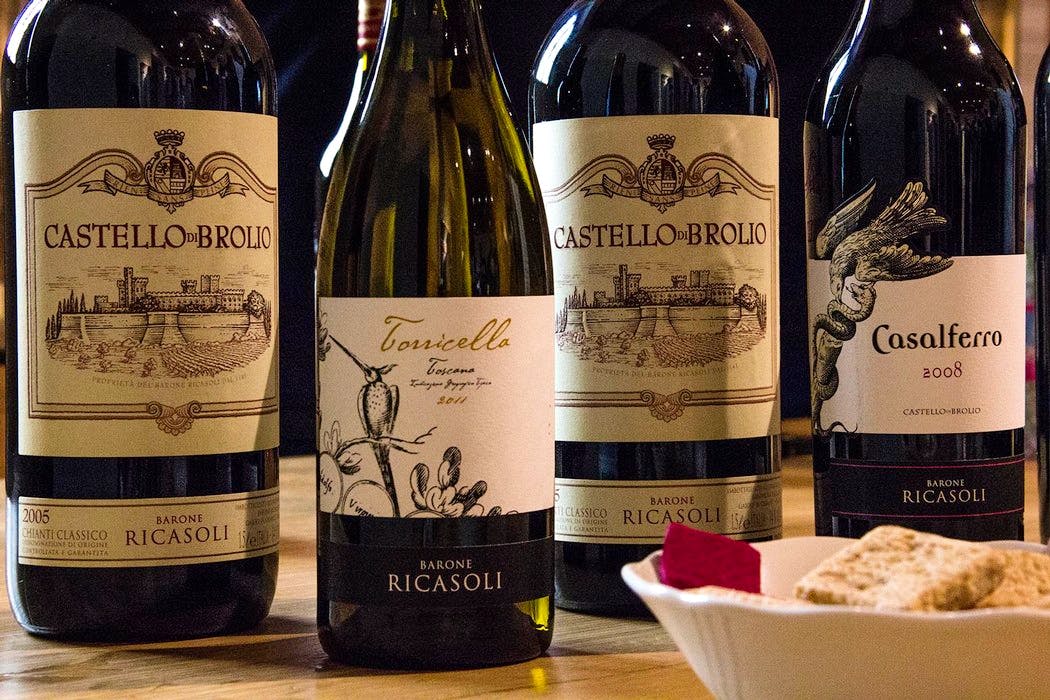 Painstakingly restored over the course of a decade, Le Fontanelle blends classic medieval Tuscan architecture with thoroughly modern amenities and service. The rooms are comfortable and spacious, and downtime options include a full spa and indoor/outdoor pools, all of which afford splendid views of the Chianti hills.
THE BIKING:
Day 4: A 34 or 65 km (21 or 40 mi.) ride with several rolling hills (it is Tuscany after all!). Elevation gain: 530 m
Day 5: A 35 or 46 km (21 or 28 mi.) moderately challenging ride through the heart of Chianti. Elevation gain: 870 m
Day 6 - Homeward Bound
After breakfast together at the hotel, we deliver you to the train station in Florence. Farewell and safe travels.
Suggestion:  Extend your visit in Florence on your own .. then head out to the "Med" for a few days of pure bliss.
Activity Level: Enthusiast 
We cover hilly
terrain, but we've kept the average daily distance to a moderate 38 km
(24 miles). As much as possible, we avoid the steepest climbs, but please be aware that Tuscany is hilly. 
WHAT'S INCLUDED 
• All hotel accommodations
• All breakfasts, three lunches, four dinners, including wine
• Services of B&R guide(s) and support van
• All special events, private tours, guest experts and entrance fees
• Use of a customized hybrid or a racing bike with drop bars, equipped with handlebar bag and helmet
• Detailed maps, route suggestions and water bottle
• All transportation from rendezvous to drop-off
• All baggage transportation
• All gratuities for baggage, porters and hotel service

Here's Another Idea - Choose one of our luxurious VILLAS as your homebase from which to explore and let us take care of the details. Biking, hiking, wine tasting, eating, learning and exploring . . . we've got them all up our sleeves and are happy to make your stay as perfecto as possible.
Perfect for Private Travel .. Choose Your Dates!
Small Group Departures also available.
Call for Details 800-757-6422
Resorts & Charted Courses in association with Butterfield & Robinson