Luxury Perfected - Seven Seas Splendor
Building on our long tradition of being the most inclusive luxury experience in the world, Regent Seven Seas is creating something beyond all expectations. We are yet again elevating a new standard for luxury by striving for the ultimate achievement - perfection. Get Ready for Seven Seas Splendor's Inaugural Season 2020. Reservations are open. 

 IT'S ALL INCLUDED - The Most Inclusive Luxury Experience™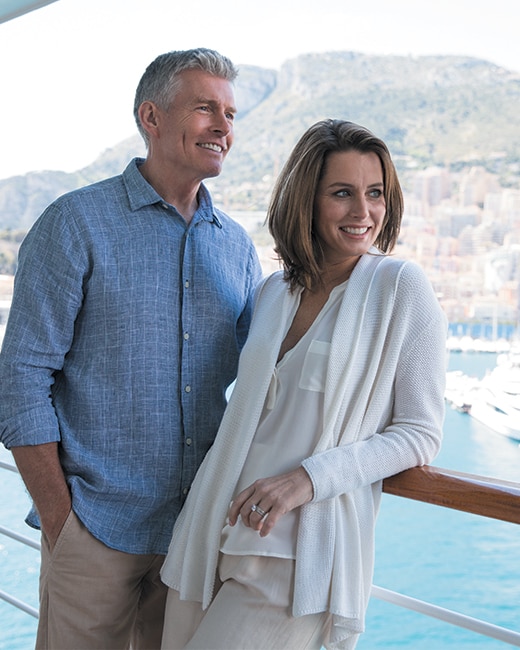 This is cruising as it was meant to be — where even the most sought-after amenities are included: FREE Business Class Air, FREE Unlimited Shore Excursions, FREE WiFi, and much more. Guests enjoy unparalleled hospitality and impeccable service by our professional staff in a sophisticated ambiance, and delight in the expansive spaciousness of all-suite accommodations, indulge in the exquisite cuisine of the finest dining experience at sea, and explore the world's greatest destinations without limits. Only Regent Seven Seas Cruises offers FREE UNLIMITED SHORE EXCURSIONS. Shore excursions are the heart of every destination, allowing our guests to experience the history, culture and cuisine of the exciting ports of call visited with knowledgeable local guides and comfortable transportation. And by offering unlimited shore excursions, guests can take as many tours in a day and during their entire voyage as time permits and their penchant for adventure allows. Guests really can have it all aboard Regent Seven Seas Cruises®.
THE SUITE LIFE
You have arrived at the ultimate destination – your SUITE. Within these serene havens of repose, you will have every luxurious amenity at your reach and a team of professional staff members to tend to your requests, delivering a flawless experience at every turn. Regent Seven Seas Splendor will feature all-suite accommodations that range from 300 to 4,443 square feet, boasting elegant décor with custom-crafted furnishings and private teak balconies. Marble appointments accent the bath, featuring a tub or walk-in shower and the majority of suites feature a walk-in closet. A spacious sitting area is enhanced by soothing colors and rich textures with plenty of room to stretch out and watch a movie, read a best seller, or simply enjoy ever-changing vistas that stretch to the horizon's edge.

EXQUISITE CUISINE - Savor... It's All Included.
CHARTREUSE - PACIFIC RIM - PRIME 7 - COMPASS ROSE - LA VERANDA - SETTE MARI AT LA VERANDA - POOL GRILL - ROOM SERVICE
With 8 dining options, dine whenever, wherever and with whomever you choose in any of our open-seating restaurants. Simply request a table when the mood strikes and the maître d' will happily seat your party. Whether you're delighting in a casual al fresco lunch at the Pool Grill while overlooking the ocean blue or are savoring a USDA Prime dry-aged porterhouse steak while enjoying the sophisticated ambiance of Prime 7, our highly trained culinary team has put their heart and soul into making your every bite more delicious than the last. From the warm welcome of your Maître D' to the impeccable service of your Waiter to the elegant décor and flawless presentation of each restaurant, you will be consistently pleased – and that's before you are swept away by our Chef's creations and our Sommelier's perfect wine pairings.

DAYTIME ACTIVITIES
POOL DECK: Our open-air upper decks are always hubs of activity. Relax in the shade or work on your tan on a comfortable chaise lounge, refreshing drink in hand; or jog around the oval track in the fresh sea air. Ease into a soothing whirlpool or swim a few leisurely laps in our heated resort-style pool. Golf aficionados can practice their swing in our golf driving net or take a turn on the ocean-view putting greens. You can play a friendly game of table tennis or shuffleboard, or delight in a delicious treat from our Pool Grill with perfect al fresco views.
SPA/FITNESS: Indulge in the soothing environment and treatments of Canyon Ranch at Sea.
CULINARY ARTS CENTER: The Culinary Arts Kitchen exclusively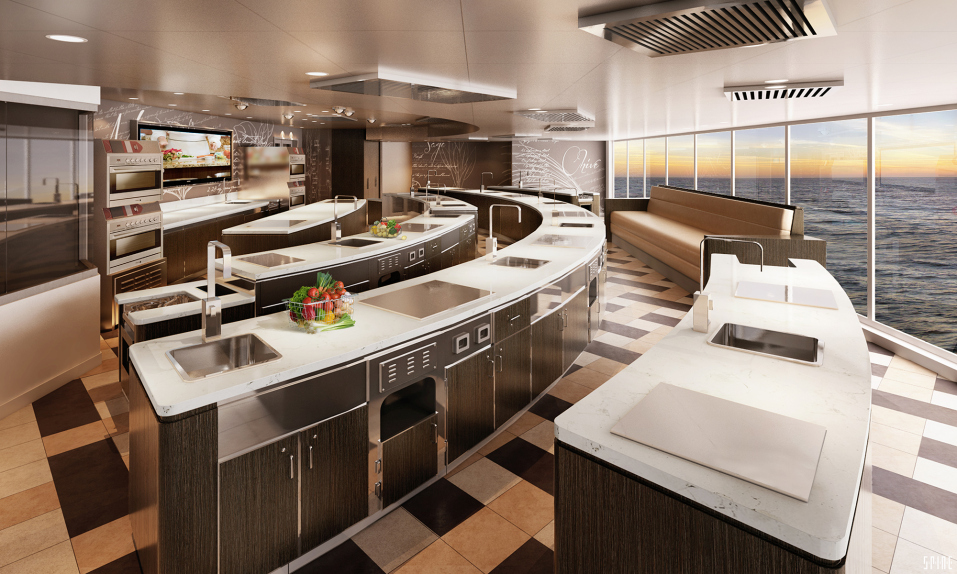 aboard Seven Seas Explorer® provides guests with all of the ingredients to expand their culinary skills in a welcoming environment reminiscent of the most prestigious cooking schools in the world in both layout and design. The 18 culinary workstations are fully equipped with top-of-the-line induction cooktops, stainless steel sinks and a comprehensive collection of cooking essentials. Guests attending the optional classes in the Culinary Arts Kitchen on Deck 11 will receive highly-individualized hands on instruction. The curriculum will appeal to a wide range of tastes and cater to all levels of aptitude, from beginner to experienced chef instructors. See below a list of the culinary classes currently available, which vary by voyage, for a minimal cost of $89 per person.
SHOW LOUNGE
The exciting style of the Parisian cabaret, classics from the golden age of Hollywood, the greatest moments in Vegas history, and Beatlemania are just a taste of the variety of entertainment on board our ships. We proudly feature lavishly staged musical productions, created and produced by our team of Broadway professionals. Applaud some of the finest entertainment presented by our international company of talented performers and musicians for an evening of musical enjoyment.
CRUISE ITINERARY - 2020 Inaugural Europe Collection
With her inaugural in April 2020, Seven Seas Splendor™ will bring her special brand of perfection to the glamorous ports of Europe in 2020. She will visit the hidden gems of Zadar and Koper, as well as the culinary capitals of Bordeaux and Barcelona. She will take you to the iconic Isles, both British and Greek, and she will arrive at the stunning shores of the Italian and French Rivieras. Witness the beauty of the Iberian landscape and discover the joy of crossing the Atlantic Ocean — all while experiencing luxury perfected. Choose from 21 destination-rich itineraries that have been meticulously designed to fulfill your wanderlust.
Call for Details and Pricing  800-757-6422 | 954-766-8899 | 212-757-5858