Retrace History - in Comfort - with Peter Hillary
Retrace an Epic Himalayan Adventure from India to Nepal to Bhutan 
In the early 1980s, Graeme Dingle, Chewang Tashi and Peter Hillary (son of acclaimed mountaineer Sir Edmund Hillary) made history by traversing the Himalaya from Kangchenjunga in northeast India to K2 in Pakistan. In 10 months, they trekked some 3,000 miles across rugged terrain and dozens of 17,000–20,000-foot passes, sleeping in tents on glaciers and in local shepherd's huts . You can read about it in the book - First Across the Roof of the World.
Almost 40 years later, Peter Hillary is set to retrace this adventure across India, Nepal and Bhutan, this time opting for the good comfort of cozy hotels, travel by road and airplane, and the company of GeoEx travelers. In the care of the acclaimed mountaineer, experience the cultural gems of India, Nepal and Bhutan: Leh's royal palace and multicultural bazaar in Ladakh, Darjeeling's tea plantations and colonial history, Kathmandu's UNESCO-listed Durbar Square, and Paro's cliff-clinging Tiger's Nest Monastery. Get an insider's look into everyday life in Ladakh, Darjeeling, Kathmandu and Bhutan, and get up close to some of the earth's snow giants including Mount Everest on a scenic flight. Time at Tenzing Norgay's family home and at the Himalayan Mountaineering Institute heightens the experience. 
We'll zigzag from the Tibet-influenced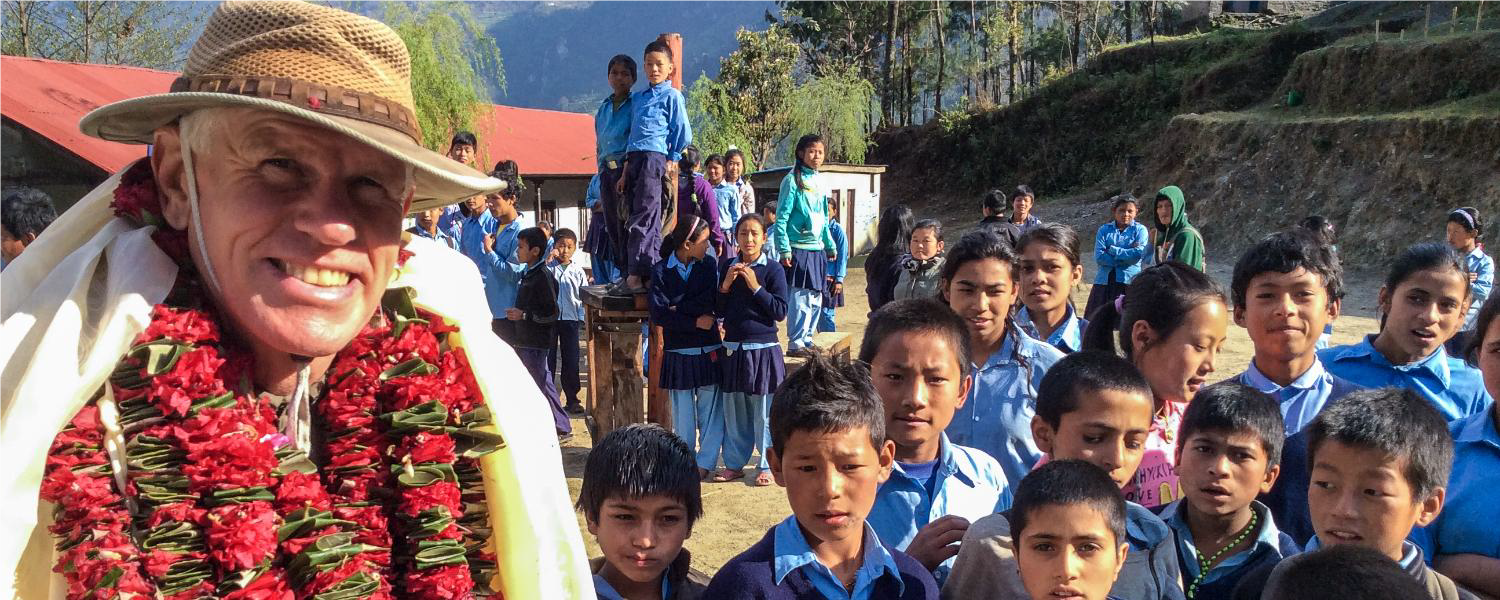 Ladakh region of north India to Nepal's UNESCO-acclaimed Kathmandu Valley to the colonial hill station of Darjeeling to Bhutan, home of the Tiger's Nest, one of the most religiously relevant sites in the Himalaya. There's time to soak up astonishing alpine vistas, mountaineering history, and beloved cultural gems, as well as to meet locals, who welcome us in.
Expedition Date:  November 3 - 17, 2021
Itinerary
Day 1: Arrive Delhi, India (B) - 1 Night
Arriving in Delhi, northern India, you are met by your tour representative and taken to your hotel, the Oberoi Gurgaon.
The Oberoi Gurgaon - This award-winning luxury hotel is located just 15 minutes from Delhi's international and domestic airports, and 30 minutes from central Delhi. Spread over nine acres, it is an urban sanctuary featuring high ceilings, light open spaces and a vast reflection pool.
Notes: You can arrive any time today, but note that hotel check-in is at 2:00 pm. If your flight arrives in the early morning hours or the night before, you will want to arrange an additional pre-tour night to allow for immediate check-in.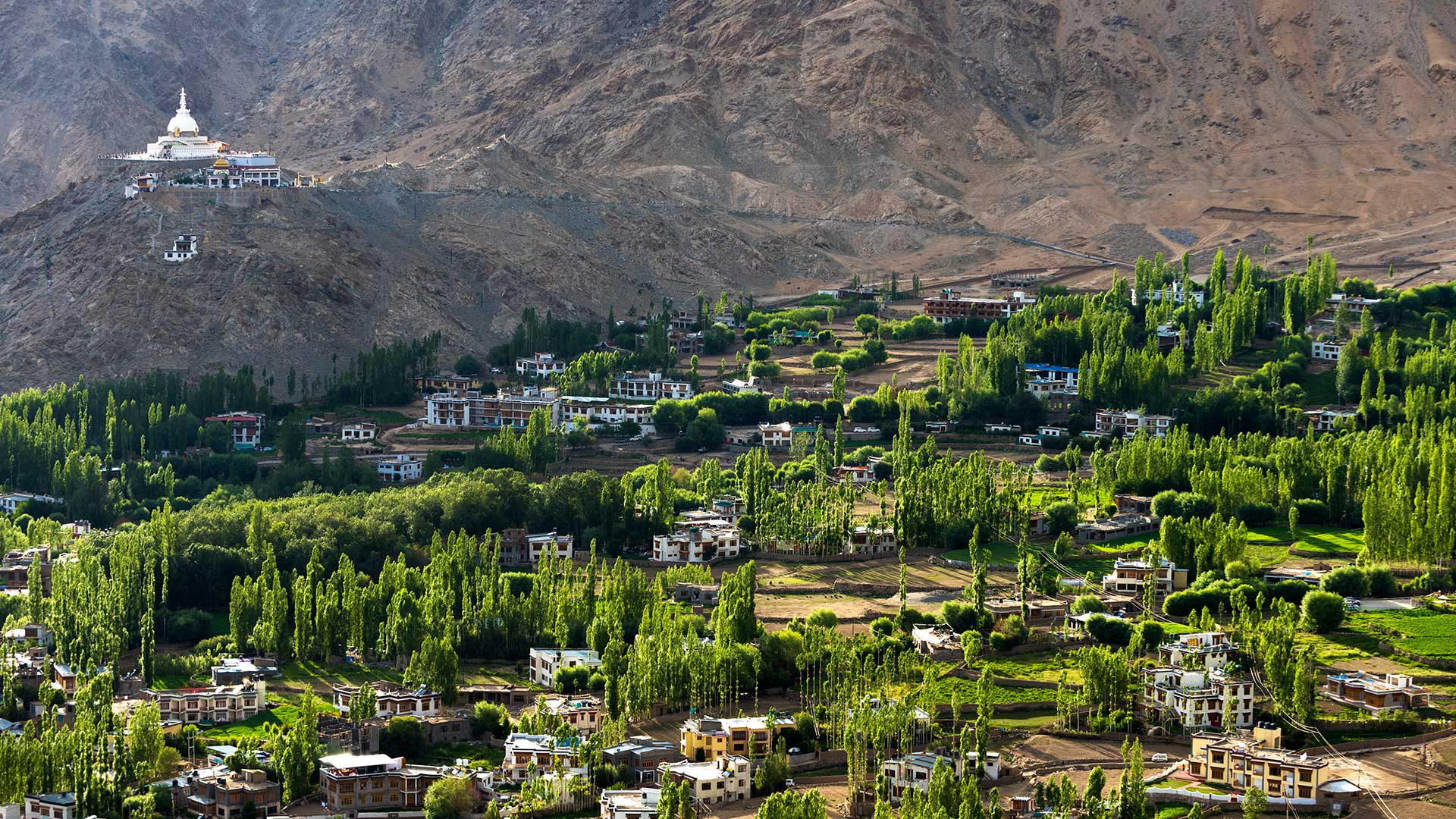 Day 2: Fly to Leh, India (B, L, D) - 3 Nights   
Early this morning, a spectacular flight takes you to
a mystical region in the far northern Indian state of Jammu and Kashmir called Ladakh, which literally translates to "the land of high passes." Geographically part of the Tibetan Plateau, Ladakh has often been called "Little Tibet" because of its historical connection with Lhasa and its predominantly Tibetan Buddhist culture. It is India's highest, most sparsely populated, and least accessible region. Capital of the Ladakh region, Leh is an intriguing ancient town located nearly 11,500 feet above sea level. Buddhism spread to Tibet from India via Ladakh, and Leh remains the center of Tibetan Buddhist culture in India. Its numerous colorful gompa (monasteries) and renowned collection of Buddhist art and artifacts attract devout Buddhists on spiritual pilgrimages from around the world. It is a fascinating city, surrounded by rugged snowcapped peaks, lush valleys, verdant farmland, sprawling monasteries and crumbling palaces. Its bazaars hum with the polylingual banter of traders from the far reaches of the continent, and its narrow alleyways beckon the curious visitor.
The Grand Dragon Ladakh - Situated in the ancient city of Leh, this eco-friendly hotel overlooks the famous Cold Desert and the surrounding mountains and is equipped with solar panels and energy-conserving features.
Highlights:
• Downtime to acclimatize
• Evening market visit
• Excursion to Shanti Stupa for panoramic views of Leh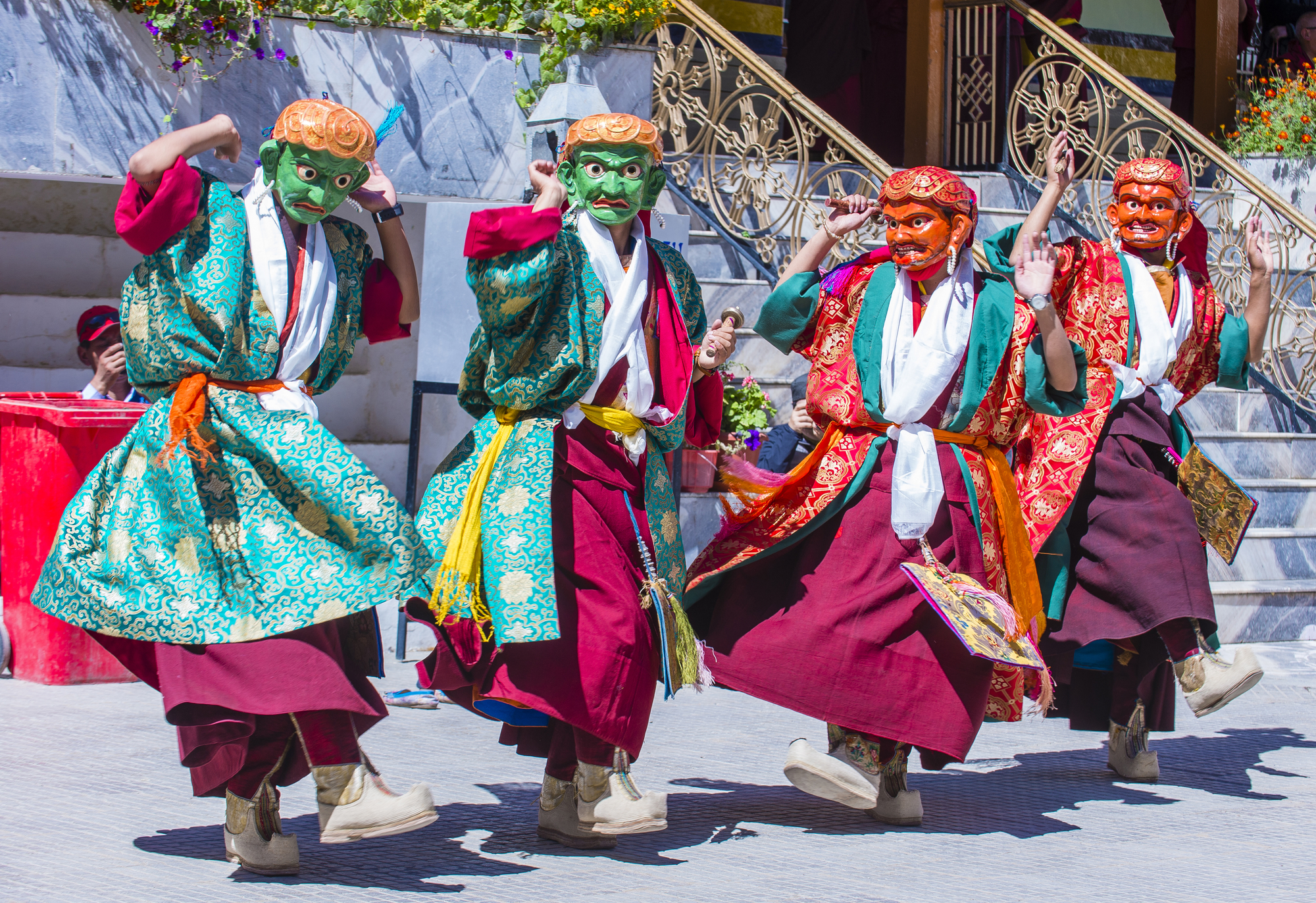 Day 3: Leh, India (B, L, D)
Southeast of Leh and dramatically built into a hilltop some 600 years ago, Thiksey Gompa is one of the finest examples of Ladakhi religious architecture. Noted for its resemblance to Lhasa's Potala Palace, the 12-story complex boasts stunning views of the Indus Valley. In the new building, you find a 3-story statue of the Maitreya Buddha, an exemplary piece of religious art and one of the most beautiful in Ladakh. Hemis is one of the largest and wealthiest monasteries of Ladakh. Thanks to its location in a narrow canyon, it has survived many raiding attacks. Within its walls are an assembly hall, a temple, and a large courtyard, which holds celebrations and public functions and is decorated with colorful paintings of the Kalachakra. The 17th-century Shey Palace was used as the summer retreat by the kings of Ladakh. Although the palace is in ruins, the monastery within the complex is still active. It holds a 39-foot-tall gilded copper statue of the Sakyamuni Buddha.
Highlights:
• Witness early-morning prayers at Thiksey Gompa
• Cross the Indus River to the ornate Hemis Gompa
• Shey Palace and Monastery
• Ladakhi cultural dance performance before dinner
Day 4: Leh, India (B, L, D)
While most of the region's monasteries perch on clifftops or cling to mountainsides, Alchi Gompa is found nestled in shade among green fields at ground level. This is because it was built more than 10 centuries ago before the invading wars began in the 15th century. Its walls are covered with stunning artistic and spiritual paintings, depicting the life and times of a bygone era. These are some of the oldest surviving paintings of Ladakh. Much of the woodwork is original and reflects both Tibetan and Kashmiri influence. The gompa's prolific collection of wall paintings, chorten, and fine statues hints at the rich and powerful society that once thrived here. Basgo Gompa was built in 1680 as the seat of power for one branch of the ruling Namgyal family and is situated within an impressive hilltop citadel. It served as the capital of Ladakh during the 15th and 17th centuries, and it was here that Ladakh held out for three years against the Tibetan and Mongol armies sent by the fifth Dalai Lama in 1685. The monastery is home to original 16th-century murals and other notable arts.
Highlights:
• Explore Alchi Gompa, Ladakh's most-loved monastery
• Visit Basgo Gompa
Day 5: Fly via Delhi to Kathmandu, Nepal (B, D) - 3 Nights 
This morning you fly via to Dellhi to Kathmandu. Upon landing in Kathmandu, you
are met and taken to your hotel.
Kathmandu has long been regarded as one of the far corners of the world. For centuries Kathmandu was forbidden to outsiders. But since opening its doors to the world in the early 1950s, it has become one of travel's most desired destinations. Now, Kathmandu is a large, bustling, madly colorful city, a fascinating juxtaposition of medieval and modern that faces the common challenges of modern urban centers: fast-growing population and increased pollution. Nepal's capital is a delight to the senses and the imagination.
Dwarika's Hotel - Inspired by the Kathmandu Valley's rich cultural heritage, Dwarika's is modeled after the palaces of Newar kings and features an extensive collection of artifacts from the 13th century.
Notes:
• Early-morning drive to Leh airport
• Total Flying Time: 3.5 hours (plus transfer time between flights in Delhi)
Day 6: Everest Flight & Kathmandu Valley, Nepal (B, L, D)
This morning, a scenic flight takes you along the southern faces of such Himalayan giants as Gaurishankar, Cho Oyu, Lhotse and Everest. This incredible flight gives you the opportunity to see 8 of the 10 highest peaks in the world from a distance of just 12 miles. 
The Kathmandu Valley is famous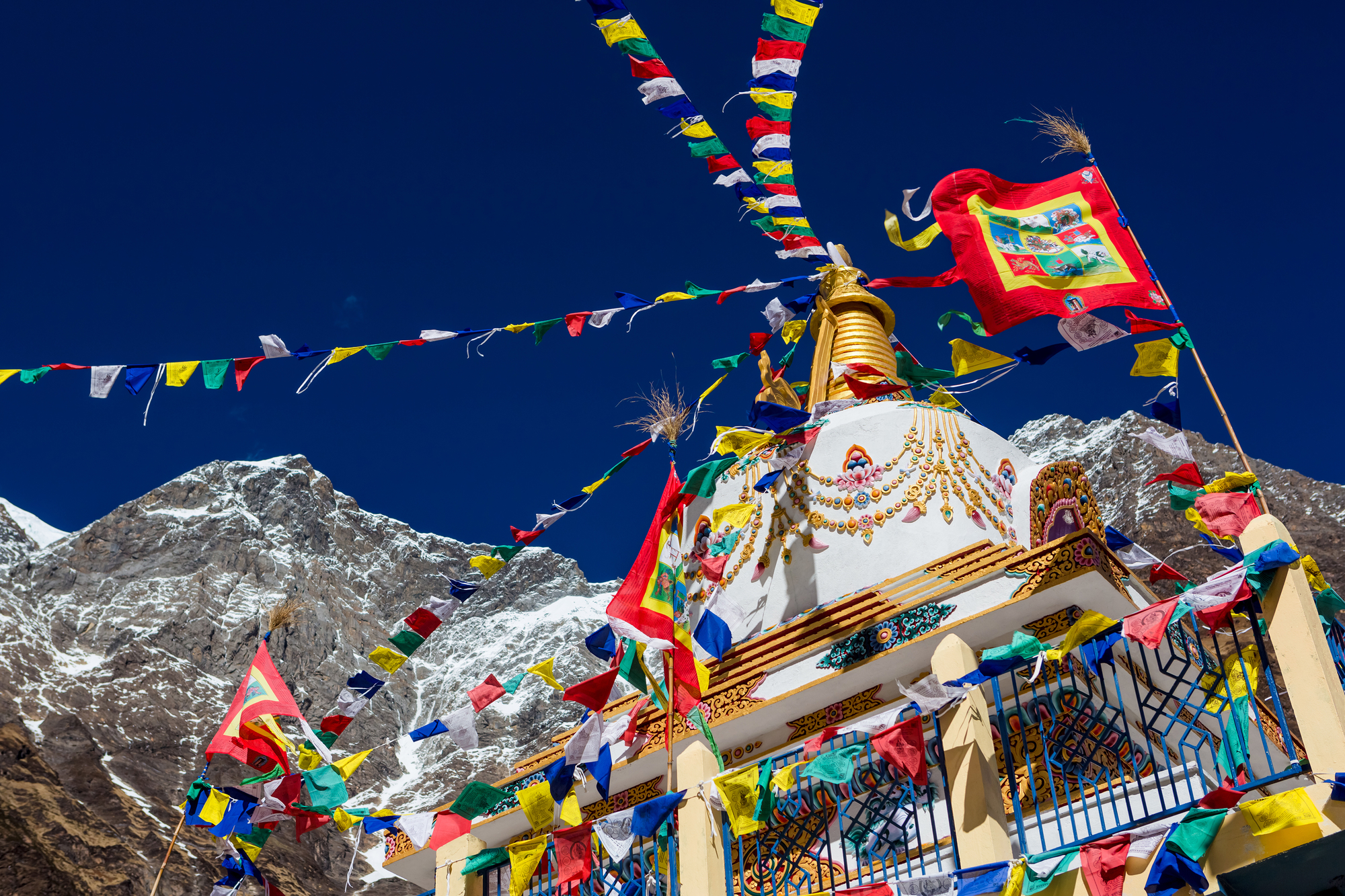 for its rich cultural heritage: according to UNESCO, the entire valley is a World Heritage Site, "a concentration of monuments unique and unparalleled in the world." Kathmandu's old and current heart, Durbar Square and Hanuman Dhoka, are a beguiling complex of buildings, temples, and courtyards, thronged with street merchants, wandering holy men, polynational birds of passage, pilgrims, wide-eyed rustics in from the hills, and businessmen worshiping at any of a score of little shrines. You'll amble through the ancient streets and can discuss philosophy and prices with sharp, cheery arts-and-crafts sellers. The stupa of Bodhnath is one of the largest in Asia and is the center of Nepal's Tibetan community in exile. It is surrounded by colorful Tibetan shops and teahouses. And Pashupatinath is the most important Hindu temple in Nepal and one of the holiest Shiva temples in South Asia. Pashupati is a benevolent incarnation of Shiva, and this auspicious temple is often visited by Nepalis before embarking on important journeys.
Highlights:
• Scenic Mount Everest flight lasts about one hour and is dependent on weather
• Walk in Durbar Square and Asan Tole, a busting bazaar set in a busy square where six roads converge
• Bodnath Stupa
• Pashupatinath Temple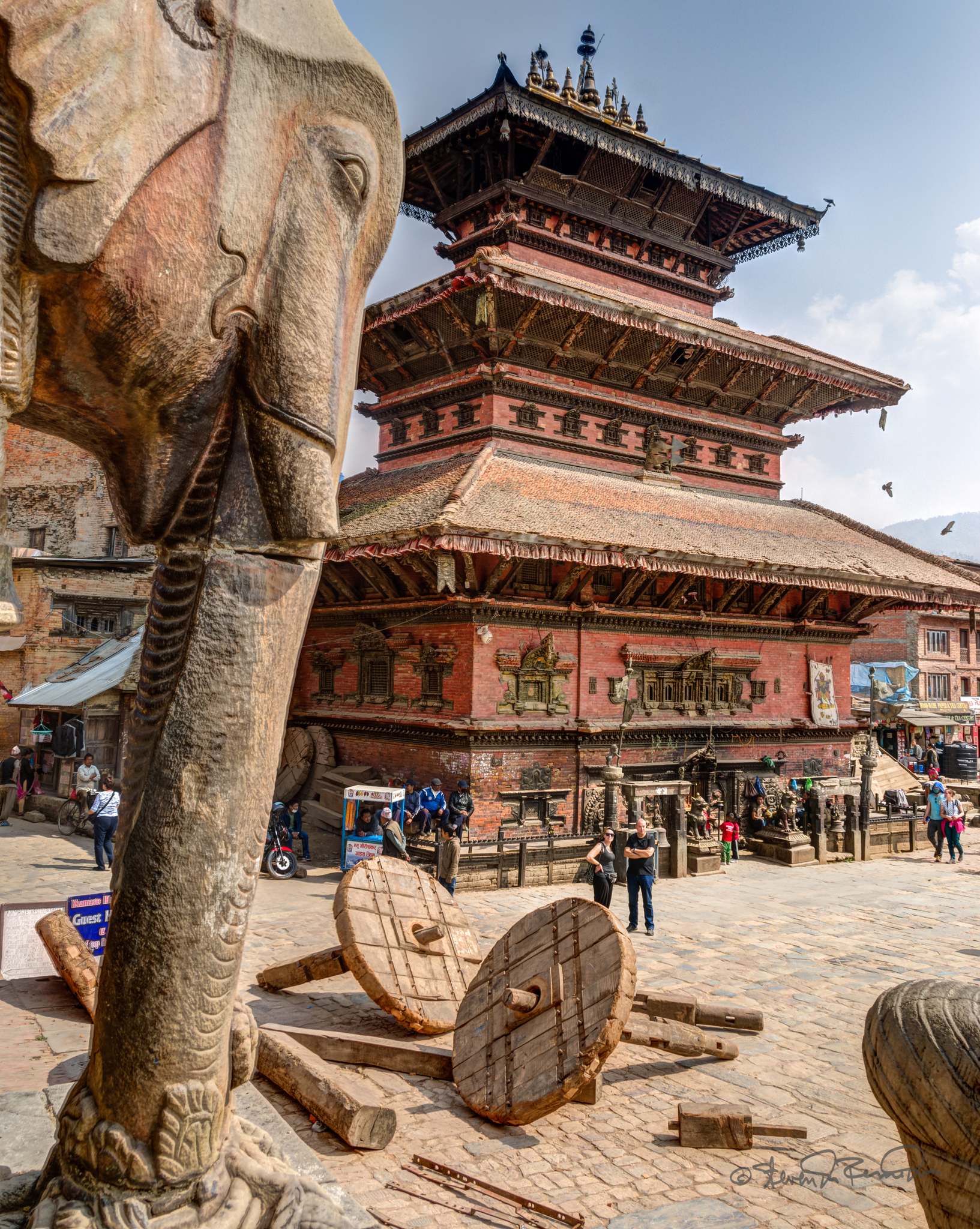 Day 7: Kathmandu Valley, Nepal (B, L, D)
In the Kathmandu Valley, Bhaktapur is the area's most medieval city. It was said to have been designed in the 9th century to resemble Lord Vishnu's conch shell. As hill-tribe immigrants flock to Kathmandu and Patan, Bhaktapur has retained much of its old character and identity. Its old temples and palaces are adorned with intricately carved wooden windows and latticework, showcasing some of the best of Newar craftsmanship. The religious complex of Swayambhunath (also known as the Monkey Temple), begun more than 2,000 years ago, is regarded as the mythical origin of Kathmandu. The stupa is dedicated to the Adi Buddha, or the Buddha of the cosmic axis, and is an active center of pilgrimage. The nearby Tibetan Handicraft Center showcases the entire process of Tibetan carpet making.
Highlights:
• Swayambhunath Temple
• Medieval city of Bhaktapur
Day 8: Fly to Bhadrapur, Nepal; Drive to Darjeeling, India (B, L, D) - 3 Nights 
This morning, flying southeast to Bhadrapur, you land in the lowland region of eastern Terai, where Himalayan plains meet the Mahabharat Range. Then it's by road to Darjeeling, crossing the border into India. Darjeeling is a quintessential colonial hill station known for its tea plantations, monasteries, and deep valley views. 
Windamere Hotel - Established in the 19th century as a cozy boarding house for bachelor tea planters from England and Scotland, the Windamere was converted into a hotel in the mid-1900s. It sits on Observatory Hill, a well-known landmark in Darjeeling.
Notes:
• Flying Time: 45 minutes (propeller plane)
• Driving Time: 5 hr total (1 hr on bumpy, dusty road from Bhadrapur to the Indian border; then 4 hrs on paved roads, climbing to an altitude of 6,000 ft)

Day 9: Darjeeling, India (B, L, D)
Thanks to its setting in the Lesser Himalaya at 6700 feet, Darjeeling astounds visitors with fantastic sunrises and spectacular mountain scenery. It's worth driving up to Tiger Hill (8500 feet) in the early morning to have the best chance for spectacular alpine views, including of Mount Everest (just over 100 miles away), Kangchenjunga (the world's third-highest mountain at 28,169 feet) and Makalu (the world's fifth-highest mountain at 27,838 feet). While in Darjeeling, you also get a sense of its former colonial grandeur, mountaineering history, and colorful contemporary life. The surrounding hills are lush with tea plantations, originally established by the British in the early 19th century. The growers developed fermentation techniques that created the distinctive Darjeeling tea that is one of the planet's most popular black teas.
Highlights:
• Views from Tiger Hill of towering Himalayan peaks (weather permitting)
• Visit to Himalayan Mountaineering Institute, founded to honor Tenzing Norgay, who was part of the first expedition with Edmund Hillary to summit Everest in 1953 
Day 10: Darjeeling, India (B, L, D) 
The famous Darjeeling Himalayan Railway (DHR), or "Toy Train," is a two-foot narrow-gauge railway built between 1879 and 1881 that was awarded UNESCO World Heritage status for its design, which applied "bold and ingenious engineering solutions to the problem of establishing an effective rail link across a mountainous terrain of great beauty." The storied locomotive inches along breathtaking landscapes, pulling tiny coaches up unimaginably steep mountains, and around difficult curves.
Highlights:
• DHR ride to Ghum, which at 7407 feet is India's highest railway station
• Ghum Monastery, established in 1850 by Mongolian astrologer and monk Sokpo Sherab Gyatso and known for its 15-foot Maitreya Buddha statue
• Visit home of Tenzing Norgay family and meet his son, Jamling (if timing works)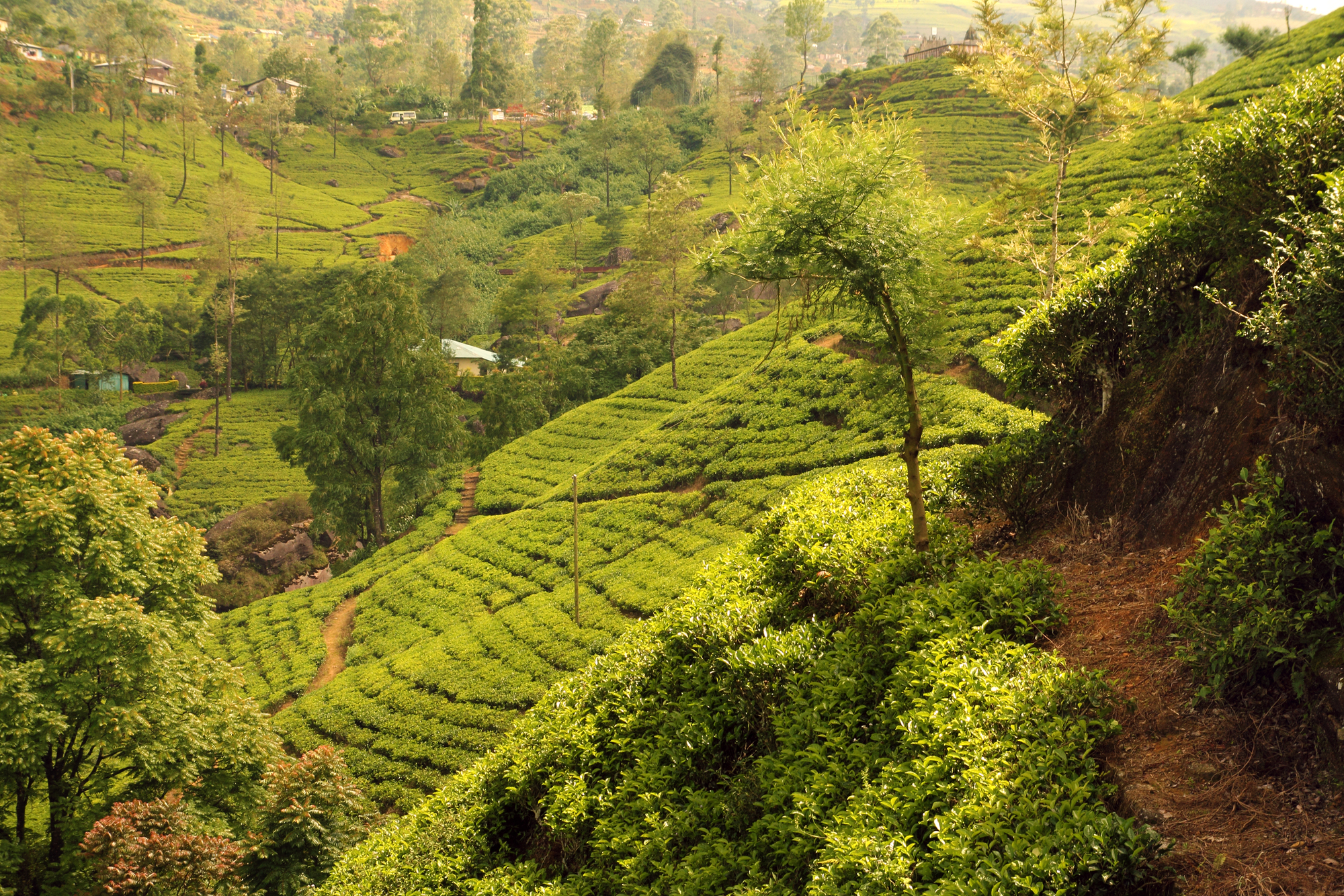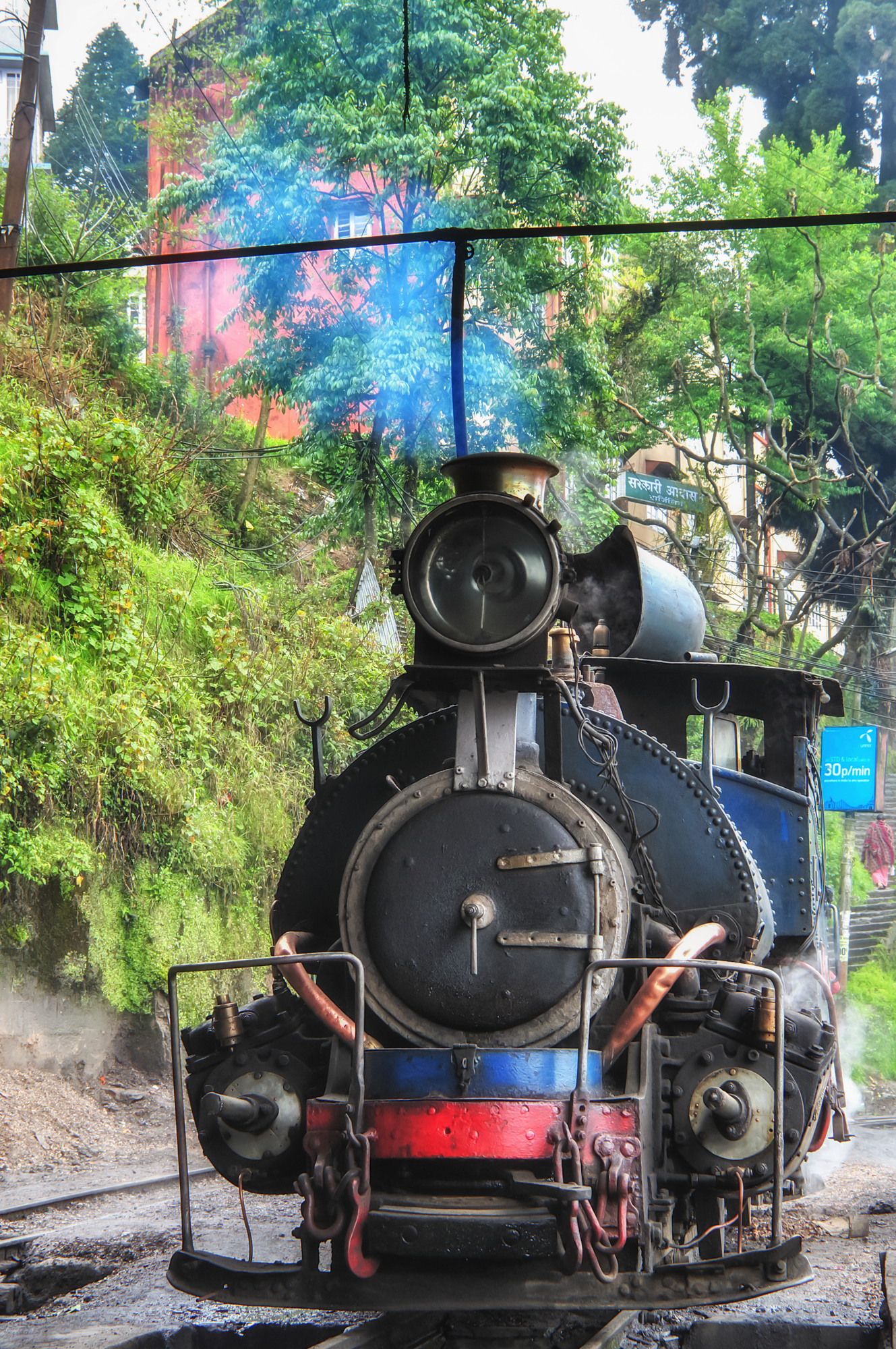 Day 11: Drive to Bagdogra; Fly to Kolkata, India (B, L, D) - 1 Night  
After breakfast, drive to Bagdogra airport and board a flight to Kolkata. Upon arrival, you're met and taken to the hotel.
The Oberoi Grand Hotel - Dating from the mid-1800s and fondly referred to as the Grande Dame of Chowringhee, the Oberoi Grand is situated in the very heart of Kolkata near the city's central business district, bustling markets, and cultural landmarks.
Notes:
• Driving Time: 3.5 hours, mostly downhill on paved but windy roads
• Flying Time: 1.25 hours

Day 12: Fly to Paro, Bhutan; Drive to Thimphu, Bhutan (B, L, D) - 1 Night 
After landing in Bhutan, Land of the Thunder Dragon, you set out for Thimphu, the capital city. The drive takes you along a winding road that follows the Paro Chu (chu means river) downstream to the Wang Chu, then climbs into the Thimphu Valley. You pass by Simtoka, a dzong built in 1629 by Shabdrung Ngawang Namgyal, the man known for unifying the country. In Bhutan, dzong serve as centers for administrative and monastic life; they house the offices of local government and the resident monk body. In days of yore - during Tibetan invasion or wars between the valleys - dzong also acted as strongholds, protecting their vale's inhabitants. Thimphu is Bhutan's largest city. Home to the government, royal family, and the head offices of several NGOs, it's a fascinating mix of Himalayan and Western sensibilities.
Taj Tashi Hotel - Taj Tashi is a five-star luxury hotel set in the heart of Bhutan's Thimphu Valley. It is a fusion of Bhutan's dzong architecture and modern design.
Notes:
• Flying Time: 1.5 hours
• Driving Time: 1.5 hours on paved roads
Day 13: Thimphu; Drive to Paro, Bhutan (B, L, D) - 3 Nights 
Bhutan's capital promises a day of captivating sights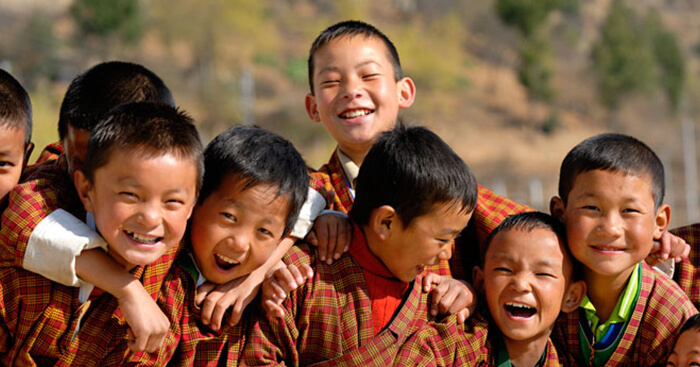 and sounds. Local shops entice with traditional Bhutanese weavings, Tibetan and Bhutanese silverwork, coral and turquoise beads, and prayer flags. Thimphu is home to a number of cottage industries including metalworking and papermaking, and it is possible to visit some of these workshops and see artisans practicing their craft. Cheri Monastery (or Chagri Dorjeden Monastery) is a Buddhist gompa established atop a hill in the Thimphu Valley in 1620 by Shabdrung Ngawang Namgyal, the man known for unifying the country. It is now a pilgrimage site and a teaching and retreat center for the Drukpa Kagyu school of Tibetan Buddhism.
Zhiwa Ling Heritage - A Bhutanese-handcrafted, -owned and -staffed hotel, the elegant Zhiwa Ling Heritage is set on 10 acres in the Paro Valley within easy reach of Bhutan's most revered temples and monasteries.
Highlights: 
• Guided exploring in Thimphu
• Hike to 17th-century Cheri Monastery
Notes:
• Cheri Monastery Hike: 2-3 hours round-trip
• Afternoon Drive to Paro: 1 hour on paved roads
Day 14: Hike to Taktsang Lhakhang (Tiger's Nest) - Bhutan (B, L, D)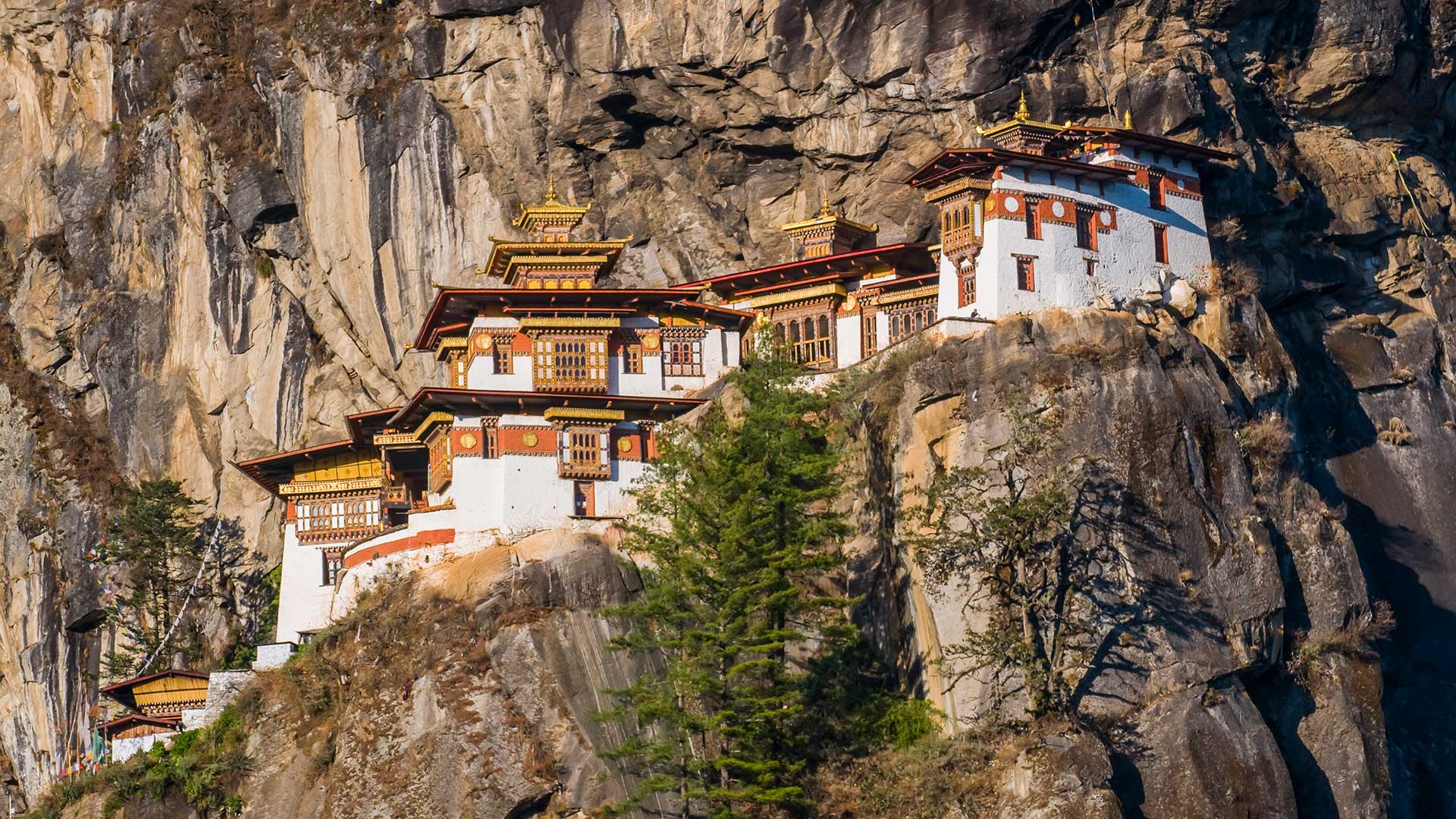 Taktsang Lhakhang, the Tiger's Nest, is one of the most important religious sites in the entire Himalaya. This magical monastery clings to a vertical granite cliff 2000 feet above the valley floor. The legend of Taktsang dates from 747 CE, when Guru Rinpoche, in the wrathful form of Dorji Droloe, arrived here on the back of a flying tigress and subdued the evil spirits of the region. From the trailhead parking area, you hike up a mountain path toward Taktsang, like many pilgrims before you. After about one hour of rather steep hiking, you can rest for a while at a small teahouse with wonderful views of the monastery. If you walk another hour, you can get an even closer look from the viewpoint directly opposite the monastery. The final stretch climbs down and then up some 500 steps, crossing a gorge over-laced with prayer flags to arrive at the incredible monastery. You may enjoy a look inside, but you are not permitted to enter the actual cave where Guru Rinpoche is said to have meditated. If you don't feel much like hiking, you can admire the Tiger's Nest from the valley floor or choose to go only as far as the teahouse or the viewpoint.
Notes:
• Tiger's Nest Full Hike: 5.2 miles (4.5-5 hours round-trip) on steep terrain
• Teahouse Option: 1.5 miles (2 hours round-trip)
Day 15: Paro, Bhutan (B, L, D)
Encapsulated by views of massive Himalaya peaks, Paro is a historic town in western Bhutan with tiny streets and brightly painted wooden shops. The town lies on the banks of the Pa Chu, which wends through the bucolic Paro Valley, once the hub for trade with Tibet. Its most important feature is the Paro Rimpung Dzong. On your trip you will notice that Bhutanese men and women dress formally when going into a dzong, much as someone in the West might spruce up to attend church or court. Built around 750 CE by King Songtsen Gampo of Tibet, Kyichu Lhakhang is one of the two oldest temples in Bhutan (the other is Jambay Lhakhang in Bumthang). Legend has it that a giant ogress sprawled across Bhutan and eastern Tibet to prevent the spread of Buddhism. To subdue her powers, the king constructed l08 temples; Kyichu Lhakhang is believed to be holding down her left foot.
Highlights:
• Paro Dzong
• Kyichu Lhakhang
Day 16: Fly to Kathmandu, Nepal (B, L, D) - 1 Night
With clear weather, your flight back to Nepal reveals spectacular views of Mount Everest, Makalu, and Kangchenjunga, as well as a host of other Himalayan giants. Upon arrival, there is time for some final explorations of Kathmandu, followed by a festive farewell dinner.
Dwarika's Hotel
Highlights:
• Aerial Himalaya views
• Farewell dinner
Notes:
• Flying Time: 1 hour
Day 17: Depart Kathmandu, Nepal (B)
Today you are taken to the airport for your flight home.
Notes:
Hotel check-out is at 11:00 pm. If your flight departs in the evening hours and you wish to keep your room, please arrange an additional night.
Resorts & Charted Courses in association with Geographic Expeditions
Call Resorts & Charted Courses 800-757-6422 or 954-766-8899 for Details and Pricing.
Expedition Date: November 3 - 17, 2021
Created by Geographic Expeditions