Spotlight on Botswana!
BOTSWANA - officially the Republic of Botswana - is a landlocked country located in Southern Africa. Formerly the British protectorate of Bechuanaland, Botswana adopted its new name after becoming independent within the Commonwealth on September 30, 1966. Since then, it has maintained a strong tradition of stable democracy. Botswana is thus considered one of the safest countries in Africa, and the simple fact: it really is.
If there is a Garden of Eden left on this planet, it's Botswana! Botswana has a landscape defined by the Kalahari Desert and the Okavango Delta - which becomes a lush animal habitat during the seasonal floods - while the massive Central Kalahari Game Reserve, with its undulating grasslands, is home to a myriad of animals including giraffes, cheetahs and wild dogs. Well noted is that trophy hunting is prohibited in Botswana. If you ever wanted to live the National Geographic dream, then the Okavango is for you. A true paradise.
The Moremi Game Reserve is situated at the heart of the Okavango Delta and was the first wildlife area to be set aside by tribal people rather than colonial powers. In 1963 the Batawana Tribal Administration approved setting up a reserve in the area of Khwai and Mogohelo. The reserve was subsequently named Moremi Wildlife Reserve after Chief Letsholathebe Moremi. The Moremi is the only statutorily protected part of the Okavango Delta, and the reserve itself is unfenced, allowing free movement of animals within the delta according to seasonal migrations. Moremi extends east and northwards as far as Chobe National Park, ensuring a continuous area of protected land all the way to Kasane. The Moremi Game Reserve supports the most diverse habitat in Botswana. Resident species include wild dog, cheetah, leopard, lion, elephant, buffalo, hippo, giraffe, hyena, zebra, kudu, lechwe, sable and roan antelope.
Kanana, Shinde and Dinaka provide the perfect introduction to Botswana and the perfect blend of wildlife encounters and habitats. Committed to providing guests with the highest quality wildlife and adventure safari experience, these private reserves are dedicated to preserving the delicate environment and natural beauty of the region.
ITINERARY - BOTSWANA with a First-Things-First Stopover in VICTORIA FALLS
DAY 1 - Arrive Johannesburg, South Afica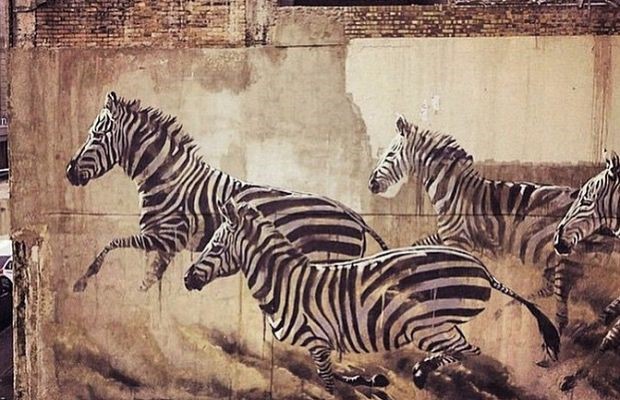 Perhaps the first thing you will notice - waiting at the gate to board your long international flight – is the lightheartedness and congeniality of your fellow travelers. This is because we're going on safari! Depending upon your international air schedule, your journey to Botswana may require an overnight in Johannesburg, South Africa. For this, we can make several suggestions and discuss options.
Upon arrival in Johannesburg and after clearing South African Customs and Immigration formalities, you will be greeted and escorted to your hotel to enjoy the balance of your afternoon at leisure.
Set in the northeastern quarter of the country, the former mining town of Johannesburg is undergoing a renaissance. Cultural districts are popping up with theatres, restaurants, cafés and museums. Disused buildings are giving way to new loft apartments and office developments, while hip enclaves are emerging from successful urban-renewal projects.
DAYS 2-3-4 - Johannesburg, South Africa | Victoria Falls, Zimbabwe
THE ELEPHANT CAMP - A Private Concession
This morning, you will check in at O.R. Tambo international airport (Johannesburg) for your short flight to Victoria Falls. Upon arrival, you will be greeted and escorted by your driver to The Elephant Camp for a 3-night stay. The Elephant Camp is a luxury safari camp tucked away in the teak woodland of the Victoria Falls National Park, nestled on a ridge between the Masuwe River and the Zambezi gorges. The interior of the camp marries modern design with cultural concepts and is reminiscent of a bygone era of wild enchantment. This safari experience is unsurpassed with a sweeping view of the unscathed savanna and the curtain of mist that hangs on the horizon above Victoria Falls – one of the great natural wonders of the world - a mere ten kilometres away. Beams of sunlight and gusts of air flood the spacious tents that create eco-friendly luxury atop the raw African landscape.


The Elephant Camp Main consists of 12 luxury tented suites each boasting a private plunge pool and viewing deck, and Elephant Camp West consists of only four suites - making it ideal for exclusive use by families.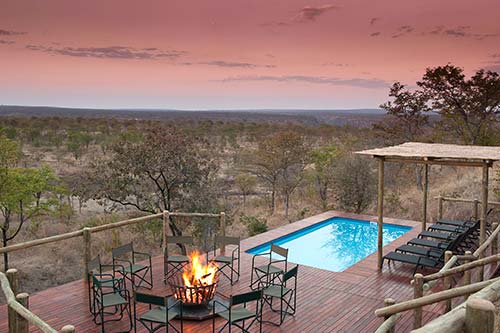 The Elephant Camp is dedicated to Community and Conservation: "We have borrowed this land from the elephant, impala, birds and buffalo and we are dedicated to treading as lightly as possible on their beautiful patch of earth."

At Elephant Camp, experienced guides will bring you interactively and breath-takingly close to members of the Big Five Family. The camp's primary focus is to protect both orphaned elephants and those in the wild. The Wild Horizons Elephant Sanctuary and Orphanage has been a safe haven to a mirage of orphaned elephants since its inception, and strongly believes that ultimately the best environment for all elephants is in the wild. To this end, the sanctuary strives to ensure that as many animals as possible return to a wild environment. Rescue – rehabilitate – release.

Other activities may include a visit and possible walk with resident cheetah-ambassador "Sylvester", a sunset cruise on the Zambezi aboard the Zambezi Royal, a Victoria Falls Canopy Tour (complete with zip-line), and/or a mountain bike ride through the Victoria Falls National Park. A "Flight of Angels" heli-tour over the famous Victoria Falls can be arranged.
Accommodation: The Elephant Camp – Tented Suite - B-L-D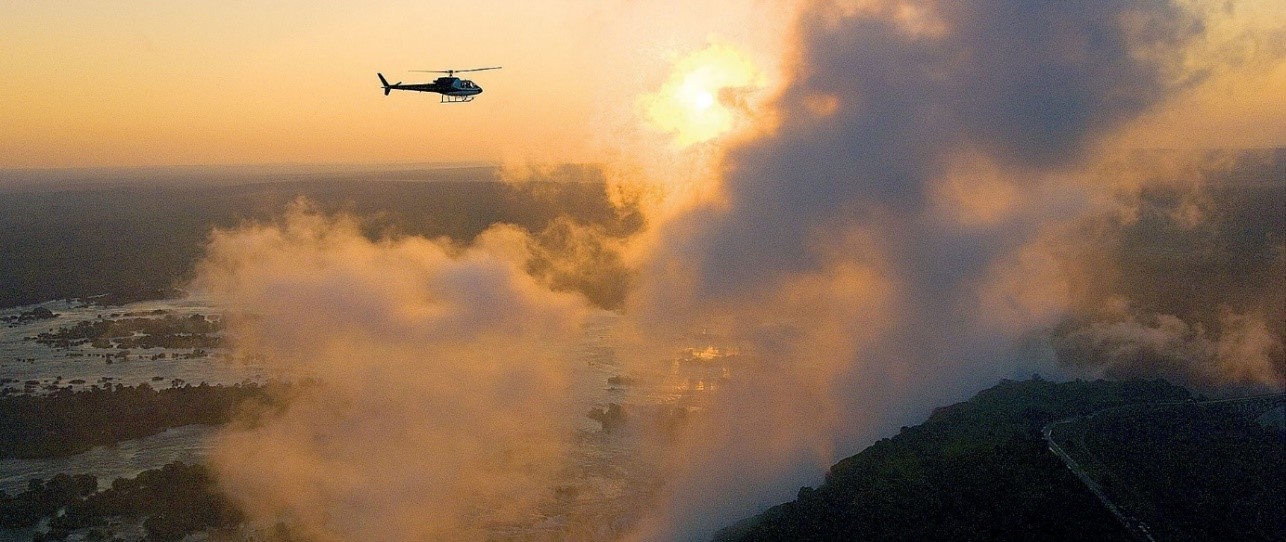 DAYS 5-6 - Victoria Falls, Zimbabwe | Okavango Delta, Botswana 
Your driver will meet you this morning for private transfer through the National Forest - where you will likely spot a giraffe or two ambling across the road - to Kasane, Botswana. After the border crossing, board your light aircraft for a picturesque transfer to KANANA. 
KANANA - A Private Concession 

Today your light aircraft - Safari Air - will whisk you off to Kanana, a hidden jewel on the Xudum River. Kanana (meaning "paradise") is located in the southwest corner of the Okavango Delta. The area encompasses a necklace of islands dotted with palms, figs, ebony and knob-thorn – an African tree growing up to 60 ft tall - and is home to a myriad of birds, plants and animals. It is the perfect place to experience the diversity of species found within the Okavango Delta. The annual floods transform parts of this concession into a true water paradise, offering the best of both worlds. Due to the camp's location you can experience magnificent game sightings during drives as well as the unique experience of exploring the delta's beautiful waterways by boat or Mokoro. You may actually enjoy the breath-taking spectacle of the water visibly rising around the camp's raised teak decks. The Sleep Out Deck offers guests an opportunity to spend the night under the magnificent African night sky. What makes Kanana additionally special is its warm, high-spirited and enthusiastic staff – providing a truly welcoming and delightful learning experience.
Situated in the Kanana Concession, the focus of activities at Kanana varies with the rising and falling levels of the Okavango Delta. Activities include morning and afternoon game drives in open safari vehicles with your Grade Level 3 Certified Guide, with afternoon game drives often continuing into the evening and celebrated with your favorite sundowner as the African sun sets serenely on the horizon. Our window seat guarantee ensures no more than four guests per vehicle when out on game drives, offering unobstructed photographic opportunities. Throughout the vast expanse of the concession, you can expect to see a resident lion family, the elusive leopard, elephants, graceful impala and statelier kudu.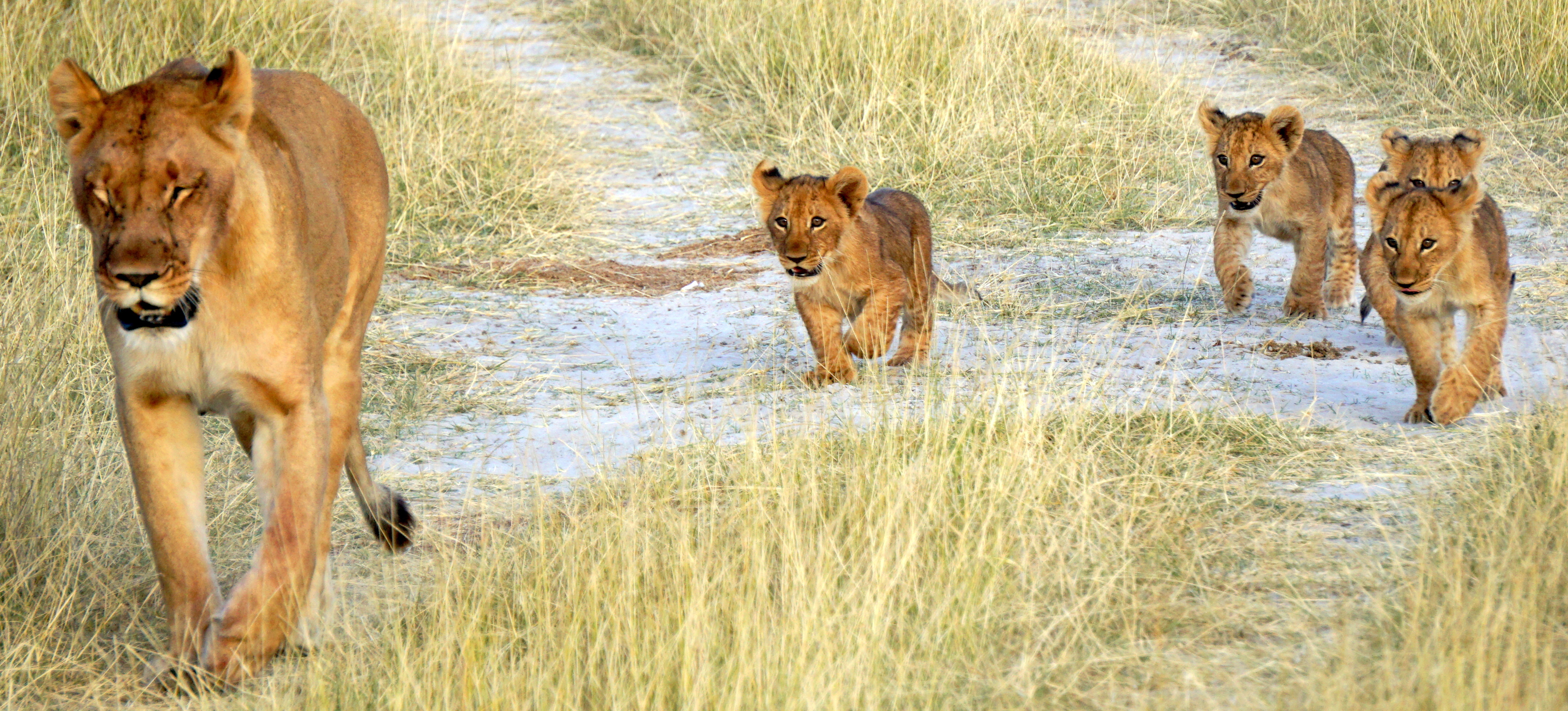 This morning, explore the serenity of the crystal-clear waterways by Mokoro or motorboat, weaving your way through the tall yellow thatching grasses and lily pads, listening through the silence to the sunrise symphony of crickets, gurgling frogs and birds calling. Birding is spectacular, and Kanana hosts a seasonal heronry that is one of the largest in Southern Africa which teems with activity, a Kanana highlight which converts all visitors to avid 'twitchers'. Guided bush walks are also highly recommended as are fishing excursions for tilapia, African pike and sharptooth catfish.
Accommodation: Kanana - Tented Suite - B-L-D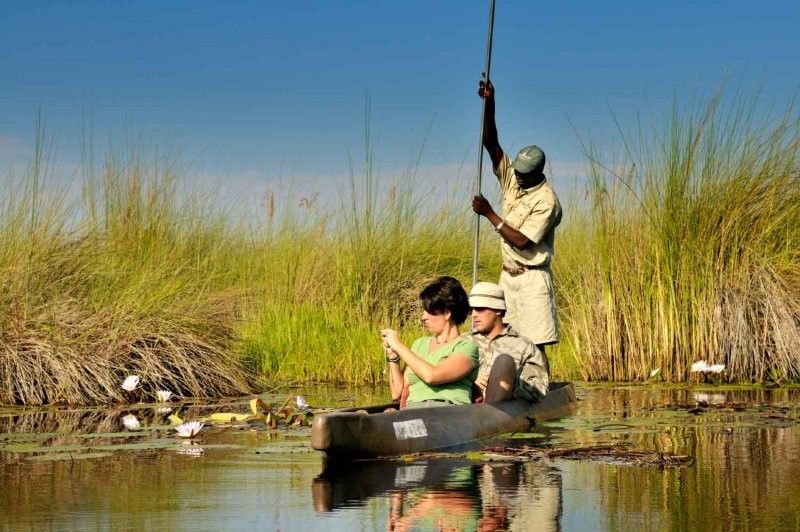 DAYS 7-8-9 - Okavango Delta, Bostwana
SHINDE - A Private Concession
This morning, Safari Air will meet you for a short flight over the Delta to Shinde. Nestled on a lush palm island in the heart of the northern Okavango Delta, Shinde (translation "tree squirrel") is an intimate, classic camp located on the edge of Shinde Lagoon, which simply teems with animal and bird-life. The camp's unique main area comprises of a multi-tiered dining room and lounge which is set under canvas in the shade of ebony and mangosteen trees.
The elegance and historical charm of the iconic Shinde camp has been enhanced by eight classic safari guest tents with wide sliding doors which lead onto extended front teak decks, affording breath-taking views over the open grasslands or windswept papyrus reed beds. Shinde's unpretentious hospitality and gracious staff – all of whom are English-speaking - will attend to your every possible need. A small swimming pool surrounded by a comfortable sun deck invites a few leisurely afternoon hours.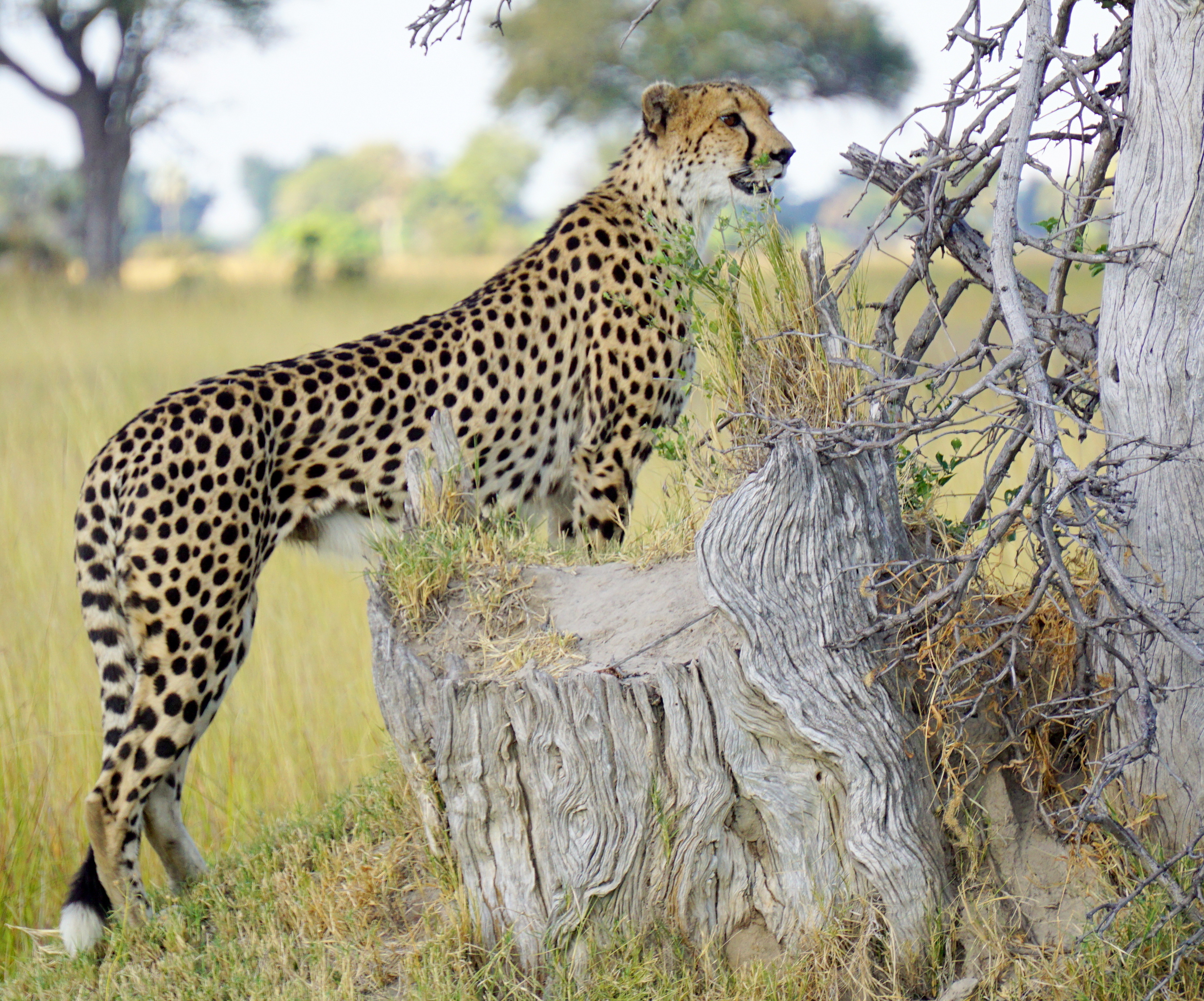 Courtesy of its location, the Shinde experience offers a choice of land and water activities year-round. Activities include morning and late afternoon game drives in open safari vehicles, with afternoon game drives often continuing into the evening and celebrated with the traditional sundowner. You may spot and track a cheetah as she patiently scans the wide-open green and gold grasslands in search of dinner. Game drives are conducted by a personal Certified Guide in comfortable, specially designed vehicles – no more than four persons to a vehicle at any one time.

Alternatively, climb aboard a strong>Mokoro with a 'poler' and enjoy exploring the Okavango Delta's tranquil waterways. The area is home to many aquatic species including the amphibious sitatunga antelope. strong>Guided bush walks and fishing are optional activities, all to be planned with and conducted by your private professional guide. Fishing enthusiasts will enjoy fishing for a variety of species such as the local tilapia and tigerfish.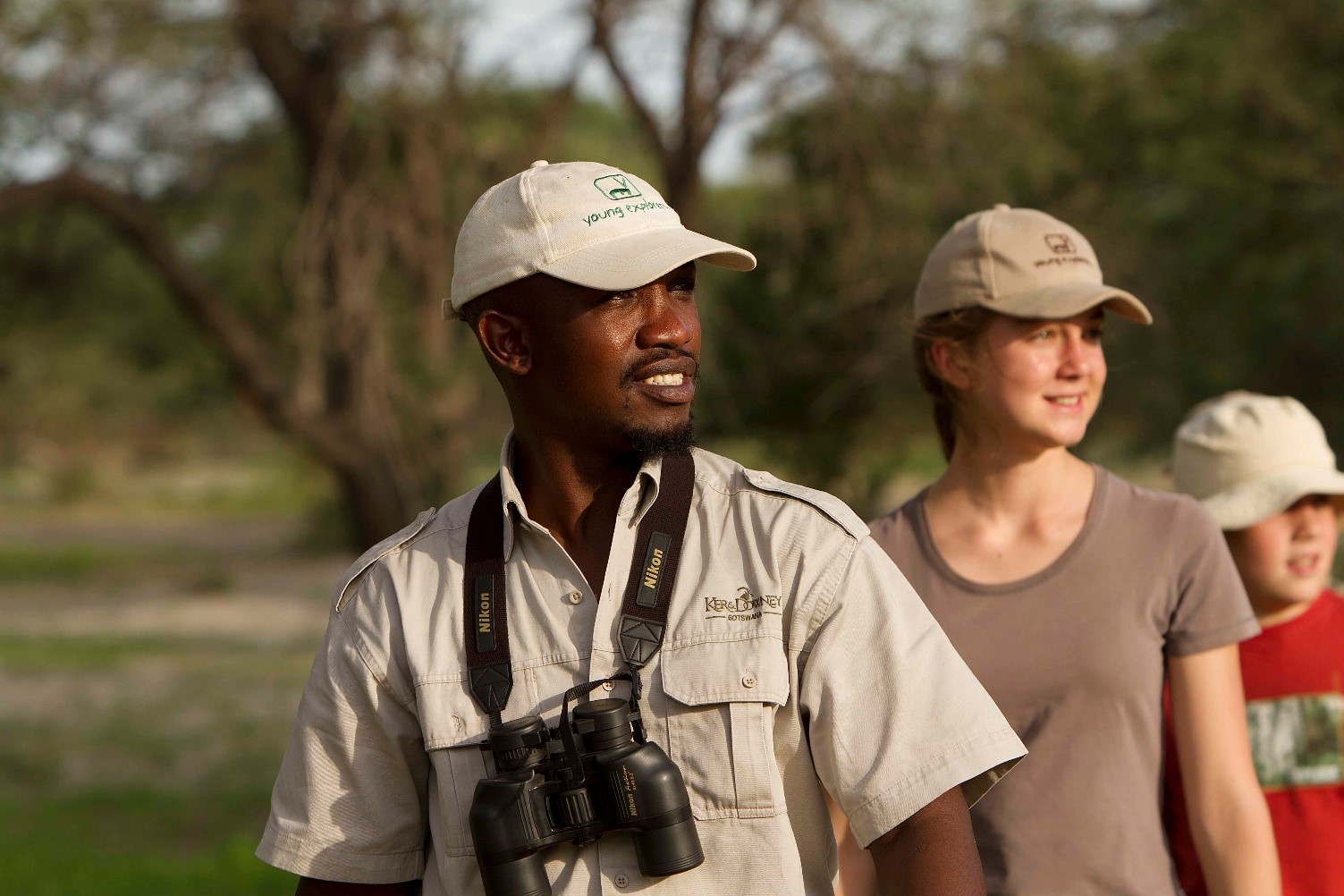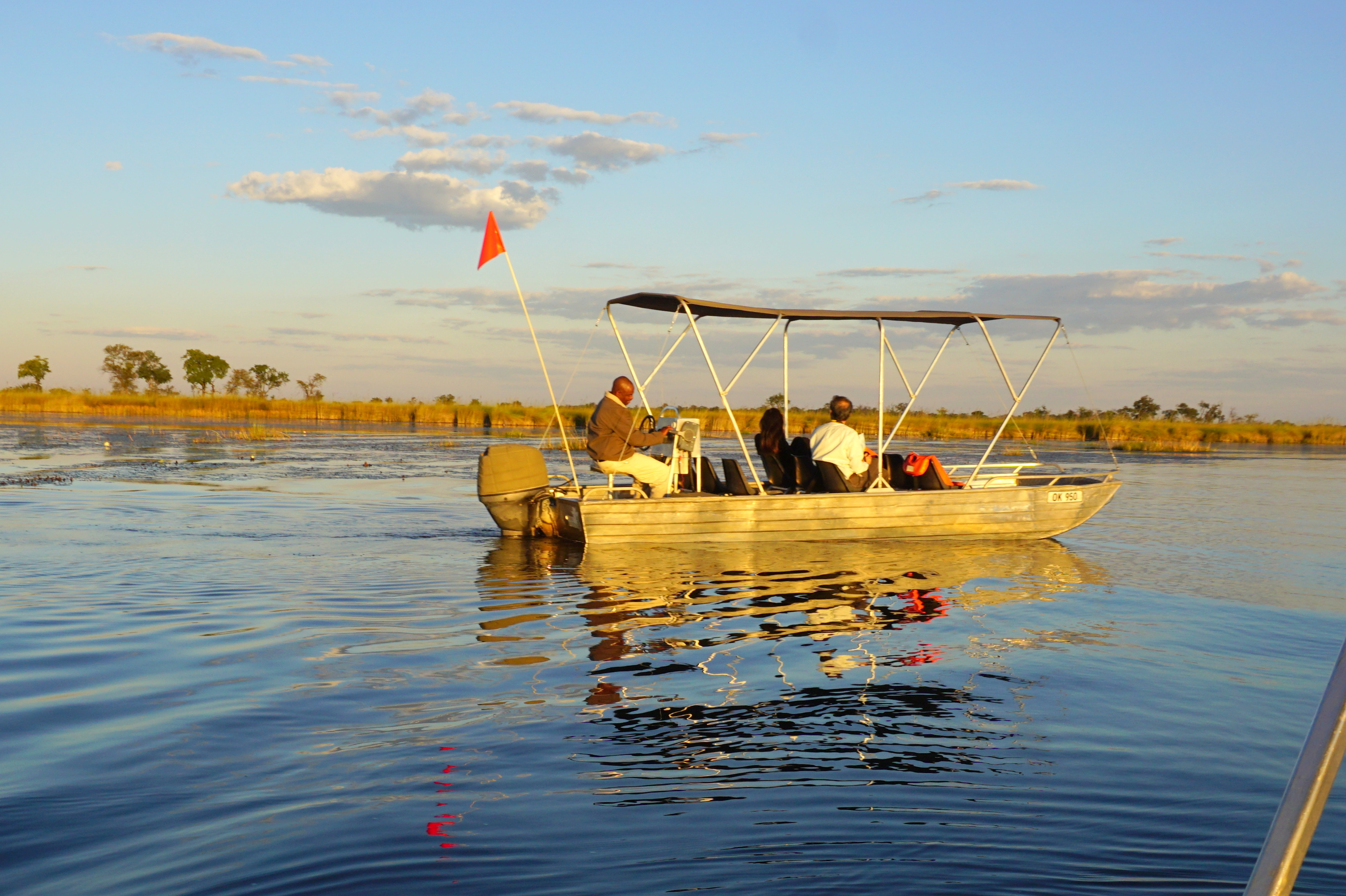 You can also explore the Okavango Delta waterways by motorboat, the area's open lagoons and winding channels making it a birder's paradise, complete with herons and storks in the breeding season.
Accommodation: Shinde – Tended Suite - B-L-D
DAYS 10-11 - Okavango Delta | Central Kalahari Game Reserve, Botswana
DINAKA – A Private Concession
Time permitting and to complete your knowledge of this precious part of the world, you will want to extend your stay for another two nights at Dinaka – a new and beautifully-designed private concession hugging the northern edge of the Central Kalahari Game Reserve. Fresh and unspoiled, Dinaka (meaning "horns") is host to one of the most unique bio-diversities in Southern Africa. This ever-changing desert landscape gives refuge to the Kalahari lion, springbok, Oryx and brown hyena. We should clarify that in this case, the word "desert" should not suggest windswept sands, but rather vast plains of short grasses, shrubs and smaller trees. One can see "forever". The camp itself was acquired in 2017 and provides the perfect start or finish to any discerning traveler's Botswana safari.
The focus of activities at Dinaka is exploring the Kalahari experience with wildlife ranging from giraffe to the antelope, small mammals like the honey badger, bat eared fox and porcupine to predators including the Kalahari lion, cheetah, leopard and brown hyena. Activities include morning and afternoon game drives in open safari vehicles, with afternoon game drives often continuing into the evening. Once again, our window seat guarantee ensures no more than four guests per vehicle when out on game drives. Alternatively, you may get more up close and personal with nature on foot with guided bush walks. Birding is particularly spectacular as Dinaka hosts over 200 bird species which includes – in addition to flocks of the famed and colorful guinea hens - the Kori Bustard and Crimson Breasted Shrike and a high concentration of Pale Chanting Goshawks.


The annual rains transform the arid desert landscape into a lush profusion of Kalahari vegetation, offering a unique insight into the lesser known desert experience. At Dinaka, long strong winding teak decks and walkways aligned with lanterns connect the spacious tented suites decorated with "paintings" created from exceptional original photographs. A large open-deck lounge area with fire-pit (boma) fronts a watering hole where one can watch the animals as they approach it during the day. The sun is gentle and warm, and the air dry and cool. The Sleep Out Deck with en suite bath offers guests a panoramic view and the opportunity to spend a night under the magnificent African night sky. (A guard stays close by in a separate tent.) Sunrises and sunsets are spectacular with colors changing cross the plains. Year-round water holes provide spectacular photographic opportunities either from the vehicle, on foot or from one of several unique hides and bunkers. Dinaka provides the perfect contrast to a stay in the Okavango Delta, with added hidden treasure!
Perhaps the most unique activity to be experienced at Dinaka is a Kalihari
Bushmen's Walk with a few remaining inhabitants indigenous to the Kalahari. These small brown gentle souls will demonstrate how they lived and survived for generations – hunting with a handmade bow-and-arrow and making fire and (yes) water from natural resources. After a successful hunt, they would sing, dance and celebrate around the tribal campfire. Few are left, most having been relocated into townships in the South.
Accommodation: Dinaka – Tented Suite - B-L-D
DAY 12 - Dinaka | Maun, Bostwana | Johannesburg, South Africa
This morning, your light aircraft will collect you for your short flight to Maun, where you will board your flight returning to Johannesburg to commence your journey home – bidding a fond farewell to the unique and magnificent beauty of Botswana, her people and her creatures!

© Resorts & Charted Courses in association with Ker & Downey Botswana 
Call for Details and Pricing  800-757-6422 | 954-766-8899
In keeping with our child friendly policy, Ker & Downey Botswana contributes a certain percentage of its profit to Bana Ba Letsatsi, Ker & Downey Botswana's social responsibility program. Bana Ba Letsatsi - Children of the Sun - was established in 2004 to support Northern Botswana's orphaned and vulnerable children.