A Trip through Colonial Sri Lanka
Long after the sun has finally set on the British Empire, pockets of colonial romance
and elegance continue to flourish on the isle of Sri Lanka. This trip transports you back to the days of the East India Company and British Raj, where antique ceiling fans stirred lazily in the heat, wicker chairs nestled among palm trees, and striped shadows of light made by louvered doors lay gently on shaded verandas. This agreeable getaway provides a perfect taste of Sri Lanka and ideally complements pre- or post-cruise OR a visit to the nearby Maldives. "British Raj" refers to the period of rule by the British Crown in the Indian subcontinent between 1858 and 1947.
This island country rose to prominence as a port of call for Chinese, Persian, Arab, and Indian traders, later followed by Portuguese, Dutch and British colonialists, all leaving their indelible mark on its culture and architectural heritage. It was the English who named the island Ceylon, and in 1948, the British Colony of Ceylon was granted independence. In 1972, the country became a republic, and its name was changed to Sri Lanka. Sri Lanka means "resplendent island" in Sanskrit.

SAMPLE ITINERARY
DAYS 1-2:  GALLE FACE HOTEL
Arrive Colombo's Bandaranaike International Airport. Your Driver-Guide will greet you for private transport to The Galle Face Hotel situated in the heart of Colombo along the seafront. One of the oldest hotels east of the Suez, The Galle Face embraces its rich history and legendary traditions, utilizing them to create engaging experiences that resonate with generations of travelers. No visit to Sri Lanka is complete without staying at this majestic hotel, built in 1864 and recently restored back to its former glory. 
Enjoy a recuperative day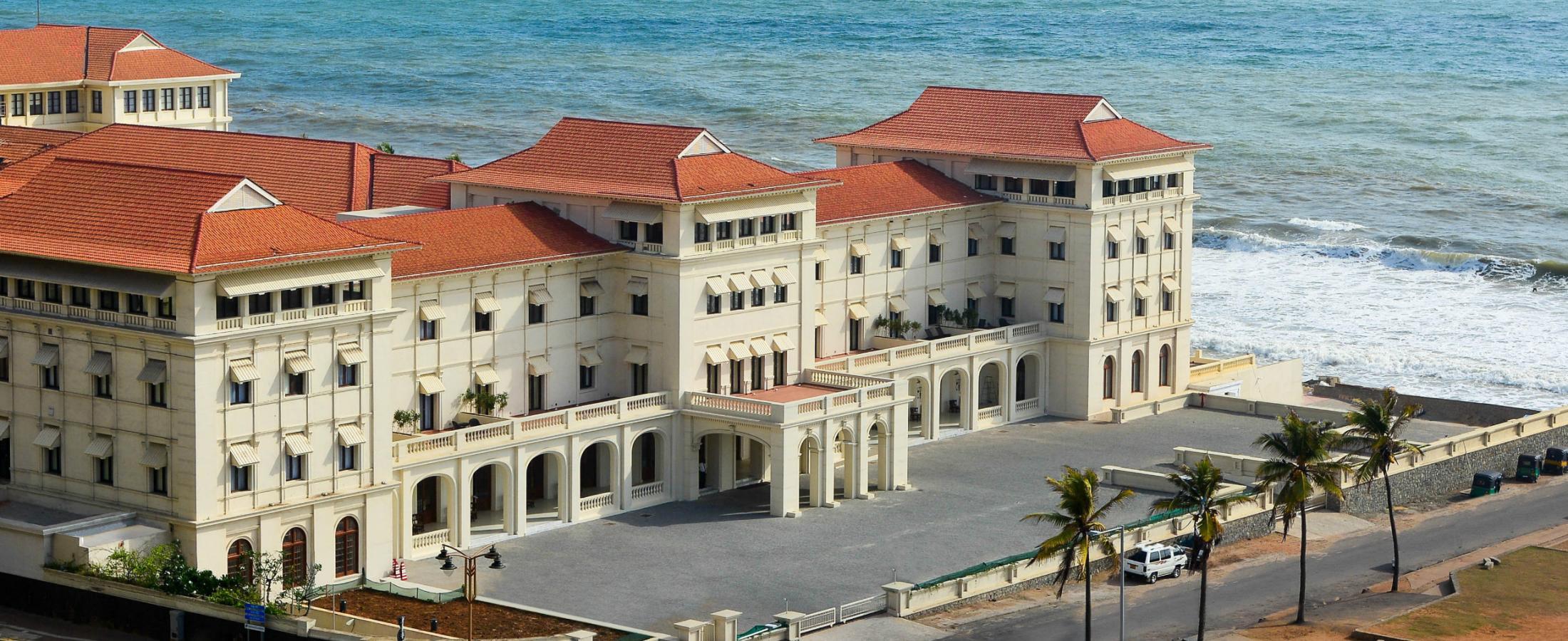 at this historic hotel on Colombo's seafront. If you're a swimmer, you can get your laps in at the 30-meter-long saltwater swimming pool. After, sip a cocktail in the garden and watch the sun set over the Indian Ocean. And don't miss the hotel's collection of memorabilia and artifacts. Take a walk down memory lane with the museum of famous faces arranged with loving care - throughout the hotel and in The Traveller's Bar. For more than a century and a half, an impressive array of adventurers, authors, actors, generals and gentry have sat at this bar and dined under the eaves of The Verandah. The Galle Face Historian conducts tours of the hotel on Tuesdays and Thursdays so be sure to reserve a place.  
Galle Face Hotel | B
DAYS 3-4-5:  CEYLON TEA TRAILS 

Today, head into hill country. Your driver will meet you in your hotel lobby this morning for transfer to Colombo City's Waters Edge sea plane airport. From here you will fly the short distance (30 minutes) to Castlereagh Reservoir in Hatton via Cinnamon Air. The drive from here via chauffeur to Ceylon Tea Trails is filled with dramatic and enchanting scenery, climbing now through bright green hills blanketed in tea, lush valleys, misty mountains, and rushing waterfalls. You will also catch your first glimpse of the 7,360-foot Adam's Peak, Sri Lanka's most holy mountain and spiritual pilgrimage for Buddhists, Muslims, and Christians alike. You'll begin to feel the distinct and pleasurable change in temperature as you slowly ascend the 1250 meters toward your destination. Nestled high into the heart of tea country are the 5 unique, classic colonial bungalows of Ceylon Tea Trails. These secluded Relais & Chateaux colonial-era tea-planter bungalows were home to the British tea estate managers. Each residence is unique and meticulously restored with period furnishings, set amidst colorful gardens and stone pathways. Upon arrival, you will be welcomed with tea and homemade scones on the veranda. Gracious butler service and gourmet cuisine create an exceptional ambience. In the evening as you dine, watch the mist roll in with a crackling fire to ward off the chill.
Your home for the next three nights serves as an ideal base for exploring the surrounding area. You may choose to trek through the endless maze of tea trails, watching the plantations come to life with pickers diligently at work filling their large wooden baskets full of bright green tea leaves, children holding hands on their way to school, and devotees praying at the small Hindu temples that dot the landscape. You'll also have the opportunity to visit a working tea factory to observe the entire manufacturing process and taste the final product.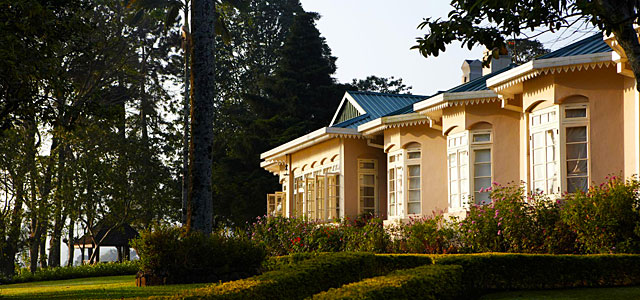 The TEA TRAILS EXPERIENCE:  Until the 1860's the main crop produced on the island of Sri Lanka, then Ceylon, was coffee. But in 1869, a coffee-rust fungus killed most of the coffee plants and estate owners had to diversify into other crops in order to avoid total ruin. Enter the introduction of tea planting and production. Our Resident Tea Planter will demonstrate the age-old tea making process. First, follow the trail of the planters of old Ceylon, as they trekked through the dense jungle looking for the best slopes on which to plant tea. Then on to watch the tea pluckers pick two leaves and a bud with deft hands. Then to the factory where the all-important conversion to "made" black tea happens. The machinery used is of very traditional British design, some as old as 100 years. The process is a very artisanal one. The daily complimentary tour ends with a tasting of different grades of this great brew. You will leave Tea Trails with a newly found appreciation of this wonder herb "Camellia Sinensis" and the terroir of Ceylon Tea.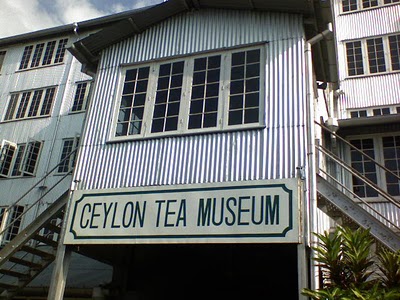 NUWARA ELIYA - a hill-top town - was founded by Sir Samuel Baker, the discoverer of Lake Albert and explorer of the Nile around 1825. It soon became a retreat for British civil servants seeking to escape from the heat of the plains. Many of the buildings retain features from the colonial period such as Queen's Cottage, General's House, Grand Hotel, Hill Club and the Post Office. The Nuwara Eliya post-office with its clock-spire is authentic English; so is the war memorial and the lovely old Anglican church. Nuwara Eliya, known as "Little England", now attracts visitors from all over the world for its picturesque landscape and cool climate. Both road and rail approaches to Nuwara Eliya are spectacularly beautiful, as both routes hug narrow mountain passes. You have the option of enjoying a scenic train journey from Hatton via Great Western & Talawakelle to Nanu Oya, the closest railway station to Nuwara Eliya, which is about 10 km away. A Tea Trails vehicle will meet you at Nanu Oya to complete the journey to Nuwara Eliya.
Ceylon Tea Trails | B - High Tea - D
DAYS 6-7:  AMANGALLA

Your driver will meet you at 7:15am for transfer to Castlereagh Resevoir – Hatton where you will board a sea plane bound for Koggala Lagoon. The tea plantations and tropical jungle gradually give way to the sparkling palm-fringed coastline of the Indian Ocean. At Koggala, another driver will meet you to drive you on to the colonial fort town of GALLE, situated at the southwestern tip of Sri Lanka. As you pass through the imposing fort gates, you are instantly transported to the erstwhile colonial era. Galle is the country's oldest living city and has a unique fusion of European and Arabic cultural and architectural influences. It rose to prominence as a port of call for Chinese, Persian, Arab, and Indian traders, later followed by Portuguese, Dutch, and British colonialists, all leaving their indelible mark on this enchanting seaside town. Spend your time leisurely exploring within the crumbling fort walls of the Old City. The 16th-century Galle Fort is a World Heritage Site. Spanning more than 90 acres, it is Asia's best preserved and largest surviving fort built by European occupiers.
The best way to soak up the charm of the Old City
is by taking a stroll around the thick granite walls of the fort. This one-hour circuit is most enjoyable at sunrise and sunset as the air is cool and the light is long and low. The real allure of the Old City is found in simply wandering through its warren of narrow alleys and side streets, replete with colonial homes with original archways and verandas still in use every afternoon, 18th-century churches, mosques, museums, and impressive art galleries. The daily "passeggiata" on the Fort's Ramparts takes place in the late afternoon, just as the sun begins to set. An opportunity for the community to gather and catch up on the happenings of the day, this centuries-old ritual is best begun from the lighthouse, walking clockwise around the temple.
Home-base yourself for the next two days at Amangalla. A stately grande dame in the city of Galle, Amangalla has the period charm of a bygone era. Built in 1684, the historic edifice retains its heritage in every architectural and decorative detail. Set within Galle Fort's historic walls, Amangalla is part of Sri Lanka's living heritage, imbued with colonial gentility and contemporary energy. Polished teak floorboards date back to the building's origins, and the interiors are decorated with antiques that span centuries. The windows look out over the 36-hectare hexagonal stone fort, the Fort's quaint lanes and ramparts, and the hotel's 200-year-old gardens. Set within its ramparts, Amangalla is an integral part of the UNESCO World Heritage Site. Centered within Amangalla's gardens and bordering the 21-meter pool, the Pool Courtyard contains five shaded pavilions on one side and a number of sunloungers shaded by palm trees on the other. For a delightful afternoon, poolside service is provided and light meals and snacks are available. Perhaps one afternoon you will want to shop for a brilliant Ceylon Sapphire. These are mined locally in the gem fields of Sri Lanka. 
Amangalla | B - Afternoon Tea - D
DAYS 8-9-10:  REEF VILLA & SPA

You driver will meet you this morning for the picturesque journey up the coastline of southwestern Sri Lanka to the village of Wadduwa. For the next 3 days, revitalize on one of Sri Lanka's utterly magnificent beaches. Reef Villa & Spa is a truly charming and spectacular villa, set in three acres of exotic tropical gardens with pavilions and reflection pools. The villa features seven unique, exclusive suites with antique four-poster canopy beds and high ceilings, lined with Kerala terracotta tiles. Furnished with a combination of Colonial antiques and crafted items of Indian origin, the flooring throughout consists of Bharat hand-crafted tile, beautiful and cool underfoot. Bathrooms are luxurious with free-standing hand-carved bath tubs, twin carved granite vanity basins, rain showers with polished granite screens, and stunning Venetian style mirrors. The suites, named after flowers indigenous to the island, feature shaded and spacious Burma teak verandahs with comfy chairs and Indian antique swings for private dining and relaxation.
HISTORY:  When the British voyaged to exotic
and distant lands in the colonial era, they desired all the comforts of home on the high seas as well as in their new residence abroad. This led them to commission the finest craftsmen to make impressive pieces of furniture by equipping themselves with portable desks, chairs, sofas, bedroom suites and punkah fans. Furniture pieces folded down ready for travel. Shining teak and brass desks, mahogany almirahs and magnificently carved four-poster beds could all be disassembled, packed up and carried on the backs of elephants. But regardless of whether the officers were sent to the jungles of India or the tea plantations of Ceylon, the mahogany dining table and chairs had to come along, not to mention the beds, bookcases, desks and gaming tables. Those items had to be relatively easy to break down and move, since the grand pianos, harps and cases of sherry and port certainly weren't. Today, long after the sun has finally set on the British Empire, the romance and elegance continues and flourishes at Reef where we transport you back, reminiscent of the days of the East India Company and the British Raj, where antique ceiling fans stir lazily in the heat, wicker chairs nestle among palm trees, and striped shadows of light made by louvered doors lie gently on shaded verandas. These suites offer timeless elegance and luxurious comfort. The magnificent British campaign furniture, Bharat hand crafted floor tiles, antique four-poster beds and ceiling punkahs all magically transport you back to days of the Raj. The Reef's Ayurveda Spa offers a gentle introduction to Ayurveda, and this is offered in a luxurious setting where you will discover your very own oasis of enchanting tranquility.
Reef Villa & Spa | B-D
DAY 11:  depart COLOMBO
This morning your driver will meet you for transfer onward, as you bid farewell to Colonial Sri Lanka.  B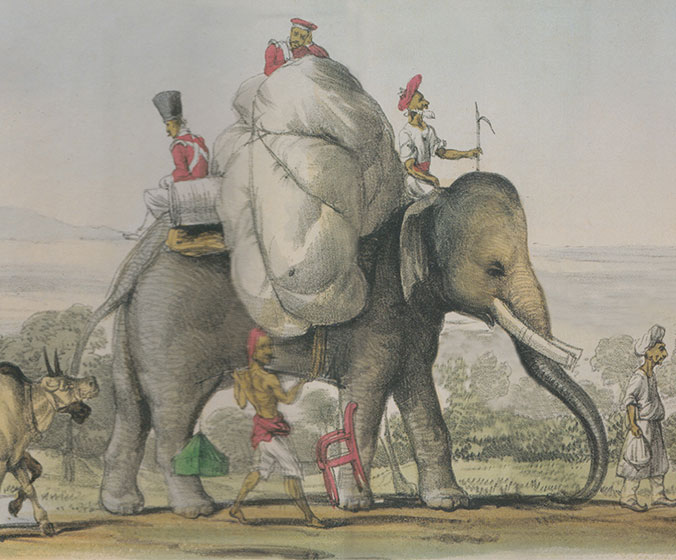 This itinerary can be customized to suit your personal interests.
Call 800-757-6422 for pricing and details.
© Resorts & Charted Courses