Introducing Silversea's Couture Collection
We believe that the world is full of unseen treasures. Inspired by an urgent need to unlock uncharted territories, Silversea has designed this unique collection of journeys to take you to the world's most remote destinations. Away from the coastlines, these pre-and post-cruise extensions are unconventional and unforeseen. Every Couture Collection journey has been scouted, assembled and endorsed by Silversea destination experts, whose mission is to discover new territories with elegance and sophistication, gaining access to the authentic beauty the world has to offer.
Rwanda & The Serengeti - 8 Day Program
WALKING IN THE FOOTSTEPS OF GIANTS
Take a quantum leap into the beating heart of the Motherland. Experience a unique chance to come face to face with the power and beauty that Africa is known for. Beginning with the mist covered heights of Rwanda, explore lush jungles while looking for the ultimate primate – the mountain gorilla. Continue on to Tanzania's Serengeti National Park to complete your African adventure with the opportunity to see one of Mother Nature's greatest spectacles: the natural migration in its thunderous glory - simply a bucket list must-see.
Private roundtrip charter flights (Pilatus PC12) throughout the safari.
Two days of gorilla trekking including permit and other activities.
Three days in the Serengeti looking for the "Big Five" in the largest terrestrial migration.
Exclusive luxury tented camps ensuring excellent game viewing: 
Bisate Camp in Rwanda and an exclusive Silversea tented camp in the Serengeti.
Expedition hosted by Conrad Hennig with special lectures on conservation.
All meals and local alcoholic beverages including fine South African wines.
This Couture Collection experience is exclusively connected to the following 2018 Silversea cruises:

White Desert & The South Pole - 11-Day Program
STANDING ON THE BOTTOM OF THE EARTH
Be an exclusive reclusive! Stand at 90° South. No place on earth can compare to the vast white desert of Antarctica. Navigate to the very soul of the frozen planet and be amongst the lucky few to actually stand next to the South Pole marker. Not only will you set foot on the 7th continent, you will travel in spectacular style by private chartered Gulfstream jet and luxury 4x4 to the interior of Antarctica. A unique chance to encompass your pioneering spirit and venture further than you have ever dared before.
Spend three nights in Cape Town, voted one of the most beautiful cities in the world!

Fly in and out of Antarctica in a Gulfstream business jet.

Spend 6 nights in the luxury of Whichaway Camp in the Schirmacher Oasis Region and one night at 83 degrees South.
See thousands of Emperor Penguins and their newly hatched chicks.
Enjoy a special parka for your Antarctic Experience.
Explore the ice caves and ice waves, and enjoy a variety of tailor-made activities on the ice.

With only 12 guests on each adventure and professional polar explorers as your guides, the day's itineraries are tailored to your preference.

All accommodation, meals and beverages (including all alcohol) in Antarctica.

All guiding fees, support of field guides and logistics staff.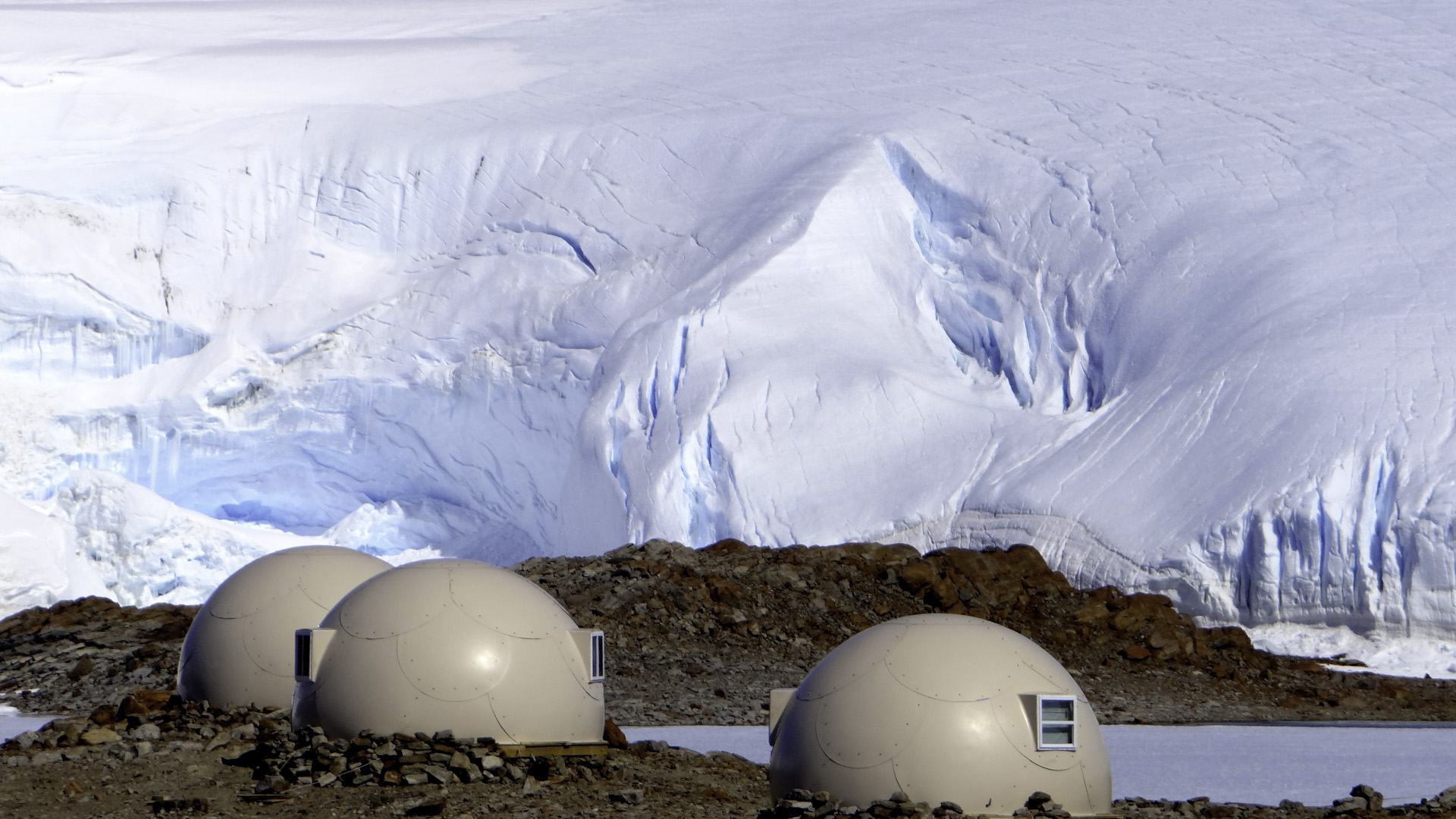 This Couture Collection experience is exclusively
connected to the following 2018 Silversea cruise:
Rajasthan, India
IN THE PATH OF POWERFUL TITANS
A Passage to India. An indescribable land where even seeing is not believing. Begin by trekking the silent tigers of Ranthambore National Park, waiting for the memorable thrill of alarm as luminous eyes stare at you from the depths of the jungle. Then journey deeper to the blue streets and kaleidoscopic color that illuminate Jodhpur's colonial past, before finally imbibing in the powerful force of the desert.
Look for tigers in Ranthambore National Park with 3 Safaris by Sherbagh in exclusive 4x4s.
Spend 2 nights in the luxury Sherbagh tented camp in Ranthambore.
Spend 2-days in the Great Indian Desert, staying at The Serai.
Exclusive lunch, dinner and sunset cocktail at The Serai Jaisalmer.
Dancers and musicians on farewell dinner at The Serai.
Travel by Vintage Car to the magnificent Umaid Bhawan Palace for your 2-day stay.
Private Baradari Dinner at Umaid Bhawan Palace.
Gala evening with private curator tour and dinner at Terrace of Mehragarh Fort.
1-hour Spa and chef designed menu at Amarante at The Oberoi Gurgaon Hotel.
Exclusive charter flight as specified in India. Business Class travel Muscat-Delhi.
Exclusive visit of National Gallery of Modern Art with the curator.
Lecture by famous historian and writer Willam Dalrymple.
Champagne on arrival at each hotel.
Private chauffeur driven air conditioned luxury vehicles for all transfers and excursions.
Services of an English speaking accompanied escort for all sightseeing and excursions.

All meals including wine & beer.

This Couture Collection experience is exclusively
connected to this 2018 Silversea cruise:
Outback Australia
A WALKABOUT ON THE OTHER RED PLANET
The Australian Outback is known for its unique beauty and exceptional wildlife, but rare are those who explore its raw challenges. Vast, grassy plains teeming with cattle, rivers infested with crocodiles and jagged hills dotted with Aboriginal rock art are just the beginnings of a journey that will redefine your definition of travel. Picture yourself, bathed in tangerine glow, rising above baked red earth and labyrinthine-striped cliffs. Let the millennia of history fill your spirit and soul as tall tales are told around a campfire. Then, join the adrenaline-filled world of a working cattle farm and enjoy a chance to invest in your cultural future for quite possibly, the most authentic travel experience you have ever had.
Private tour of Darwin and visit to Paspaley showroom.
Aboriginal welcome to country at Bullo River Station.
6 nights at Bullo River Station with bespoke tents and all the comforts of a 5-star luxury wilderness, outback station experience.
Private scenic helicopter excursion to cascades Gorge and waterholes.
Scenic Bungle Bungles flight utilising 2 x Cessna Caravans.
Use of 2 helicopters at Bullo River (1 x H130 6 seater and 1 x R44 3 seater) including 2 hours of helicopter usage per aircraft per day.
Dedicated cameraman and drone operator to capture daily footage – and recap each evening to guests.

All meals and beverages.
This Couture Collection experience is exclusively connected to these two 2018 Silversea cruises:
Tibet
STANDING ON THE ROOFTOP OF THE WORLD
An Arcadian culture that defies odds both geographically and politically. Tibet is so much more than a sum of its parts. Those who are adventurous enough to travel here will be blessed: watch with respect at the monks in Morning Prayer, witness a monk debate, meditate with a local. Scattered with temples and punctuated by characterful cuisine, the rewards here are numerous. Yet, in spite of soul stirring beauty, absolute peacefulness and profound joy, it is the people who will remain with you forever.
Visit Jokhang Temple, considered the holiest temple in Tibetan Buddhism.
Witness a monk debate.
Unwind with a private meditation class led by a local Tibetan Buddhist.
See the huge statue of Maitreya Buddha in Tashilunpo.
5 nights luxury accommodation at the St Regis Lhasa.
One night luxury accommodation at the Qomo Langzong Hotel.
Picnic lunch overlooking the sacred Yamdrok Yumtso Lake.
Traditional Yak welcome ceremony.

English speaking guide throughout.

One-way Business Class airfare Hong Kong to Lhasa or vice versa with VIP airport assistance.

All meals and beverages while on tour.
This Couture Collection experience is exclusively connected to two 2018 Silversea cruises:
Mongolia
ECHOES OF GHENGIS KHAN
Servey the majestic landscape and journey into nomadic tribal culture. Synonymous with inaccessibility and thwarted by tales of a bloody past, the 21st century seems not to have arrived in Mongolia. A country that eloquently expresses itself through its swooping Golden Eagles, thundering horse hooves and big, blue skies, this journey is a melting pot of hospitality, pageantry and wild Slavic beauty. Dine under a canopy of stars, make lifelong friends and remember this time for the rest of your life.
Witness the Kazakh People of the Altai Region in western Mongolia practicing their ancient tradition of hunting with Golden Eagles.
Travel by private chartered helicopter (MI8) throughout your stay in Mongolia.
In Sagsai pay a visit to a Kasakh family in their traditional dwelling.
Attend a Naadam Festival.
Luxury accommodations throughout your stay in hotels and private camps.
Relaxing massage upon your return to Tokyo.
One way Business Class flight Ulaanbaatar to Tokyo.

Local English-speaking tour guide. Touring in private vehicles.

Full board, local cuisine lunch and dinner throughout your travels.
This Couture Collection experience is exclusively connected to two 2018 Silversea cruises:
Bolivia
REFLECTIONS AT 12,000 FEET
If the altitude doesn't take your breath away, the peace, perspective and savage beauty most certainly will. Turn every experience you have ever had of Latin America on its head and rethink. The beating heart of a vast continent, once spellbound by Bolivia it will never let you go. Beginning with La Paz, retreat to the stillness of the Sajama National Park. However, the volcanoes and springs pale in comparison when confronted with the ethereal otherworldliness of the Salar de Uyuni. Blindingly beautiful, surprisingly colourful and cradled by snow-capped mountains, this landscape is a workout for the soul.
Stay at the bottom of ice-capped Sajama, Bolivia's highest peak.
Visit the highest and largest salt lake in the world.
6 nights in bespoke luxury Silversea Tented Camps specially erected along the way.
Enjoy a two-night stay at the luxurious Alto Atacama Desert Lodge and Spa.
A special charter flight.

Transportation throughout a in private Toyota Land Cruiser or Nissan Patrol with Spanish/English speaking driver/guide.

All meals including soft drinks, local beers, tea, coffee, house wine.

All activities and visits with guide during full days in camps.
This Couture Collection experience is exclusively connected to two 2018 Silversea cruises:

Namibia & Rovos Rail
SIFTING THROUGH THE SANDS OF TIME
Trains, Planes and Automobiles. A Journey through Time. To say that Namibia is a country of untold stories is an understatement. Step back in time and travel through an astonishing landscape. Wend your way through the wonderful backdrop drenched in eccentric color: orange, pink, red, ochre, black, purple. Then, the wood paneling, fine dining and curated itinerary of Rovos Rail's Pride of Africa complete one of life's true adventures - perhaps the world's greatest train journey. 
Gaze at the stars from the award-winning Little Kulala Wilderness Reserve - 3 nights.
Go flightseeing over the skeleton coast.
Take a hot air balloon ride over the Namib Desert.
Ride the iconic and luxurious Rovos Rail Pride of Africa (2 nights/deluxe suite) and capture the charm of a bygone era.
1 night at Tintswala on Waterfall or The Silo, depending on your trip. Includes a gourmet dinner.

All meals and beverages included on the train.

Local English speaking tour guides throughout your stay.

Twice daily scheduled camp activities.

Charter flight from Windhoek to Little Kulala.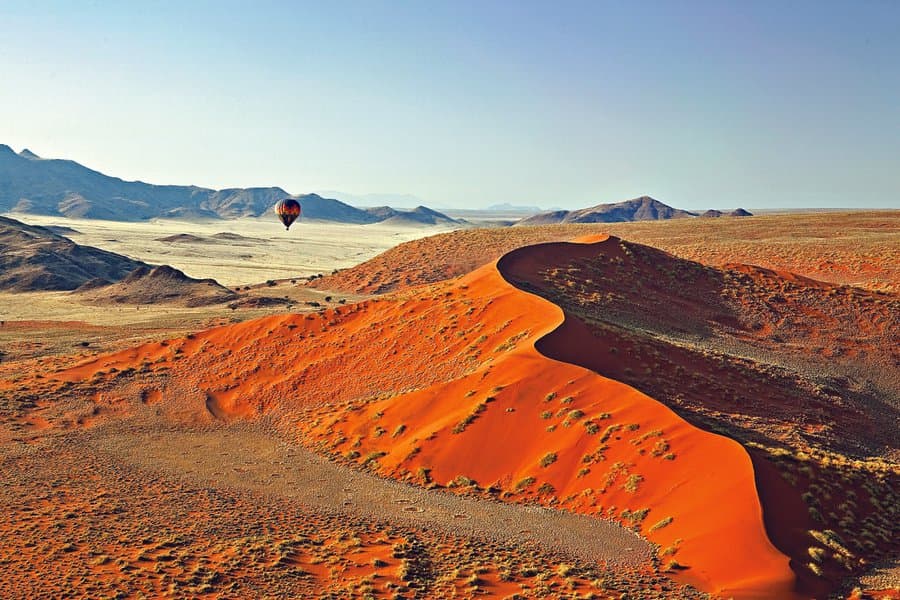 This Couture Collection experience is exclusively connected to two 2018 Silversea cruises:

Iceland
UNRAVELLING THE LEGENDS OF FIRE AND ICE
Be one of those who are ready to be transformed. Icelandic rumor has it that legends of Viking lore and elfin magic permeate every step of the way, that this is where extremes are met but never equalled. They say that many can imagine but few are lucky enough to experience the starkly beautiful windswept plains and thunderous waterfalls that hold so much to so many. Encompassing dark, mysterious caves, the frozen Arctic Circle, mysterious Nordic tales and an oasis of relaxation, this journey is a rarity in a world of plenty.
Travel by helicopter on your visit to remote lands.
Explore one of the many ice caves found on the island.
Take a swim in the world-famous blue lagoon.
Enjoy a variety of meals prepared by private chefs.
4 nights accommodation at the luxurious Tower Suites in Reykjavik.
2 nights luxury accommodation at the exclusive Deplar Farm.
Helicopter transfers to north Akureyri and Deplar Farm.
A variety of specialized activities to enhance your Icelandic experience.

All meals, alcoholic beverages and house wines.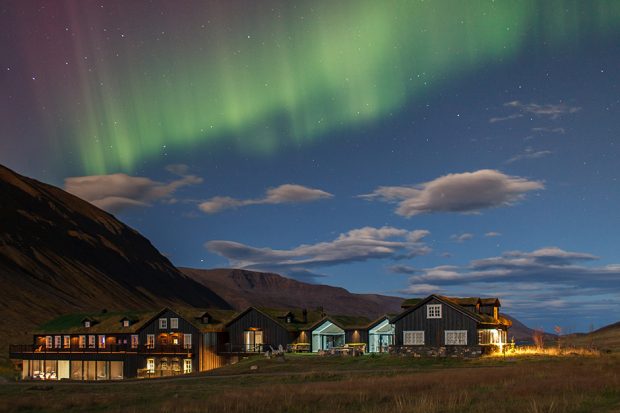 This Couture Collection experience is exclusively connected to two 2018 Silversea cruises:
Call for Details and Best Pricing  800-757-6422