Sail on the Wild Side - Serenity's World Cruise 2019

Crystal Serenity's 2019 Full World Cruise - Oceanic Realms & World Discoveries - Los Angeles to Monte Carlo
For those of you yearning to take a voyage on the wild side, Crystal Serenity's 2019 World Cruise offers 85 days of exotic adventure wrapped in the all-inclusive indulgences of the World's Most Awarded Luxury Cruise Line. Traveling from Los Angeles to Monte Carlo - January 13 to April 8, 2019 - by way of the South Pacific and Indian Ocean, you'll see kangaroos in the Outback, spot lemurs in Madagascar, sight Big Five on safari and search for secrets in the world's oldest desert. Sprinkled throughout these grand wilderness odysseys are flourishes of cosmopolitan glamour and legendary landmarks - Sydney's opera house, Cape Town's Table Mountain, Barcelona's Sagrada Família, and Monaco's Royal Palace. What's more, Crystal Serenity will have just emerged from a multi-million-dollar transformation, reimagined to even higher standards of All Exclusive Luxury with more innovative dining options, more state-of-the-art technologies and more luxurious penthouses.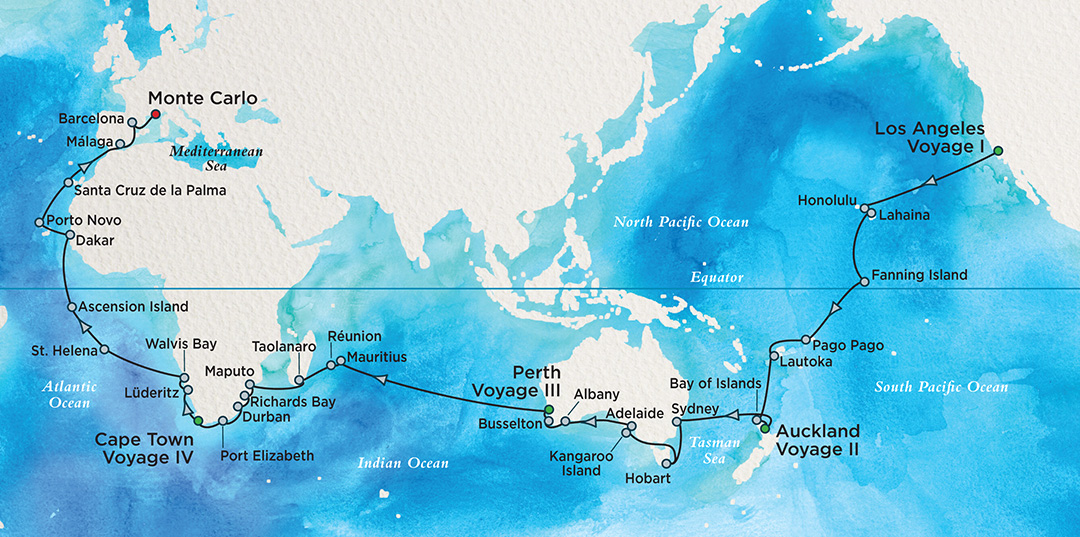 85 DAYS - 33 PORTS - 17 COUNTRIES - 4 CONTINENTS
WORLD CRUISE OVERVIEW
Wildlife aficionados and adventurists will thrill to discover the beaches, rainforests and volcanoes of Hawaii and the breathtaking isles and coral atolls of the South Pacific. Australia's southern coast beckons with maiden calls at Kangaroo Island, affectionately referred to as "where the wild things are," and Busselton, gateway to the Margaret River Wine Region. Crossing the Indian Ocean, you will trek rainforests in Mauritius, snorkel reefs in Reunion Island, and explore game reserves in South Africa, to then visit the Namib Desert on Africa's west coast, remote islands of the Atlantic, and picture-perfect ports in Spain as this spectacular odyssey culminates with two overnights in Monte Carlo.
CRYSTAL SERENITY'S 4 UNIQUE VOYAGES:
WORLD CRUISE SEGMENT 1:  HISTORIC HARBORS & IDYLLIC ISLES
Experience the rejuvenating luxury of days at sea on a journey highlighted by calls at mesmerizing Pacific isles.
Your exclusive fares starting at: $7,950 (Per Person)
From/To LOS ANGELES TO AUCKLAND
Dates JAN 14 - FEB 5, 2019 - 22 days

WORLD CRUISE SEGMENT 2:  DISCOVERIES DOWN UNDER
Maiden calls to scenic Kangaroo Island and Busselton and immersive overnight stays in Sydney and Tasmania highlight this incredible voyage.
Your exclusive fares starting at: $6,185 (Per Person)
From/To AUCKLAND TO PERTH
Dates FEB 5 - FEB 20, 2019 - 15 days
WORLD CRUISE SEGMENT 3: SEASHELLS & SAFARIS
Savor the tranquility of days at sea as you follow the Calms of Capricorn across the Indian Ocean to discover the wonder of Cape Town's Table Mountain.
Your exclusive fares starting at: $7,595 (Per Person)
From/To PERTH TO CAPE TOWN
Dates FEB 20 - MAR 13, 2019 - 21 days
WORLD CRUISE SEGMENT 4:  AFRICAN ADVENTURER
A voyage of enchantment. Enjoy maiden calls to Georgetown on volcanic Ascension Island and Porto Novo, gateway to mountainous Santo Antão.
Your exclusive fares starting at: $8,260 (Per Person)
From/To CAPE TOWN TO MONTE CARLO
Dates MAR 13 - APR 8, 2019 - 26 days
EXCLUSIVE TO FULL WORLD CRUISERS
* A celebratory Welcome Dinner and Bon Voyage aboard Crystal Serenity, January 13, 2019
* Two exclusive shoreside events; details announced in advance of travels 
WORLD CRUISE BENEFITS
* Full World Cruise Book Now Fares with limited-time savings
* Additional Crystal Society Member-only Savings
* Additional New-to-Crystal Savings
* World Cruise shipboard spending credit of $2,000 per stateroom/suite
* All guests paying in full 180 days prior to departure also receive 2.5% additional Early Full Payment savings
* Complimentary private car and driver transfers, airport to ship and ship to airport * restrictions apply
* Excess luggage reimbursement * restrictions apply
* Two exclusive shoreside events during cruise
* Special World Cruise-themed onboard events
* Specially selected gifts
YOUR CRYSTAL EXPERIENCE
* Complimentary gratuities for all dining, bar, housekeeping and butler staff
* Complimentary select fine wines, champagne and premium spirits
* Complimentary Wi-Fi and Internet access. Restrictions apply
* Complimentary evening of specialty restaurant dining at least once in Silk Road or the Sushi Bar celebrating the cuisine of Nobu Matsuhisa, and at least once in Prego.
* Complimentary enrichment via the innovative Creative Learning Institute® and Computer University@Sea® with classes in diverse topics such as world affairs, wellness, art, wine appreciation, digital photography and iPad filmmaking.
* Complimentary fitness and Wellness at Sea® programs with classes in yoga, mat Pilates, Spinning®, and so much more!
Book now on Crystal's epic Oceanic Realms & World Discoveries 
and you can take advantage of Full World Cruise benefits including exclusive fares and savings, and a host of special services, events and amenities. For details, pricing and additional information:  
800-757-6422