One Dreamy Trip: India the 2nd Time Around
 . . . or 3rd or 4th. On this re-visit to India, we're on a mission of pure pleasure. This time we're here to indulge in those things we didn't get enough of the first time - the iconic garden, the pool, the Spa, the intriguing music, authentic cuisine, the brilliant shopping arcades and playful architecture, the compelling otherworldliness .. and yes, we're here to treat ourselves well. Following a splurge in Mumbai and romantic Udaipur, we'll head up into the clouds to seek the serenity of Ananda, then finish off our lofty journey by paying our respects to Nepal.
DAY 1:  Mumbai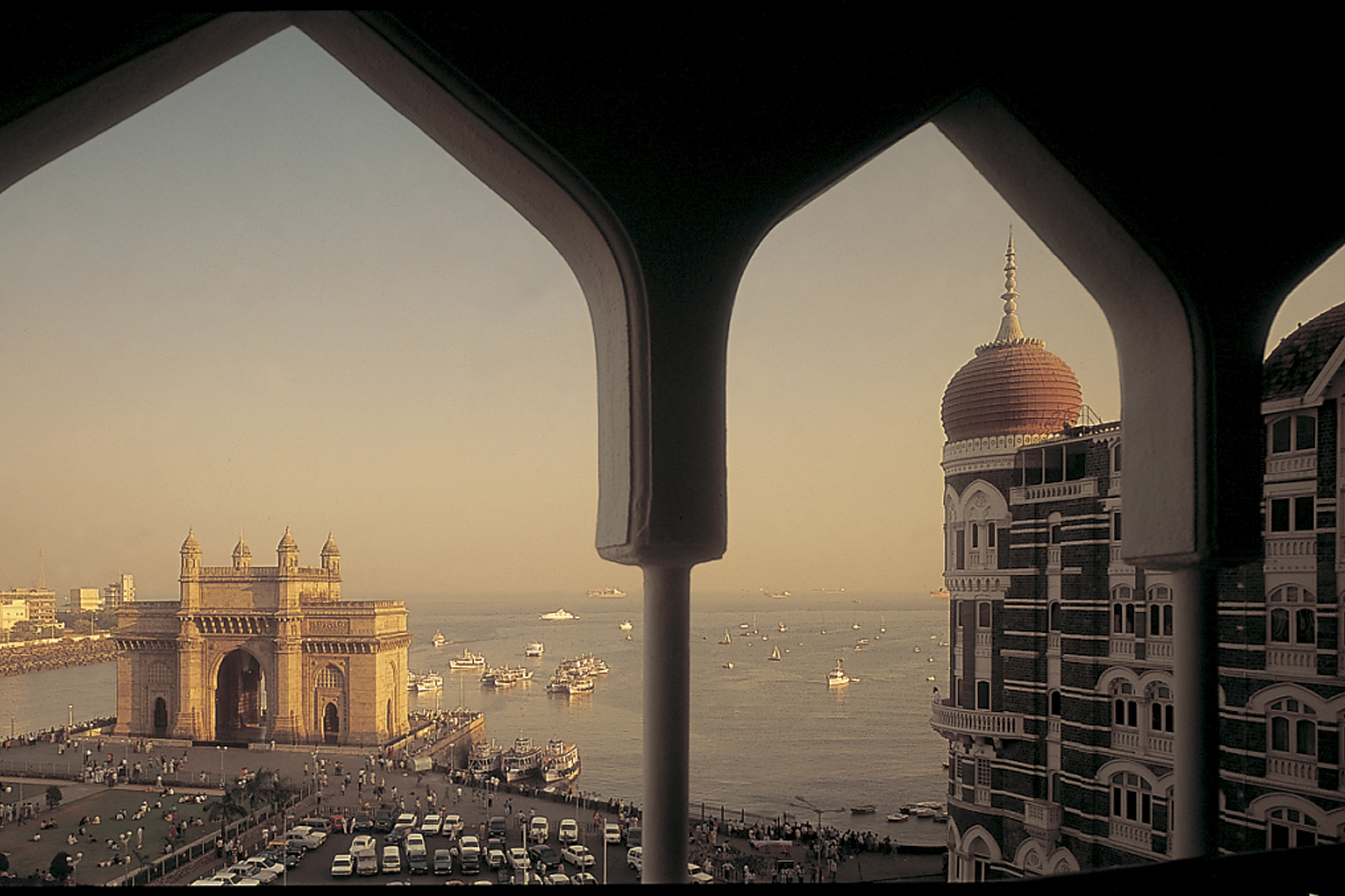 Welcome to India! Upon arrival at Chhatrapati Shivaji International Airport, your driver (English-speaking of course) will whisk you off to the beautiful and historic Taj Mahal Palace Hotel. The personification of Mumbai's essence, this flagship was built in 1903. Check in to your luxurious room overlooking the Arabian Sea and settle in for the remainder of the evening.
Taj Mahal Palace Hotel - Luxury Grand Seaview Room
DAY 2:  Mumbai
After breakfast this morning, embark upon a day of shopping and exploration in this colorful city. A private driver and/or guide will be at your disposal to escort you to sights and shops of your choice. From beautiful textiles and pashminas to hand-crafted jewellery, art and exquisite hand-woven carpets, Mumbai offers a multitude of options. Exclusive excursions will give you a glimpse into the city's heritage and an exhilarating shopping experience at the city's best and most unique shopping destinations. Bargain like the locals do, or indulge in highest-end.
The Taj Mahal Palace is within walking distance of Colaba Causeway, known for its touristy tiny roadside shops and unique boutiques. Located nearby as well is Kala Ghoda, a hip and flourishing art and heritage neighborhood with must-visit museums, Indie galleries, historic churches and synagogues. Here you will also find designer cafes and sidewalk art stalls. February's annual Kala Ghoda Arts Festival is popular for its edgy installations, music and dance performances, literary and cinematic discussions.

At the end of your expedition, celebrate your success at AER - Four Seasons 
Mumbai's rooftop lounge. Covering the entire rooftop, this 34th-floor open-air lounge provides panoramic city and sea views and creates an atmosphere of chic relaxation high above the bustling streets.
Taj Mahal Palace Hotel - Luxury Grand Seaview Room - B 
DAY 3:  Mumbai
Mumbai hides a wealth of culture. Its many museums, such as the Dr. Bhau Daji Lad Museum (formerly Victoria & Albert Museum) and the Chhatrapati Shivaji Maharaj Vastu Sanghralaya are caretakers of a range of rare finds and notable masterpieces apart from being architectural marvels themselves. Next, if you missed Mani Bhawan the first time around, here's you chance to visit this lovely and worthwhile museum dedicated to the life and works of Mahatma Gandhi.

This afternoon, tour the trendy neighborhood of Bandra by auto-rickshaw. This area of the city is home to the likes of Bollywood stars and expats. Never-ending restaurants, bars and designer stores define this posh Mumbai suburb. But beneath its stylish surface lie some of Mumbai's quaintest neighborhoods. Nextdoor to Bandra you will find Ranwar, which retains a quaint feel and provides a glimpse into a simpler pace of life. 
After all this excitement, return to the calm and oasis of your hotel. A visit to its Jiva Spa may be in order. We should also mention that the Taj houses its own contemporary Art Gallery of renown and world-class shopping arcade.
Taj Mahal Palace Hotel - Luxury Grand Seaview Room - B 
DAY 4:  Udaipur, Rajasthan
Your driver will meet your this morning to take you to BOM airport and assist with check-in for your short flight to Udaipur and the fantastical Taj Lake Palace in the midst of Lake Pichola. The hotel's story-book boat will deliver you to the door of this historic Rajasthani summer palace. While settling in, take in magnificent views of the City Palace and Jag Mandir Palace from your hotel window, and stroll the tranquil interior courtyard gardens — an idyllic place to relax and enjoy your evening.

To refresh, Taj Lake Palace has to be the most romantic hotel in the world. It was built in 1746 as the pleasure palace of Maharana Jagat Singh II. As one of the most recognizable residences in the world, it has been featured in many films and TV serials, most notably, Octopussy and The Jewel in The Crown.
Taj Lake Palace - Lakeview Palace Room - B
Day 5:  Udaipur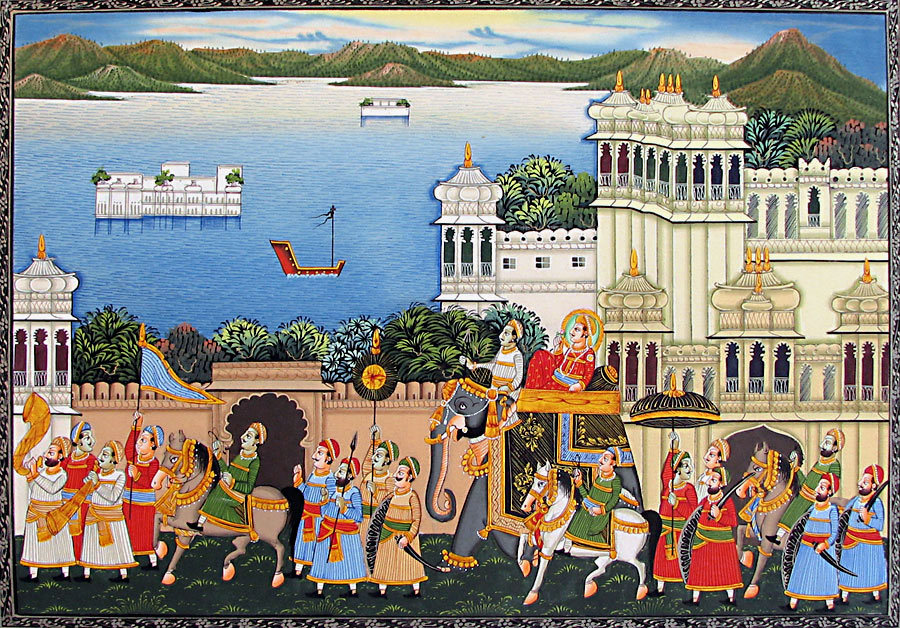 After a leisurely breakfast this morning, we will visit a local Mewar school of miniature painting - a Rajasthani style developed in the Hindu principality of Mewar during the Rajput period of the 17th and 18th centuries. The Painting House in Sisarma is an art school near the access gate to the City Palace, where students are trained in the art. Miniature Paintings are characterized by their bright color and direct emotional appeal, highlighting the culture of Rajasthan through ornate but simplistic aesthetic. Additionally, there is an outstanding century old arcade of Rajasthani Miniature paintings called the Mewar Art Gallery, established in 1976. A group of over 45 skilled artists is focused on replication of themes using dissimilar materials such as silk cloth, hand-made paper, camel bone and marble. The paintings are made with natural stone colors and with real gold and silver. The Mewar Art Gallery has been recognized as one of the primary art schools of royal Rajasthan.
Returning to beautiful Taj Lake Palace, enjoy the remainder of the afternoon relaxing alongside its charming swimming pool or soaking in the Royal Jiva Spa Boat's Jacuzzi afloat on Lake Pichola.
Taj Lake Palace - Lakeview Palace Room - B
Days 6-12:  Ananda in the Himalayas - A Resort Spa 

Today, we'll travel into the foothills of the Himalayas by way of a short flight which makes a single connection at Indira Gandhi International Aiport (DEL). Arriving later afternoon at Dehradun airport, our driver will greet us for the 40 minute picturesque drive up to Ananda (meaning 'bliss' in Sanskrit).
India's award-winning Ananda Spa is a place of pure luxury. Established on the 100-acre estate of a Maharaja and once a retreat for Britain's colonial elite, Ananda Spa is not just a refuge that leaves you breathless with the enchantment of its surroundings, but one which assists in redefining lifestyle to include traditional Indian wellness regimes in order to achieve bodily balance and holistic wellness for mind, body and soul. Rooms, suites and villas are built on a mountain ridge overlooking the valley below or the garden and Palace, and are designed with wooden floors, local artifacts, hand-crafted furniture, and marble bathrooms with sunken bathtubs. 
From diet and exercise to beauty, health and cuisine, each aspect of one's being is taken into complete consideration while implementing a personalized Spa program which is designed to meet individual needs and health goals. Ananda offers a number of all-inclusive wellness packages from which to choose. These programs achieve best results in Ananda's safe, nurturing atmosphere guided by a team of expert ayurvedic doctors, skilled therapists, nutritionists, yogis and Spa cuisine chefs.
Package Duration: available for 3, 7, 14 or 21 nights
For our purposes, we might select the 7-Night (6 Days) RENEW package. The Renew program provides a safe and effective way to revive and rejuvenate the body and mind combined with holistic anti-aging processes. Treatments are carefully chosen to increase circulation, especially at nerve endings, tone muscles, and create lubrication between vertebrae to provide relief to the lower back, improve sleep, and reduce redness and dryness. Healthy and nutritious diet revives the body's immune system, and special yoga postures and exercises help relieve joint stiffness and improve mental clarity. The package also includes a choice of Spa treatments and massage therapies from which to choose and daily use of the Hydrotherapy facilities: Steam, Sauna, Chill Plunge Pool and Foot Bath.
Ananda in the Himalayas - Deluxe Valley View Room/Premium Floor with Private Balcony - B L D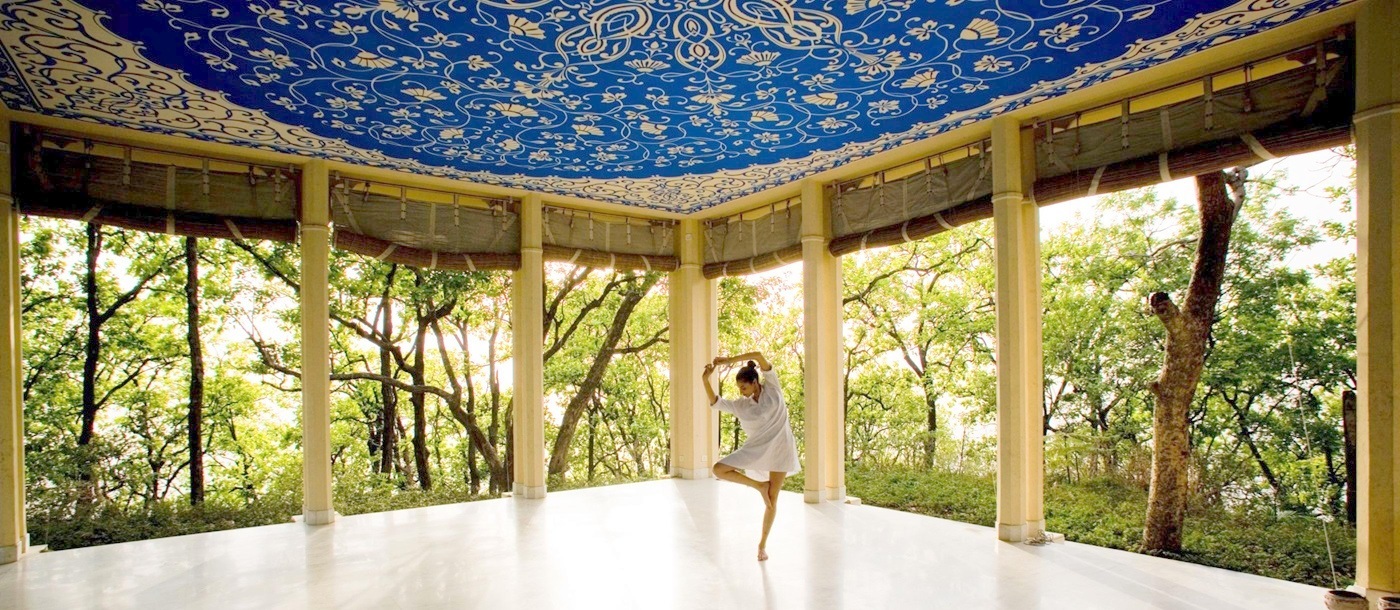 Optional Activities:
Enjoy gentle nature walks along picturesque hill trails from Ananda, or experience thrilling guided mountain treks with views of the snow-capped Himalayan Mountains. 
Experience a wildlife safari in Rajaji National Park spread across 820 sq km surrounding Ananda, home to more than 500 elephants and a bird-watchers paradise.
The Ganga Aarati at Rishikesh is an unforgettably spiritual experience. Performed each evening at sundown at the Parmarth Niketan Ashram on the banks of the holy river Ganga, it is an event to gladden the heart, feed the soul and create harmony with the elements. Fire, Water, Earth, Air combine in perfect synergy during this ritual to leave you with a feeling of having witnessed perfection. This experience entails a downhill trek passing through verdant Sal forests. If guests wish, they can spend the evening in the town of Rishikesh and watch the evening Aarti performed on the banks of the river Ganga, then return to Ananda by car.

Day 13:  Kathmandu, Nepal
After another short flight (again connecting via Delhi's international airport), we will arrive in Kathmandu. Our driver will transfer us to Dwarika's Hotel. 
A word on Nepal:  People have settled in the Kathmandu Valley
for over 2000 years. Throughout this period, the valley has witnessed the migration of people from the high plateaus of Tibet, the fertile plains of the Ganges, and everywhere in between. This intermingling of people and cultures created a vibrant and diverse society within the valley. By the 12th century, the inhabitants of the Kathmandu Valley had developed a unique civilization and were known throughout the region as the Newars. They shared – and continue to share – a linguistic and cultural community bound together by a common language and culture called Newari.
Also during this period of time, skilled craftsmen - sculptors, painters and carvers - traversed the regional trade route between India and Tibet. With a keen aesthetic sense, a rich artistic tradition flourished. Much of the Dwarika's collection of woodwork dates back to this period, preserving a cultural legacy that has defined Kathmandu. The Newars follow both Hinduism and Buddhism, celebrating festivals and worshipping deities from both traditions, and creating a unique example of religious tolerance and harmonious living.
Dwarika's Hotel - Heritage Junior Suite - B
Day 14:  Kathmandu
Following the devastating earthquake of 2015, rebuilding and restoration is proceeding at a brisk pace while tourists are returning to bathe in the Himalayan city's sensory overload: temples and squares, prayer flags and sputtering scooters, merchants shouting from behind their stalls, wafts of incense and spices. Since we are tourists and since this is a first visit to Kathmandu, we will succumb to its history with a bit of sightseeing. 
After breakfast this morning, ride by rickshaw to Kathmandu's Durbar Square. Here we will see Taleju Temple and the House of the Living Goddess Kumari, after which we will stroll through the bazaar and "old city" - Durbar Square - which lies at the center of Kathmandu. To its north, frenetic Thamel is a maze of hotels, restaurants, trekking agencies and shops. To the south, the Bagmati River borders peaceful Patan district with its own Durbar Square and expat communities. Beyond the former Royal Palace to the east are the smarter shopping centers and embassies. After lunch, we will take in Patan Durbar Square, the Golden Temple, Krishna Mandir and the Patan Museum. Return to Dwarika's for a serene evening.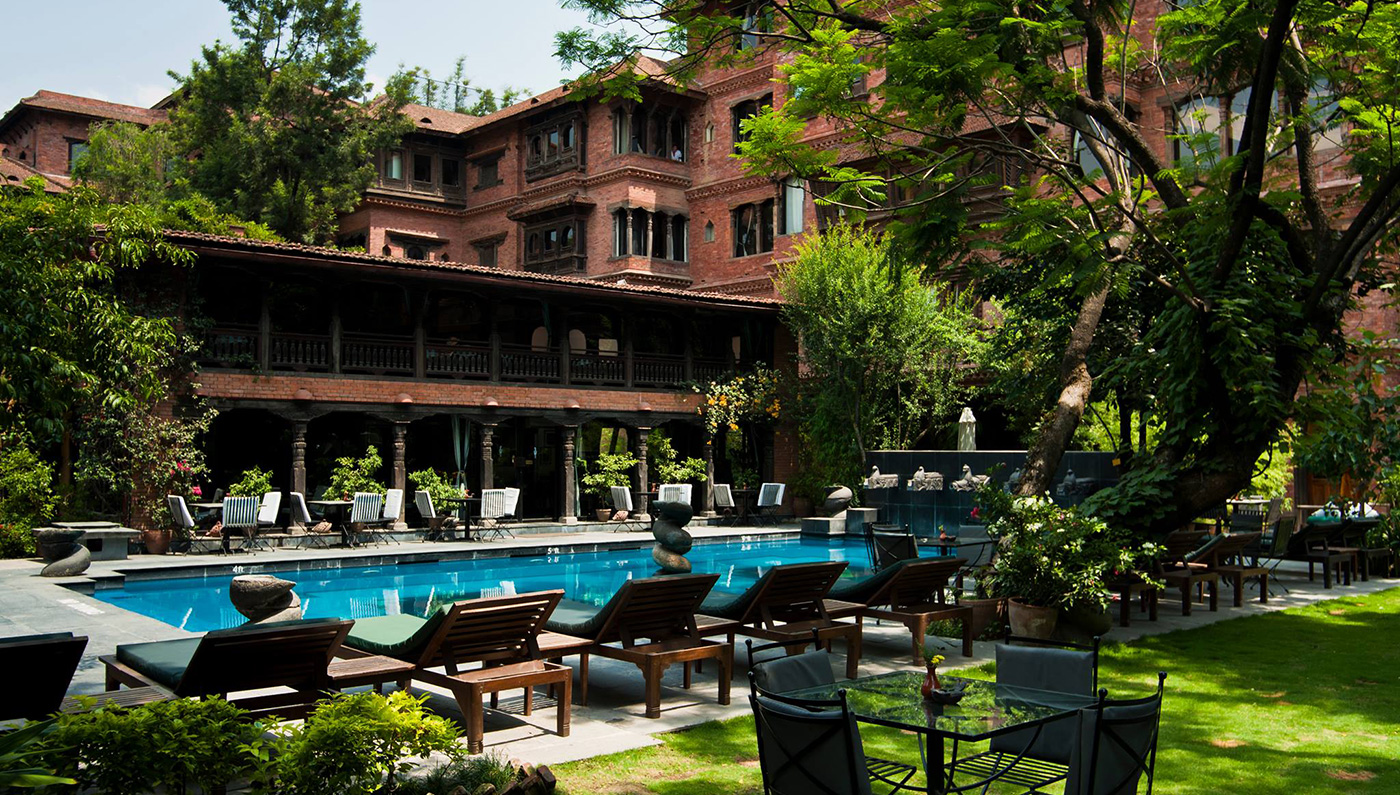 Day 15:  Kathmandu 
Early this morning, enjoy an awe-inspiring flightseeing tour past Mount Everest, or opt to take a helicopter for an up-close experience of the mountain. After breakfast, set out to explore the medieval art and architecture of Bhaktapur. Bhaktapur is an ancient city renowned for its elegant art, fabulous culture, colorful festivals, traditional dances and the indigenous lifestyle of the Newari community. It is just 12 km east of Kathmandu, the modern capital of Nepal, but you may feel like you've gone back in time to the Middle Ages, given the ambiance. Then take in the highly revered Hindu temple of Pashupatinath and the towering Buddhist stupa of Boudhanath where a local artisan explains the religious significance of Thangka artwork.

Day 16:  Kathmandu
This morning, after breakfast, we will commence our journey homeward bound ~ bidding farewell to our heavenly experience in the Himalayas!
offered as Custom Trip 
call for details and pricing 800-757-6422
© Resorts & Charted Courses