Art + Safari = Art Thrives Throughout Africa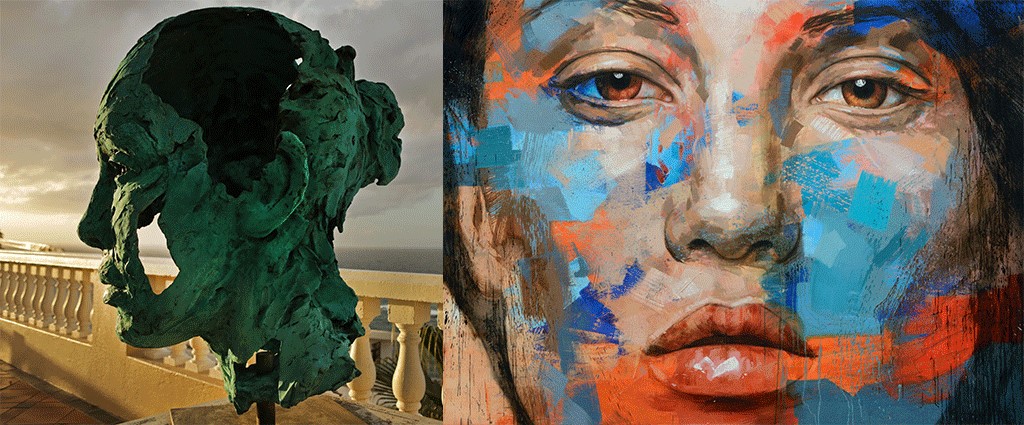 ART thrives throughout Africa - from the vast grasslands of Kenya to South Africa's southernmost water's edge. To celebrate the opening of Zeitz MOCAA, journey from Jochen Zeitz's Kenyan home and one of the world's most luxurious safari retreats, to Cape Town - taking in South Africa's most significant private art collections, iconic galleries, creative street art, and of course the new and important Zeitz Museum Of Contemporary Art Africa. This exceptional ART + SAFARI journey is a "work of art" !
ITINERARY HIGHLIGHTS 
Enjoy Segera Retreat with stunning views of Mt. Kenya and opportunities to enjoy unique activities like hot-air-ballooning and helicopter tours.


Experience the famous Masai Mara Game Reserve: a jewel in Africa's crown and renowned for its high concentration of wildlife throughout the year.

Explore Cape Town, the Mother City of South Africa.

Enjoy insider access to South Africa's finest private collections of traditional and contemporary African art.

Explore Cape Town's street art - murals and graffiti - and meet some of the inspired artists.

Take a curator-led tour of the new Zeitz Museum of Contemporary Art Africa with 80 galleries housing permanent and temporary exhibitions, Centres for Art Education, Photography, Costume, Curatorial Excellence, the Moving Image, and Performative Practice.

Throughout, luxuriate in magnificent accommodations and world-class food and wine.

Delight in an optional Winelands Tour: enjoy world-class art collections and the best wines produced in South Africa.

Day 1 - Arrive Nairobi, Kenya
Welcome to Kenya! From the wide grasslands of the Masai Mara to the majestic wildlife that roams within it, there is no place like Kenya for the classic safari. The luxury safari was pioneered in this very region in the 1960s, and the Kenya safari remains the experience of a lifetime. Experience two of Kenya's iconic safari destinations - Segera Retreat in the heart of Laikipia and the Masai Mara Game Reserve - as you track the Big Five, spot unusual species unique to the region, and visit with the indigenous Maasai people. 
Upon arrival at Jomo Kenyatta International airport, you will clear customs and be greeted by your professional safari guide, who will transfer you to Hemingways Nairobi Hotel for overnight. Hemingways Nairobi is the new luxury boutique hotel in the serene Karen suburb of Nairobi. Ideally positioned to give sweeping views of the Ngong hills, the property offers 45 enchanting rooms housed in an elegant plantation-style building, each with views of the forested valleys and rolling hills in the distance. Hemingways prides itself in offering outstanding, personal service which includes valet and butler service for each room. Other amenities include free wi-fi connectivity, satellite television, a gym, spa and pool. The property is located 16kms from city centre, making it a great alternative to any city hotel.  Hemingways Nairobi - 1 night - Executive Room - B

Day 2 - Fly to Segera Retreat 

Breakfast at the hotel. Then meet your representative in the hotel lobby for transfer to Wilson Airport. Enjoy your private charter flight (45 min) to the semi-arid landscape of the Laikipia Plateau, one of Africa's last relatively undiscovered frontiers. Pastoral nomads live harmoniously amid wide-open grasslands and healthy ecosystems along with ranchers who have settled here over the last century. On arrival, the lodge representative will meet you at the airstrip for transfer to Segera Retreat, a private 50,000 acre wildlife sanctuary and award-winning eco-safari retreat that epitomizes understated luxury amid an ethos of sustainability. Check in and lunch at the lodge.
  
Segera was established in 2005 by passionate conservationist and art collector Jochen Zeitz. Determined to restore an overgrazed swath of land failing to support its communities and wildlife, he pioneered the "4C" concept (Community, Commerce, Culture and Conservation), and the area is now thriving and providing refuge to endangered species, big game and migratory animals. The retreat itself consists of a handful of villas, set in a lush garden, each offering a private elevated deck with views of Mt Kenya. Each villa is enclosed by an abundance of plant life, creating a private and secluded environment. Warm interiors flow out onto the private decks, overlooking the endless African savannah or the botanical Sculpture Garden. There are sun loungers outside each villa where guests can soak up the sun. Below each villa is a suspended swing bed where one can while the hours away. On one night, the swing bed can be draped with mosquito netting, and guests can spend the night under the African sky. On the deck of each villa is a Jacuzzi bath with lovely views over the landscape. Guests can also enjoy a saltwater pool, full-service spa, fitness center, organic garden that supports the retreat's farm-to-table philosophy, and a boutique with curated local art and handicrafts.


The larger villa - Villa Segera - boasts a generous salt-water swimming pool and two lounge areas decorated with fine antiques and artworks, including an exclusive Michael Poliza photo gallery. Segera's signature villa - Segera House - features all the usual villa highlights plus ornate North African crafted doors that swing open into a double volume reception area, jeweled with dramatic chandeliers and an open plan lounge. The three indoor lounge areas spill out onto an outdoor living area with private garden and deliciously cool plunge pool. Up the galleried staircase, two vast bedrooms with en suite bathrooms open onto decks that look out across the savannah from beneath a thatch-fringed roof.  Segera Retreat - 4 nights - Villa - B-L-D 
ART - Segera strives to strengthen intercultural relationships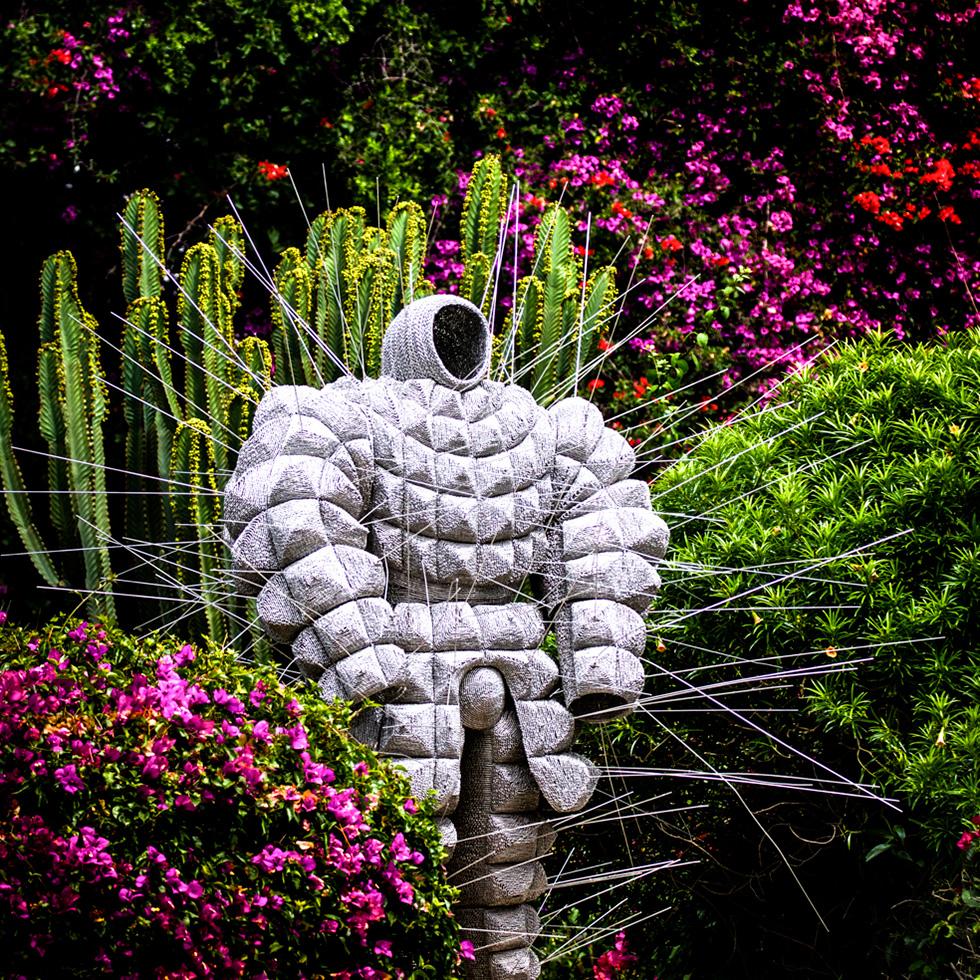 and understanding, safeguarding cultural heritage while raising awareness of cultural diversity. As a Satellite of the Zeitz Museum Of Contemporary Art Africa (MOCAA) in Cape Town, Segera Retreat showcases evocative artwork from the Zeitz Collection and liberally displays striking, relevant and culturally and socially challenging artworks from the Collection in an extraordinary presentation. With its expressive Sculpture Garden, Segera Retreat offers a cultural safari, bringing together monumental bronze, stone and steel works, land and earth art, outdoor projections, and site-specific interventions – striving to represent a broad spectrum of indoor and outdoor projects. Artwork is exhibited throughout the property, encouraging guests to experience an active engagement with the artworks around them. From the humor of Cameron Platter's Crocodile Ruler, to the distinctive aesthetics of Nandipha Mntambo's arresting figures and the provocative nature of David Brown's Tyrants and Brendhan Dickerson's Zumazela, the Zeitz Sculpture Garden acts as a unifying force between the land and the intriguing cultures of Africa. Visiting Segera when an artist is in residence offers guests a special opportunity to learn first-hand about their work.
Days 3, 4 and 5 - Full Days at Segera Retreat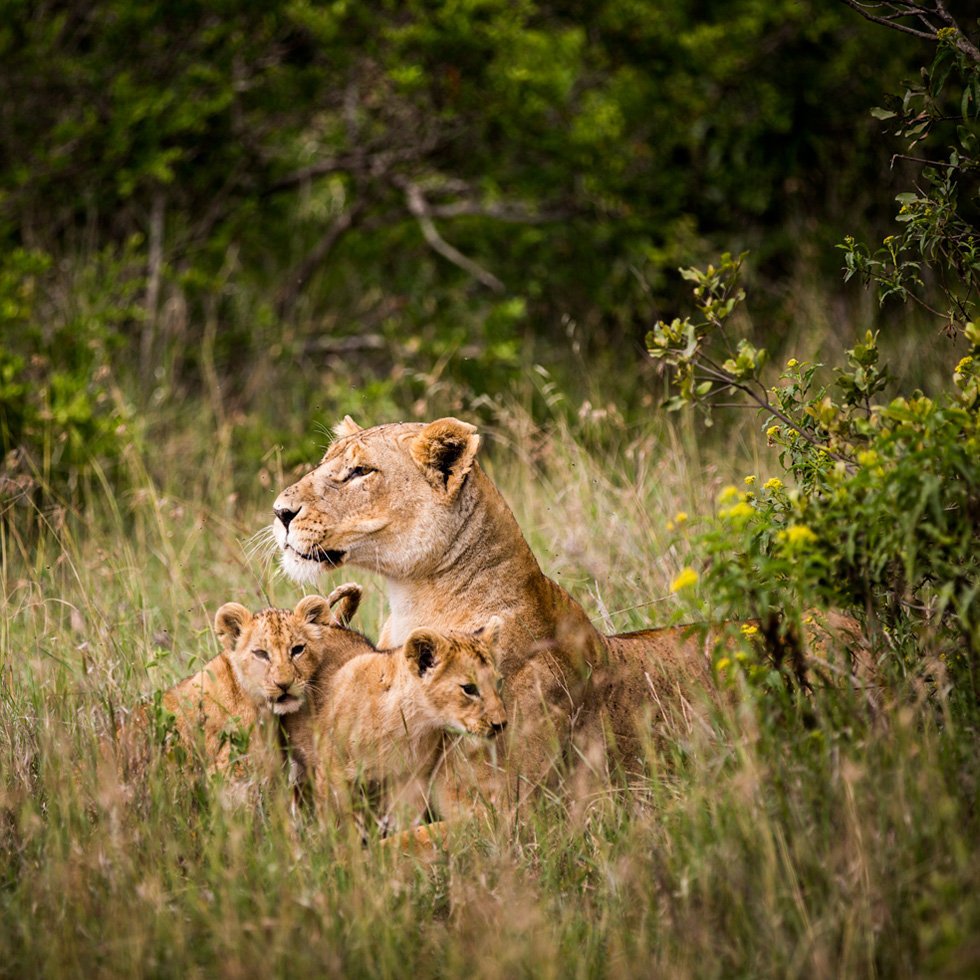 Spend the next two days exploring Segera's ranch with various activities. Today, you may want to spend the morning and afternoon viewing game in this pristine conservancy. Whether you opt to set out in safari vehicles or on foot, keep your eyes trained for the beisa oryx, Somali ostrich, reticulated giraffe, Grevy's zebra, black and white rhinos, and the unusual long-necked gerenuk, which stands on its hind legs to feed. Look, too, for Grant's gazelles and impala as they, along with majestic leopards and lions, roam the vast landscape. Then relax on your private veranda, and indulge in gourmet meals and sundowners prepared by your attentive staff. Guests can participate in day and night game drives, guided walks, and camel walks.
The Oscar-winning movie Out of Africa conjures images of the quintessential African setting: breathtaking savannah plains, bountiful wildlife and snapshots of Kenya's rich tribal cultures. At the center of all of this, one remembers a yellow biplane which soared above Kenya's dramatic landscapes. In 2013, G-AAMY was sold at a Paris auction to Jochen Zeitz, the owner of Segera and Founder of the Zeitz Foundation, who had dreamed it should return home to Africa. Fitted with a new engine and delicately re-assembled at Segera, G-AAMY a.k.a. the "Gypsy Moth" was given a new lease on life and once again soars over Kenya's scenic landscapes. We are delighted to offer supporters of Segera's 4C projects the incredible opportunity to enjoy and even fly in G-AAMY to experience this unique aspect of a Kenyan safari.
OPTIONAL HELICOPTER EXCURSION
Located in the heart of the Laikipia Highlands, Segera is the perfect base for helicopter excursions with easy access to the Aberdare Mountain Range, majestic Mount Kenya, the Rift Valley and Great Lakes. Together with our flying partners (Tropic Air) we offer guests the opportunity to discover and experience these various regions and highlights of Kenya. In the company of professional private pilot guides, we can go through the Suguta Valley – an area dominated by pools that have turned an incredible green by the algae, then down through the painted valley and into the hoodoe valley touching down on the sand dunes of the Sugua Desert. You will also be able to see the ancient Cycad Forest of the Matthews Range. All possible precautions are carried out to ensure guests' maximum safety and comfort. Before your flight, please speak to your pilot to discuss the route you would like to take and what you would like to see and where to stop.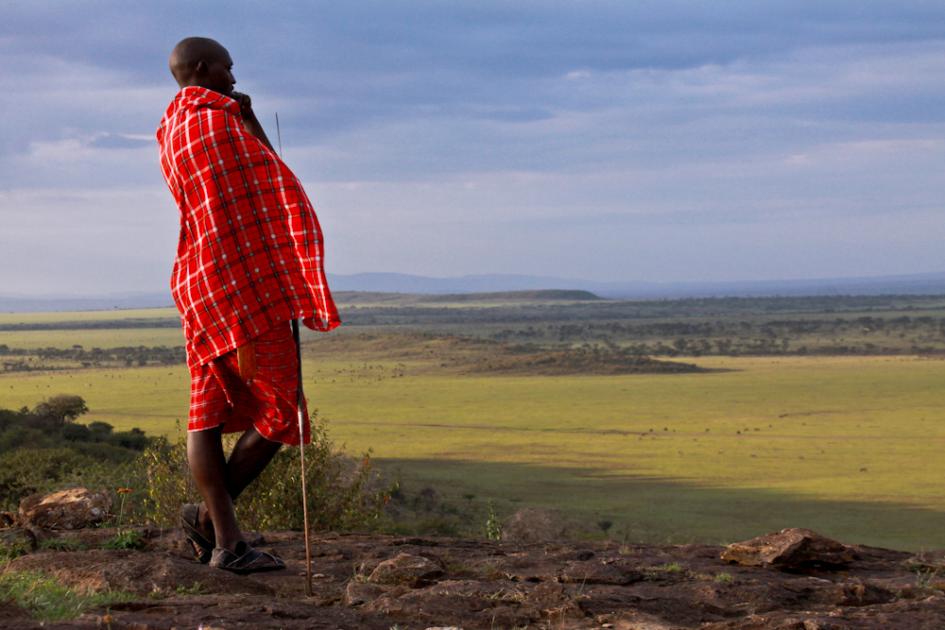 Game viewing is never dull on the plains of Kenya, and patience is often rewarded with unique sightings: a pride of lion stalking their prey; a solitary leopard retrieving its kill from the high branches of an acacia tree; male wildebeest sparring to attract females into their harem; or even a herd of elephant protecting their young from opportunistic predators. As well as wildlife, this is also home to many members of the colorful Maasai and Samburu tribes who may be seen around the borders of the park - morans (warriors) loping across the plains, young boys herding goats, or elders grouped under a tree discussing matters of the day.
An optional early morning balloon safari is available at additional cost.

Balloon Safari:
As the balloon is inflated against the first rays of sunrise your pilot will go through safety procedures. Once aloft, the balloon floats gently over the plains, giving a bird's eye view of the game below as the sun creeps slowly over the horizon. After around one hour the balloon lands as breakfast is already being prepared and, of course, you may enjoy a glass or two of bubbly to toast your flight in a tradition initiated by the Montgolfier brothers.
Segera Retreat - Villa - B-L-D

Day 6 - Fly to Nairobi 
Breakfast at leisure. Transfer to the airstrip for your private charter flight to Nairobi. On arrival, you will be greeted and transferred to Fairmont The Norfolk Hotel for an overnight. The Norfolk is Nairobi's grandest and oldest hotel. Set in mature gardens in the center of the city, it has been a meeting place and first port of call for generations of travellers to East Africa's spectacular game parks. More recently taken over by the Canadian Fairmont group, the Norfolk retains its century-old charm.  Fairmont The Norfolk - 1 night - Deluxe Room - B

Day 7 - Fly to Cape Town, South Africa
Bid farewell to Kenya today. After breakfast at the hotel, meet with your representative in the hotel lobby for transfer to Jomo Kenyatta International Airport for your flight to Cape Town. Please NOTE that South Africa immigrations require you to have two completely blank visa pages in your passport per entry; without this you will be denied entry. On arrival at Cape Town International Airport off flight, you will clear customs and collect your luggage. Proceed into the Arrivals Hall where a representative will meet you, hand over further documentation, and transfer you to your hotel. The transfer time is approximately 35 minutes.
Located in Bantry Bay, the small, privately owned
Ellerman House is the quintessential urban retreat for discerning luxury travellers wanting complete exclusivity in Cape Town. This award-winning hotel offers spectacular Atlantic Ocean views against the dramatic backdrop of Lion's Head, while local attractions such as the Table Mountain Aerial Cableway and V&A Waterfront are ten minutes by car. Step back in time as you step into this historic Cape Edwardian-style mansion with individually decorated rooms and suites, and make yourself comfortable amid its shaded verandas, tiered gardens overlooking the ocean, and beautiful interiors. You can relax in its lounges, library, spa, whisky bar or pool. More than a boutique hotel, the Ellerman House houses an art gallery and a wine gallery - both of international renown.
FINE ART is the soul of Ellerman House and the collection that lines the walls spans over two centuries, from the works of the famous Thomas Bowler showcasing Cape Town in the 1800s to contemporary works from artists such as Lionel Smith and William Kentridge. Join in-house Art Guide Talita Swarts for a private tour through the Ellerman House art collection starting with the oldest works and ending in the Contemporary Art Gallery, created in 2009. The art takes you on a journey that explores the huge social and cultural shift that South Africa has made from the mid-nineteenth century to the present.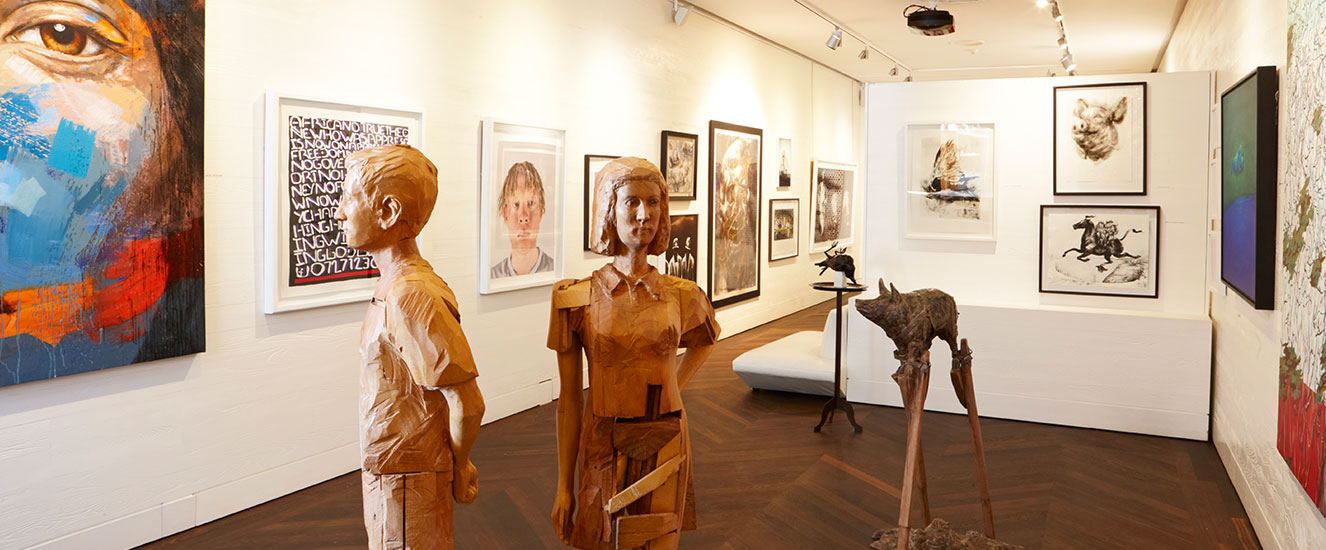 Your evening is at leisure.  (dinner under your own arrangements)
You may want to enjoy the Malay-inspired cuisine and fine wines of the Ellerman House's restaurant..
Ellerman House - 3 nights - Deluxe House Room - B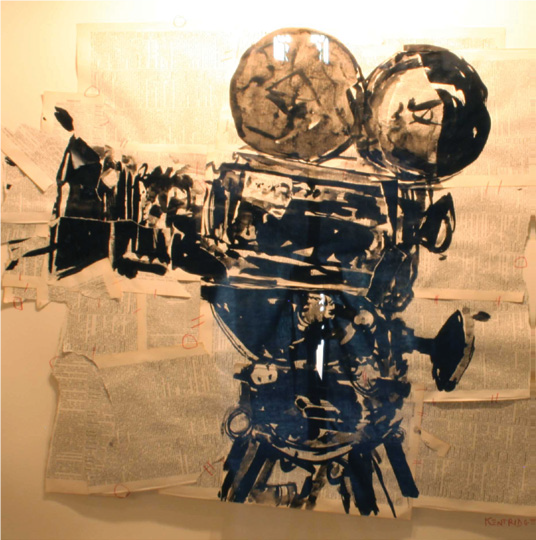 Township Dance – George Pemba
(Oil on Board)
Movie Camera – William Kentridge (Mixed Media on Paper)      
Day 8 - Art Tour 
Over the next two days, explore Cape Town's flourishing art scene. Meet your guide in the reception area of the hotel this morning, and embark upon a day of touring the new Zeitz MOCAA followed by an afternoon of gallery visits.

The Zeitz MOCAA (Museum of Contemporary Art Africa) - just now opening in September 2017 - is a cutting-edge contemporary art museum designed by internationally acclaimed architect Thomas Heatherwick. Zeitz MOCAA's unique architectural redevelopment of the V&A Waterfront's iconic Grain Silo is set to become a major non-profit cultural institution, housing one of the world's most significant collections of contemporary art from Africa and its diaspora. Zeitz MOCAA was established in 2013 through a partnership between the V&A Waterfront and Jochen Zeitz, avid contemporary African art collector and former Puma CEO. The 100,000-square-foot space houses 80 galleries with permanent and temporary exhibitions, as well as a Centre for Photography showcasing works by acclaimed photographer Roger Ballen. On an immersive curator-led tour, discover why MOCAA is emerging as one of the most influential contemporary art museums in the world.

Following your tour, enjoy a casual lunch at The Silo Rooftop restaurant atop Cape Town's newest luxury hotel – The Silo Hotel. Created by The Royal Portfolio group, the stylish Silo has been built in the grain elevator portion of the historic grain silo complex occupying the six floors above the Zeitz MOCAA. The Silo Hotel is a celebration of art, style, architecture and design.

Cape Town offers seemingly endless opportunities for the gallery enthusiast, so this afternoon we will visit a few of the many galleries and studios – as time permits, SMITH Studio, a fine art gallery set in a 250-year-old warehouse in Greenmarket Square; Goodman Gallery, Everard Read, SMAC, South African National Gallery, and the Irma Stern Museum.  Ellerman House - Deluxe House Room - B-L
Day 9 - Street Art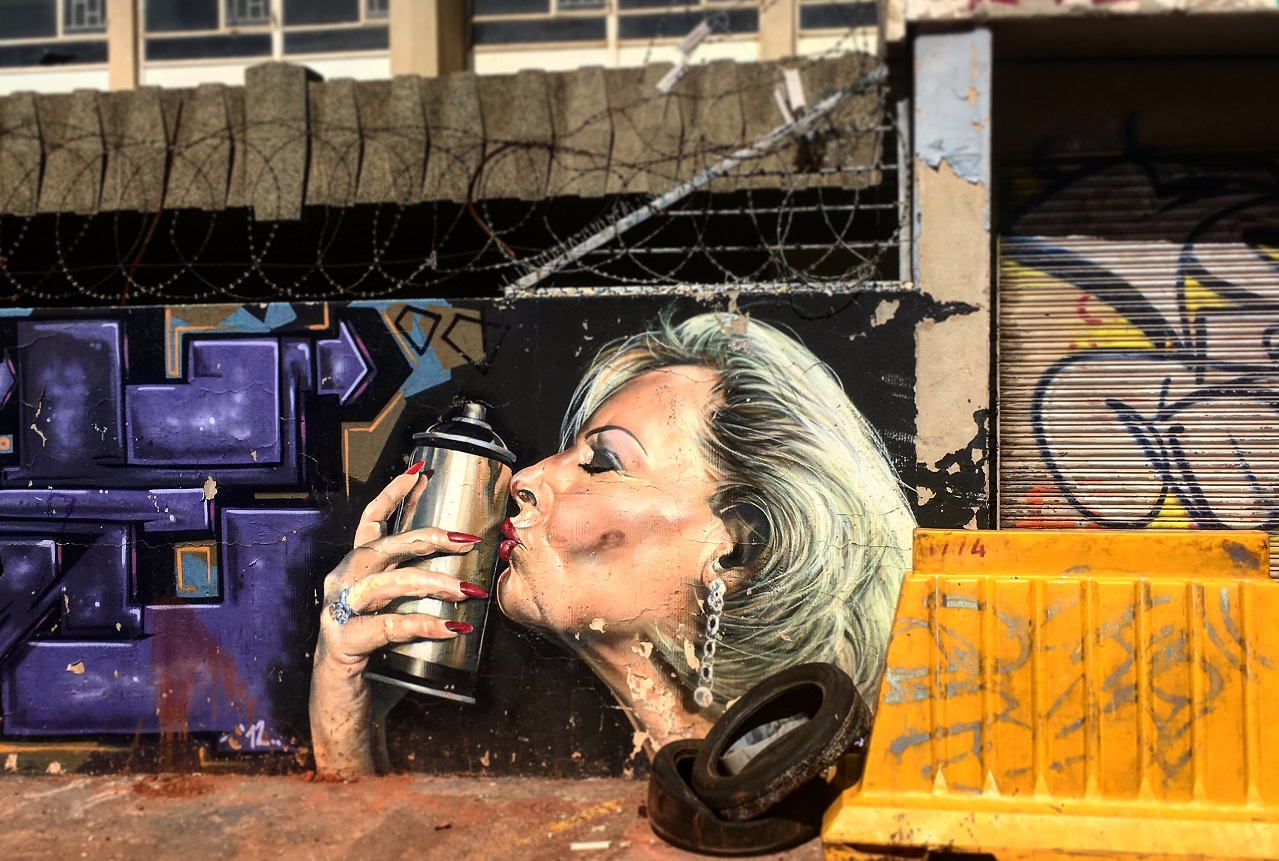 On a guided street art tour of the Woodstock neighborhood, examine how street art has played a major role in Woodstock's transformation from a neglected warehouse district to a buzzing nexus of art and cuisine. As you walk through its alleyways and streets, your guide will impart his in-depth knowledge of both art and artist, and provide insight into the social commentary and transformative messages behind the vibrant works of art. 
Spend the afternoon at leisure. Continue your exploration of Cape Town's galleries or perhaps partake in some world-class shopping at the local markets. If you happen to be in Cape Town on the First Thursday of any month, you can extend your art explorations into the evening, with galleries remaining open late and Cape Town's community of art lovers out and about exploring the city on foot.
Day 9 – Optional Touring – Full Day Tour to Cape Point
The focus of this tour is visiting the infamous Cape Point, situated within the Cape of Good Hope Nature Reserve. Journey along the Atlantic coast, through the Hout Bay valley and over the famous Chapman's Peak drive. Your guide will discuss your individual interests and preferences and tailor make the day's routing and sightings accordingly.
In 1859 the first lighthouse was completed; it still stands at 238 metres above sea-level on the highest section of the peak and is now used as the centralized monitoring point for all the lighthouses on the coast of South Africa. Access to this historical building is by an exhilarating three-minute ride in the Flying Dutchman funicular (named after the local legend of the Flying Dutchman ghost ship) that transfers visitors from the lower station at 127 metres above sea-level to the upper station.
After your day's touring, you will be dropped off at your hotel for your evening at leisure.  
Ellerman House - Deluxe House Room - B-L

Day 10 - Depart South Africa - OR - Optional Winelands Extension - B
Bid farewell to South Africa this morning, as you meet your representative in the reception area of your hotel for transfer to Cape Town International Airport. The transfer time is approximately 35 minutes. Check in and board your flight homeward bound.
Optional Winelands Extension
Transfer this morning to the charming village of Franschhoek. Transfer time approximately 1 hour.
Situated in the Franschhoek Valley on a 30 acre estate filled with vines, fruit trees, flowers and herbs, La Residence is a romantic and indulgent paradise whose magnificent interior is filled with Liz Biden's exquisite and imaginative décor - rich fabrics, wonderful artwork and antique furniture. Delight in individually-decorated suites with palatial en-suite bathrooms, and enjoy the vibrant color schemes and spectacular views.

The shimmering infinity pool will beckon you on hot summer
days while you sip on a drink under a shady umbrella, or relax with treatments in the Spa. A mere five minutes' drive from the charming curio shops and galleries of Franschhoek village, the hotel provides complimentary shuttle service to enable you to explore the area at your leisure. 
Your evening is at leisure.  La Residence - 3 nights - Luxury Suite (dinner under your own arrangements)

Day 11 - Full Day Winelands Tour
 Meet your guide in the reception area of your hotel and depart on a full day tour of the Winelands. The areas visited will be determined by the wine farms best suited to your personal wine preferences and pace. The Cape Winelands consist of the world-famous wine regions of Stellenbosch, Franschhoek and Paarl, all set within breathtaking vine-swept landscapes. Many of the wine estates are historical farms with beautiful Cape Dutch manor houses, gardens, hotels and fine-dining restaurants.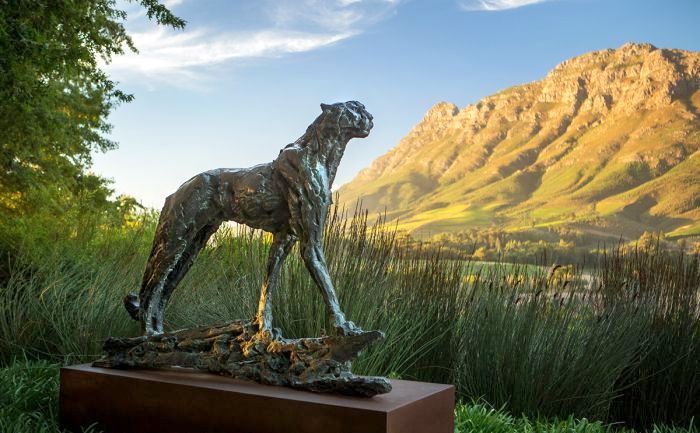 Cheetah - Delaire Graff - Dylan Lewis
Your tour includes a private walking tour of Stellenbosch and a visit to the Delaire Graff Estate, situated on the crest of the mountain pass between Stellenbosch and Franschoek. Here you will be able to view the works of Laurence Graff's private South African art collection displayed throughout the property.
Returning to Franschoek, stop along the way to enjoy a sampling of the wines of several select estates.
Your evening is at leisure.  La Residence - Luxury Suite - B
Day 12 - Day at Leisure
Your day is at leisure. After breakfast, you may want to explore the village, shops and galleries of Franschoek. The Huguenot Memorial Museum portrays the history of the French Huguenots who came to South Africa at the end of the seventeenth century. Stop by Franschoek's branch of the Everard Read Gallery, which has opened in partnership with the Leeu Collection. The gallery and gardens of the Leeu Estates feature works of southern African artists Angus Taylor, Deborah Bell and Lionel Smit; and the iconic Gandhi by Anton Momberg can be seen from the sidewalk opposite the Marigold Indian Restaurant. Perhaps the most striking work in the collection is Momberg's Are We There Yet.  La Residence - Luxury Suite - B
Day 13 - Depart Cape Town
Meet your driver in the reception area of the hotel for transfer to Cape Town International Airport. Transfer time is approximately 1 hour. Check in for your flight and bid farewell to South Africa.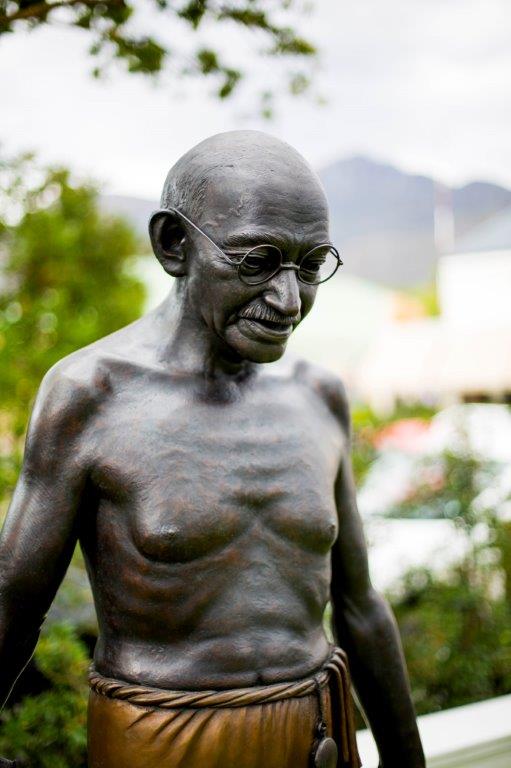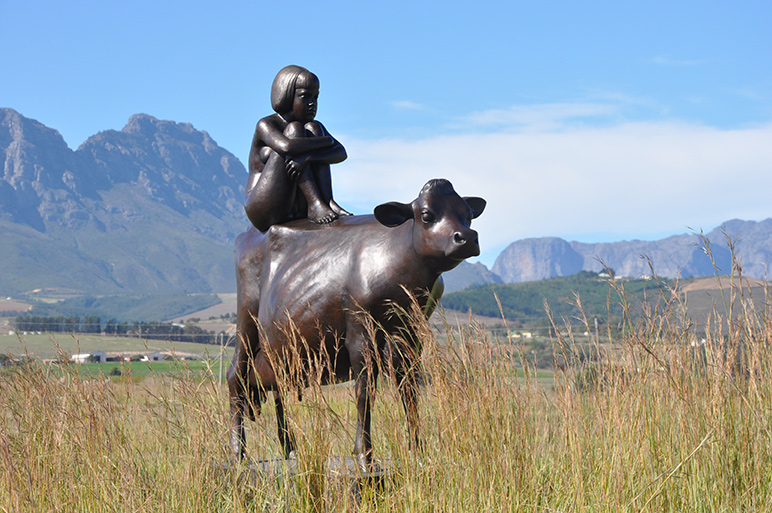 Gandhi – Anton Momberg
Are We There Yet – Anton Momberg
offered as Custom Trip
call for details and pricing 800-757-6422
© Resorts & Charted Courses
in association with Abercrombie & Kent