Brand New - National Geographic Endeavour 2
Celebrate the inaugural season of National Geographic Endeavour II with FREE ROUND-TRIP AIR from Miami to Galápagos and Peru on all departures between Jan 6 - Mar 31 and Aug 25 - Nov 17, 2017 (up to $2,250 per guest value). Embark on a sweeping adventure that encapsulates all the wildness of Galápagos balanced with cultural and historic experiences of Machu Picchu & the Land of the Inca. You'll explore Galápagos in depth aboard the 96-guest National Geographic Endeavour II, our newest, fully equipped expedition ship with tools for exploration. And you'll journey to contemporary Lima and historic Cusco - a UNESCO World Heritage site. Plus, overnight at Machu Picchu and watch the sunrise over this fabled city. 

Have up close encounters with incredible wildlife.
Experience the Galápagos undersea, too.
Benefit from our 40+ years of experience and relationships in Galápagos to see all you came for and more.
See daybreak over the ruins at Machu Picchu from the fabled Sun Gate, with only a handful of visitors.
Discover Cusco's array of cultural influences and explore the Sacred Valley of the Inca.
Explore the massive stone Inca stone fortress of Ollantaytambo.
Galápagos Aboard National Geographic Endeavour II + Peru's Land of the Inca
16 Days - Expeditions in: Year Round - From $12,650 to $20,950
DAY-BY-DAY
Flexibility is a hallmark of Lindblad-National Geographic expeditions, so our day-to-day itinerary may change plans to take advantage of conditions or wildlife activity, or photographers may decide to linger through the golden hour of
light.

Day 1:  U.S./ Guayaquil, Ecuador
Depart U.S. and arrive Guayaquil by late evening. If you choose to take the non-stop group flight from Miami, we depart in the early evening with a flying time of approximately 4 hours. Upon arrival, it's a short drive to the Hotel Hilton Colón.
Hotel Hilton Colón
Day 2:  Guayaquil / Galápagos / Embark Ship
After the 1 1⁄2-hour flight to the Galápagos, we'll immediately board the National Geographic Endeavour II. Over the course of the week, our exact routing depends on the National Park Service. (B, L, D)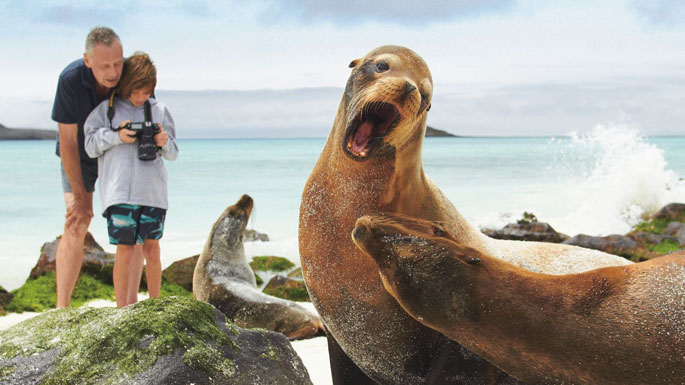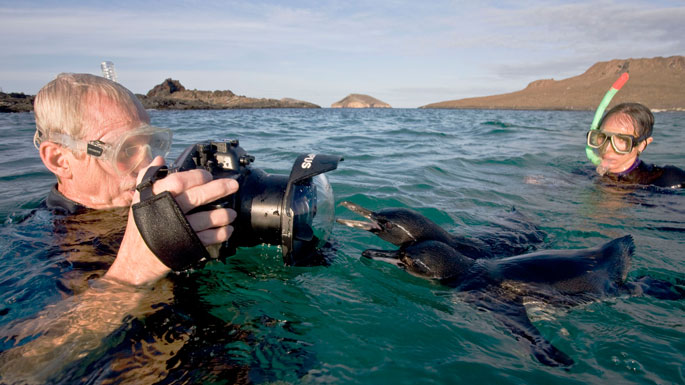 Day 3-8:  Exploring the Galápagos Islands
While our exact routing depends on the National Park Service, we may visit the following islands:  Bartolomé - Santiago - Santa Cruz - Isabela - Fernandina - Floreana - Española. (B, L, D)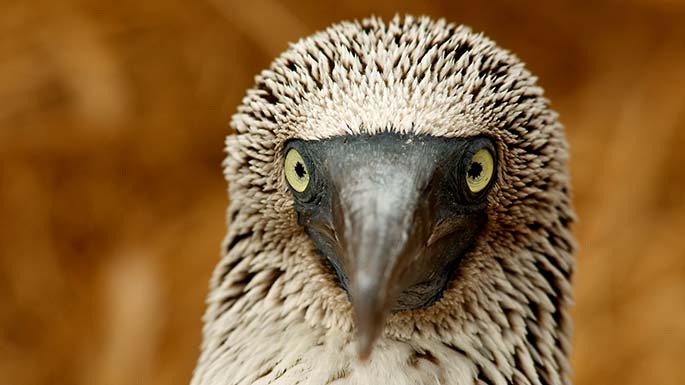 Day 9:  Galápagos/Guayaquil/Lima, Peru
Depart Galápagos this morning and fly to Lima, Peru. Overnight at the conveniently located Wyndham Costa del Sol Lima Airport Hotel. (B,L)
Wyndham Costa del Sol Lima Airport Hotel
Day 10:  Lima/Cusco/Sacred Valley of the Inca
This morning, fly to Cusco then drive to Moray, a visually stunning Inca site believed to have been an agricultural laboratory where Incan priests would test soils and crops. Dine on Peruvian cuisine for lunch at Parador Moray, overlooking the ruins. En route to the hotel, walk through a colorful, typical local market before an optional visit to the pottery studio Pablo Seminario, featuring ceramics made with ancient Peruvian techniques and designs. Check into Sol y Luna Hotel, a Relaix & Chateau property. (B,L,D)
Sol y Luna Hotel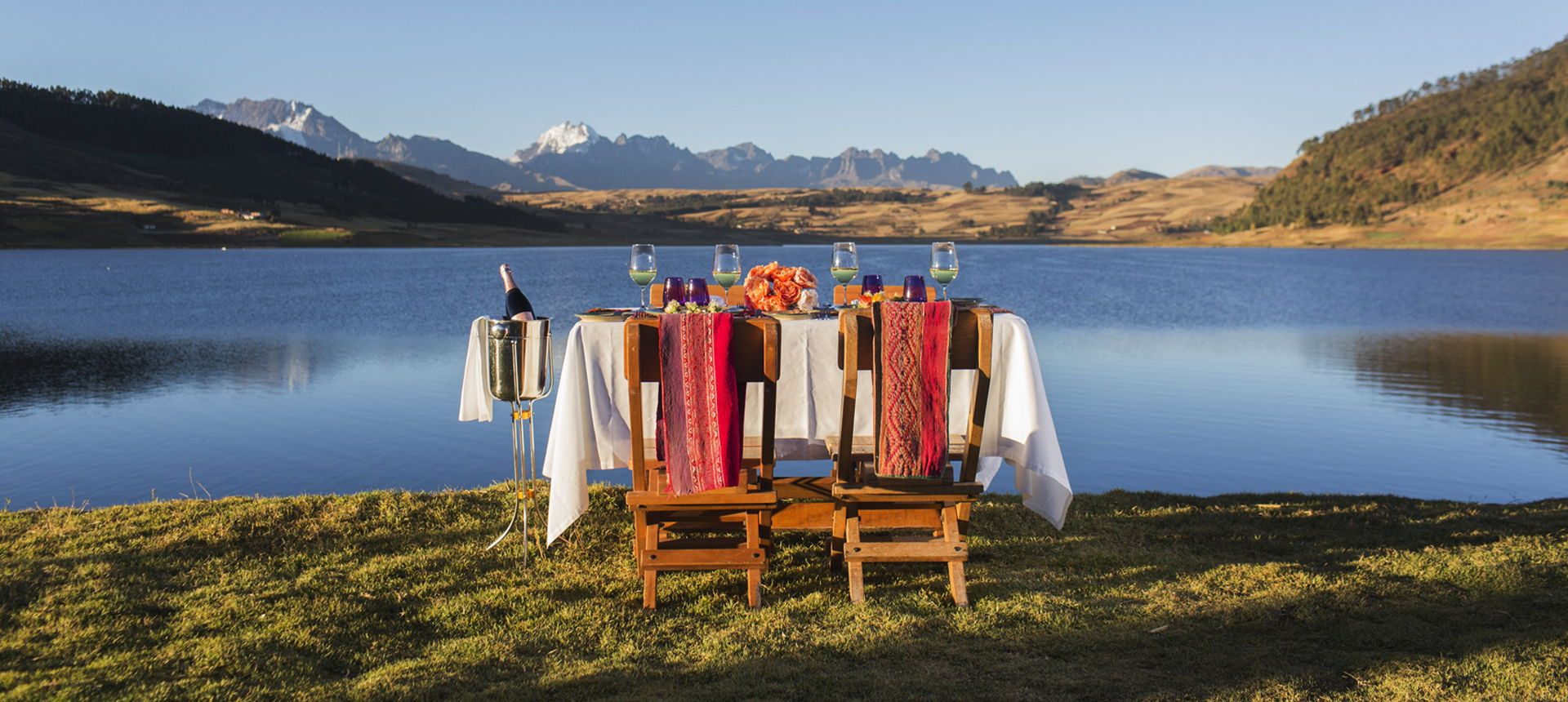 Day 11:  Sacred Valley of the Inca
After breakfast, learn about Peru's history from National Geographic expert Peter Frost. Visit the massive Inca stone fortress of Ollantaytambo. Visit Casa Orihuela for lunch - a working, family-owned hacienda, then see the family's private museum filled with colonial artwork and enjoy a demonstration of Peruvian Paso horses accompanied by Marinera dancers and live music. Watch a traditional weaving demonstration by National Geographic grantee Nilda Callañaupa. After dinner at the hotel, watch a folkloric dance performance. (B,L,D)
Sol y Luna Hotel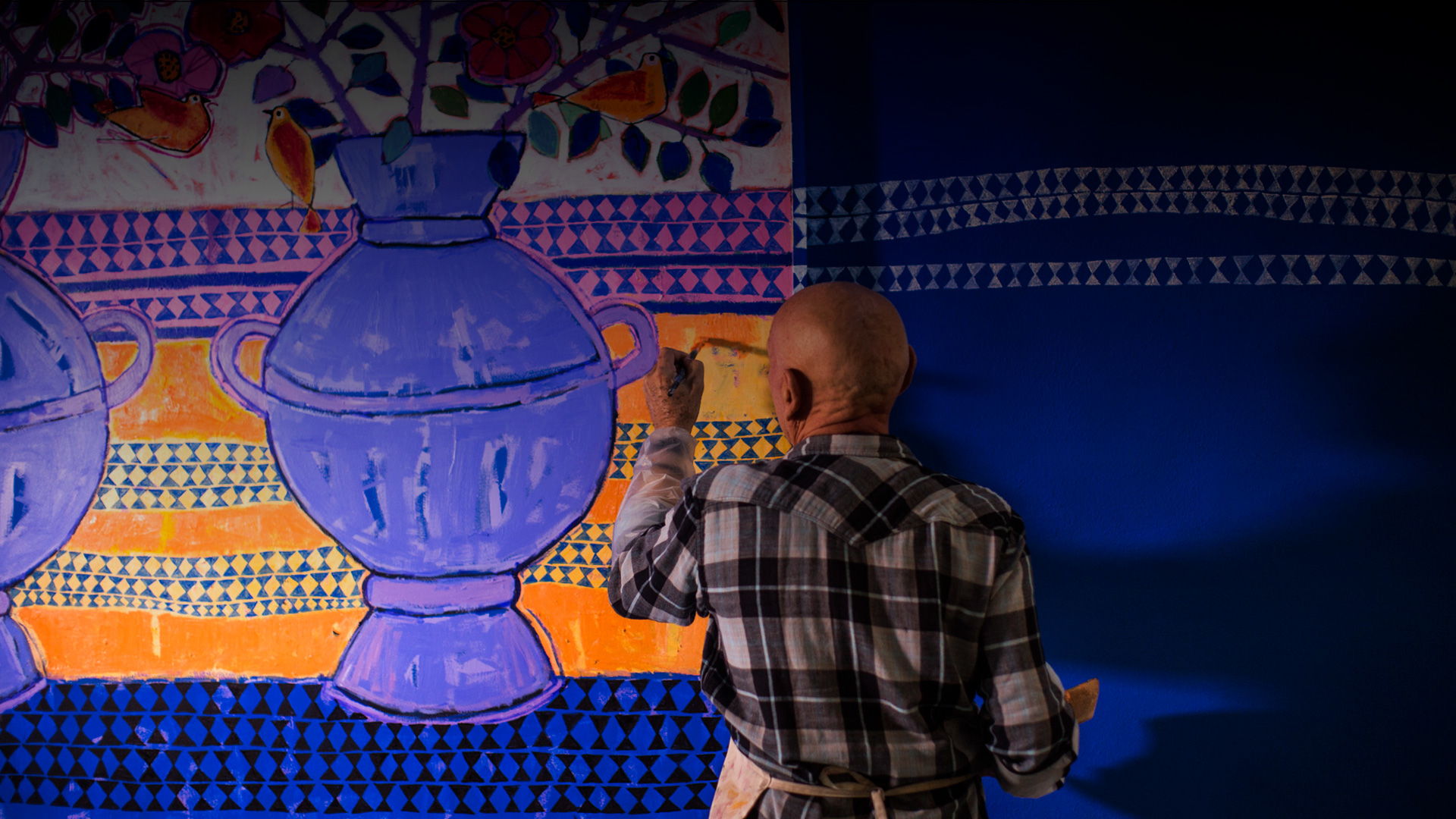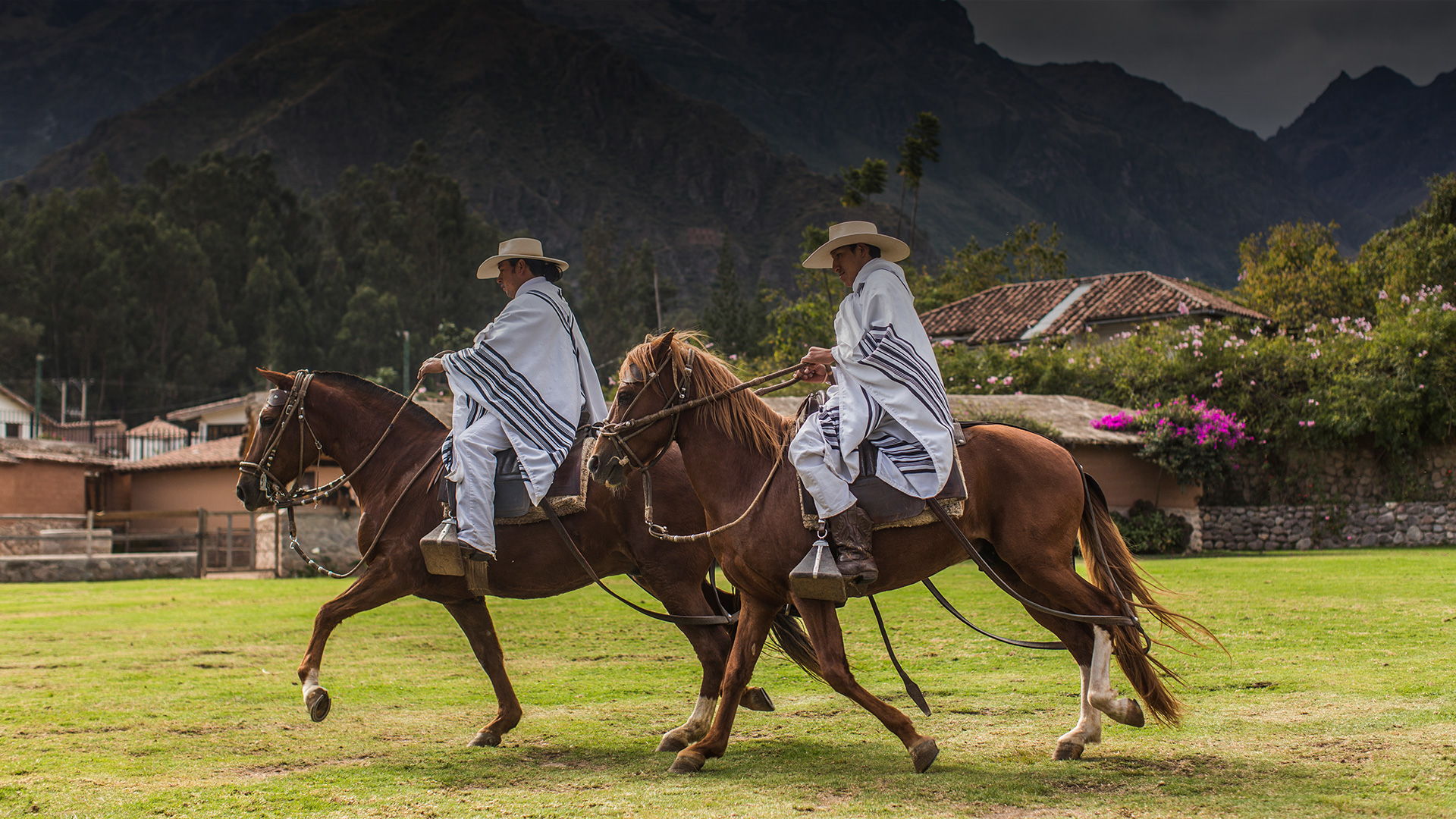 Day 12:  Sacred Valley/Machu Picchu
Enjoy the views from the valley to Machu Picchu via train with large picture windows. Spend the day exploring Machu Picchu's different structures with your guide - ceremonial religious, astronomical, and agricultural. Overnight at the historic 31-room Belmond Sanctuary Lodge (formerly the Orient-Express Sanctuary Lodge) with views of the Andes. (B,L,D)
Belmond Sanctuary Lodge
Day 13:  Machu Picchu/Cusco 

Hike to the Sun Gate this morning, the ancient final checkpoint to Machu Picchu, and watch daybreak over the sacred ruins. The morning is free to explore Machu Picchu on your own or with your guide. After a train and bus ride, visit Awanacancha, where llamas, alpacas, and vicuñas are bred. En route to Cusco, we'll stop at Plaza San Cristobal for photos, offering sweeping views of the colonial part of Cusco. Check into the Belmond Monasterio Hotel for two nights (formerly the Orient-Express Monasterio Hotel). (B,L,D)
Belmond Monasterio Hotel
Day 14:  Cusco
Explore the Inca Empire's capital city of Cusco and visit the magnificent 17th-century cathedral and convent of Koricancha, and the vast Sacsayhuaman fortress - a UNESCO World Heritage site. Explore Cusco at your leisure this afternoon. Relax, shop, or visit one of the many churches and museums. Dinner is on your own tonight. (B,L)
Belmond Monasterio Hotel
Day 15:  Cusco/Lima
Return to Lima and visit the Larco Herrera Museum and stroll the Plaza Mayor. Lunch is in traditional Latin American style. Experience the music of the Andes at a presentation of indigenous instruments. Dinner is on your own. Overnight at the Belmond (formerly Orient-Express) Miraflores Park Hotel. (B,L)
Miraflores Park Hotel 
in association with Linblad Expeditions/National Geographic 

call for details/pricing  800-757-6422