Sicily Walking - Indulgence for the Senses
Sicily has long extended a welcoming hand to visitors throughout the ages. It is a cultural crossroads where  civilizations of Greeks and Romans, Phoenicians and Arabs, French and Spanish have all left their mark over the centuries — artistically, architecturally and gastronomically. Your journey focuses on the eastern regions of the island, where you'll visit lively Baroque towns, walk seaside trails, and finish high in the Mediterranean sky on the upper slopes of Mount Etna. Between our explorations of history, reward your appetite with an incredible array of classic Sicilian cuisine, from farmhouse lunches to Michelin-starred dining. The entire experience is pure indulgence for the senses!


On this luxury walking journey, Guides are with you throughout 24/7 - anticipating needs, translating languages, providing advice and above all - facilitating fun. Premium hotels offer unique and chic reflections of the region - often having had a previous life as a monastery or castle, but in every case providing an exceptionally comfortable stay.
6 Days / 5 Nights - Siracusa to Catania *
* Note: This tour can be arranged either as a private tour or with a group of like-minded enthusiastic participants.
Day by Day

Day 1:  After our rendezvous in Siracusa, head to the
Anapo Valley to discover 3,200 year-old rock-hewn chamber tombs and cave dwellings at a UNESCO World Heritage Site, Necropolis of Pantalica. Spend the afternoon rambling through the limestone gorge and end the night with rooftop drinks and dinner in town at Il Crocifisso.
Seven Rooms Villadorata - Noto
Day 2:  Wake this morning to the morning Mediterranean sun and a satisfying breakfast. Enjoy a day-walk through the coastal Vendicari Nature Reserve and in the afternoon, experience an expert-led walking tour of the Old Town. Explore the city's restaurants on your own tonight and be sure to sample a granita, the delicious and refreshing flavoured shaved-ice dessert.
Seven Rooms Villadorata - Noto
Day 3:  Begin the day with a short walk heading up into the pastoral hills to the east of the city. You'll walk to Concetto's farm where Concetto himself will take you around his almond orchards where he cultivates the exceptional Romana almond. Arrive at your next hotel and explore for the afternoon, then convene for dinner at the simple, yet elegant hotel restaurant.
Donna Carmela - Carruba di Riposto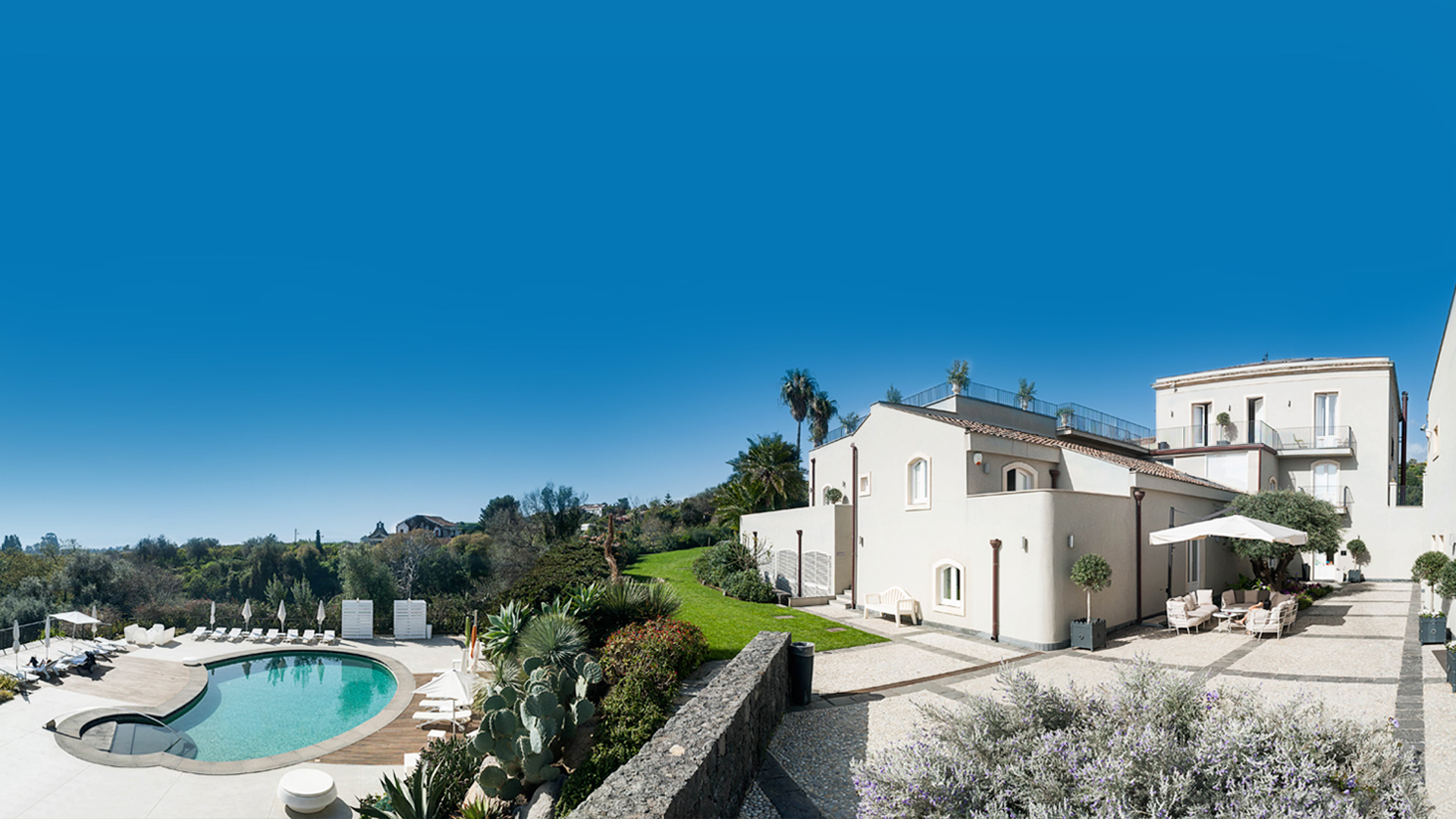 Day 4:  This morning, continue your journey northward on the road pressed between the Ionian coast and Sicily's rumbling giant, Mount Etna. Learn about volcanology from an expert in the field, and enjoy the lunar landscapes of craters and black lava, fields of pumice and other volcanic effluvia. Later at your next hotel, you may opt for a waterbed treatment, whirlpool or sauna in the spa before sitting down to dinner in the hotel's excellent Twelve Fountains restaurant.
Villa Neri Resort & Spa - Liguaglossa

Day 5:  Journey through the vineyards that blanket the landscape to make up the Etna D.O.C. appellation. Stop for lunch at house Graci, a fine boutique wine house that will give you a firsthand look at the complex viticultural growing techniques required on the volcano's slopes. This evening, enjoy cocktails and a memorable evening of food and celebration at Michelin-starred Shalai, accompanied by local vintages.
Villa Neri Resort & Spa - Liguaglossa
Day 6: After breakfast together, your guide will arrange a drop off at either the historic centre of Taormina, or at Catania airport. Arrivederci!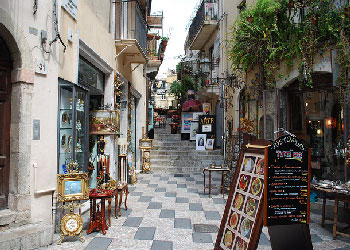 Seven Rooms Villadorata - Noto

In the heart of historic Noto, Seven Rooms Villadorata is an exclusive Sicilian guesthouse, occupying part of a 17thC palazzo. Decorated with precious textiles and exquisite items of furniture by Italian and French designers Villadorata's bedrooms offer a charming combination of old world luxury and contemporary comfort.
Donna Carmela - Carruba di Riposto
Nestled between the sea and the foot of Mount Etna, between Catania and Taormina, Donna Carmela tells a story of beauty and charm held in an elegantly restored, ancient mansion. It offers the peculiar values of Sicilian hospitality by providing high standard quality services, fine furniture, modern art details and precious materials. Everything is designed to make your stay unforgettable: the courtyards in lava stones and river pebbles pavers, the ancient well, the well-stocked wine cellar, the swimming pool surrounded by secular olive trees.
Villa Neri Resort & Spa - Liguaglossa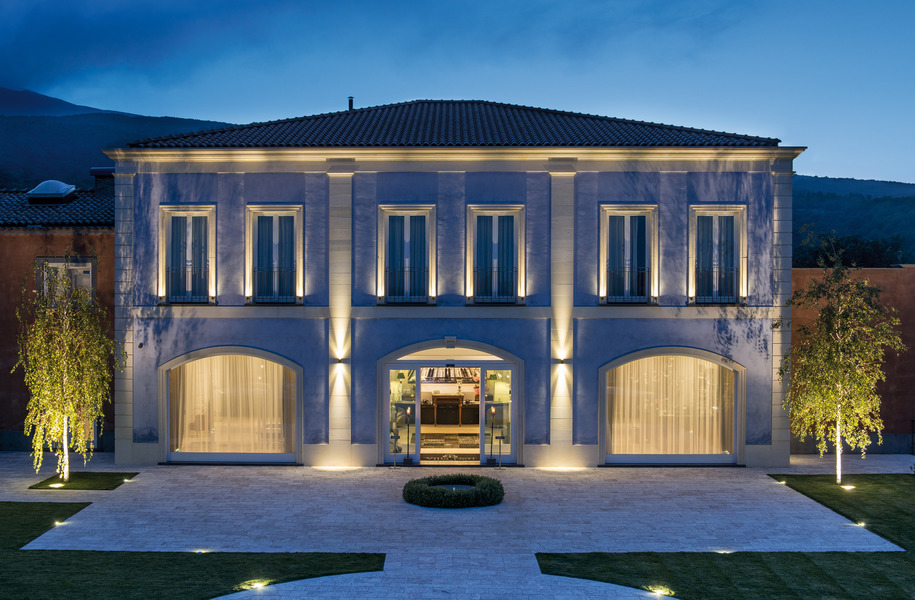 Villa Neri is a stunning five-star hotel tucked into the lower slopes of Etna, amid pristine natural surroundings. The decor is sleek and modern, while the spa offers excellent options to unwind after a volcanic hike. 
in association with Butterfield & Robinson
Call 800-757-6422 for details and pricing.