Sea. Sky. Safari.
Jewels of the Mediterranean & Finest of Africa
Embark on a 20-day vintage voyage of discovery through charming Mediterranean ports and the natural wonders of Africa. Enjoy an exclusive experience that includes a yachting voyage, private jet experience, and an African safari. TCS World Travel and SeaDream Yacht Club have partnered to combine the seamless elegance of a private jet journey with the finest experience in global yachting. Indulge yourself as you sail around the Mediterranean aboard your luxury SeaDream mega-yacht exclusively chartered just for program participants and a custom-configured first-class private Boeing 757 to explore the best of Africa. May 5-24, 2017

Barcelona > Costa Brava > Carcassonne, France > Provence  > Portofino > Monte Carlo > Cannes > Kigali and Volcanoes National Park, Rwanda  > Okavango Delta or Kalahari Desert, Botswana > Cape Town, South Africa > Marrakech, Morocco > London, England
Days 1–2 - Barcelona, Spain
Discover the pleasures of the capital of Catalonia. Trace the influence of architect Antoni Gaudi's otherworldly work as you absorb his masterpieces, including Parc Güell, Casa Batlló and La Pedrera. Cap your immersion in modernisme with a guided tour of the fantastic - and still unfinished - Basilica of the Sagrada Familia. Alternatively, experience some of Barcelona's most vibrant neighborhoods as you stroll Las Ramblas, delve into the chic seaside area of El Born and browse the wares at Santa Caterina Market.
El Palace Hotel
Day 3 - Roses and Costa Brava, Spain - SeaDream I
Immerse yourself in the culture and rugged maritime landscape of the Costa Brava. Visit the fantastic Theatre-Museum of Salvador Dalí which is home to some of Dalí's most famous works. Alternatively, launch a kayak from the yacht's unique retractable marina to enjoy the cobalt blue waters of the Bay of Roses, or hop aboard a bike and cycle through the gently rolling terrain of the Costa Brava. If you like to snorkel, don a mask and fins and swim through a series of natural rock pools.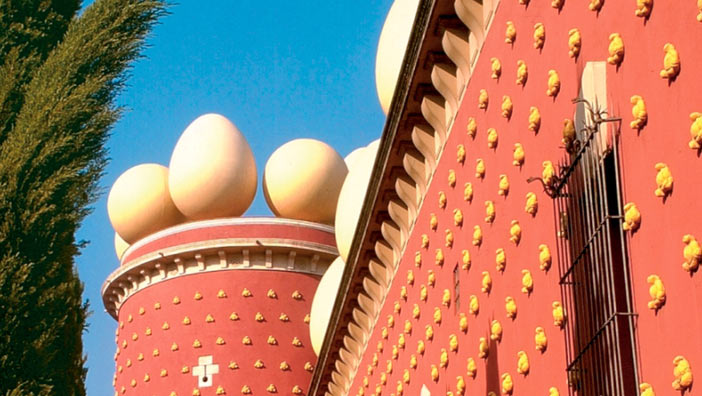 Day 4 - Sète and Carcassonne, France - SeaDream I
The seaside commune of Sète is the perfect base for your historical survey of southern France. Visit the elegant Château de Flaugergues and enjoy a wine tasting of varietals made from local grapes. Or explore the medieval walled city of Aigues-Mortes, including the Gothic Church of Notre Dame des Sablons and the Tower of Constance. Alternatively, take a gourmet walking tour of Sète, which is crisscrossed by canals. If you're feeling adventurous, embark on a cycling excursion.  
Day 5 - Cassis and Provence, France - SeaDream I
Founded more than 2,000 years ago, Cassis entices with its floral white wines, luxuriant vineyards and charming waterfront. Visit Aix-en-Provence, the famed capital of the region. Stroll the cobblestone lanes of the old town, walk under the plane trees of the Cours Mirabeau and spot the famous Deux Garçons Café, which was frequented by Paul Cézanne and Ernest Hemingway. Enjoy some time to sip a café au lait and browse the stylish boutiques before returning to the harbor.
Day 6 - Portofino, Italy - SeaDream I
Once a Roman colony, Portofino has been ruled by the English, French, Spanish and Austrians. Learn about the role of olive oil in Italian cuisine from the maître d'hotel of the exclusive Belmond Hotel Splendido. Alternatively, meet the chef of Belmond Splendido Mare and delve into the art of making traditional Ligurian pesto. Or, set off on a guided hike through town and out past villas, vineyards and olive groves on your way to the promenade of Santa Margherita.
Day 7 - Monte Carlo, Monaco - SeaDream I
Discover the many pleasures of ritzy Monte Carlo. Wander through the streets of the 14th-century hilltop village of Eze before marveling at a priceless collection of art at the Île de France Museum. Or take an unforgettable excursion behind the wheel of a Ferrari. Enjoy a spectacular sightseeing flight by helicopter over the glorious Côte d'Azur. Or ascend the Rock of Monaco for a walking tour of the Old City, including the cathedral containing the tomb of Princess Grace.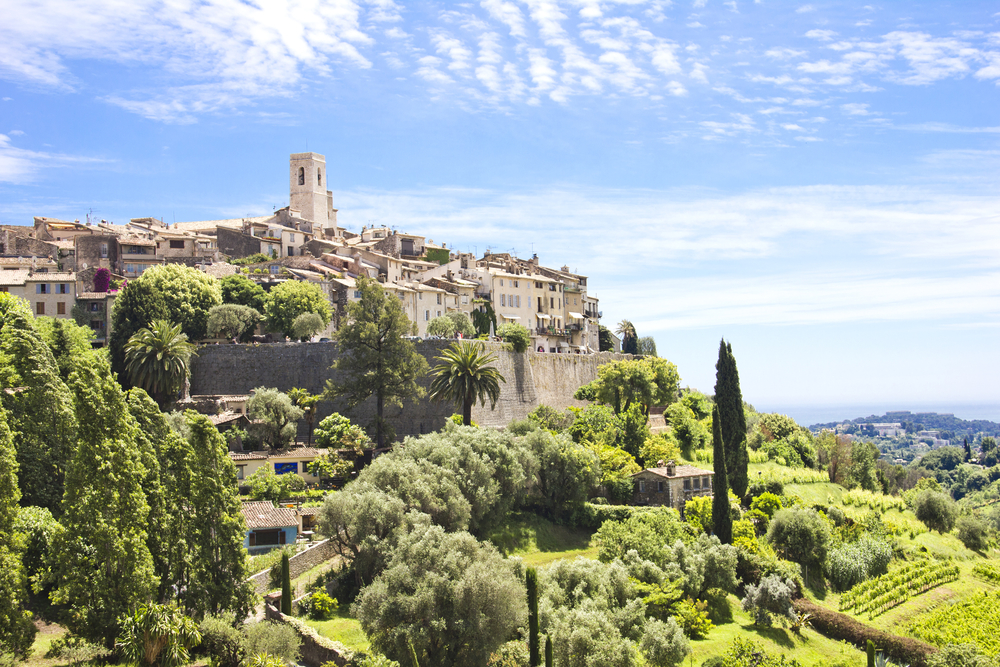 Day 8 - Cannes, France - SeaDream I
Once a tiny fishing village, Cannes is now one of the most famous cities in France. Drive through rich valleys on your way to the enchanting fortified village of St. Paul de Vence, one of the oldest medieval towns on the French Riviera. Alternatively, travel to Grasse, the birthplace of the French perfume industry. At the venerated Galimard Perfumery, work with a Master Perfumeur to choose from more than 120 essences as you design your own unique fragrance. 
Days 9-11 - Kigali and Volcanoes National Park, Rwanda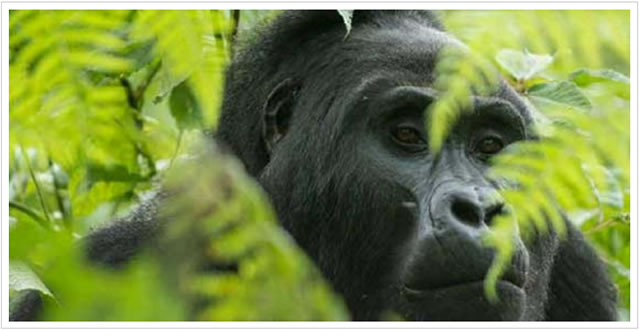 Disembark in Nice and board your private jet for the flight to Rwanda. Explore Kigali, the cultural heart of Africa's most densely populated country. The next morning, depart for the verdant mountains of Volcanoes National Park, home of the majestic mountain gorillas. Accompanied by an expert naturalist guide, hike through bamboo forest to get up close with a family of gorillas. Spend an hour watching these peaceful giants munch leaves, groom each other and play in the forest.
Kigali Serena Hotel, Sabyinyo Silverback Lodge, Virunga Lodge or Lake Kivu Serena Hotel
Days 12-14 - Okavango Delta, Botswana
The Okavango Delta is a wetland oasis and offers a completely different experience than the vast, dry vistas common on most East African safaris. As you drive to your camp, you may spot lions and cheetahs as well as crocodiles and the red lechwe, an antelope that thrives in marshlands. Over the next two days, search for leopards, spotted hyenas, hippos, elephants, giraffes and great herds of buffalo on early morning and late afternoon game drives.
Mombo Camp, Little Mombo, Little Vumbura or Sandibe Okavango Safari Lodge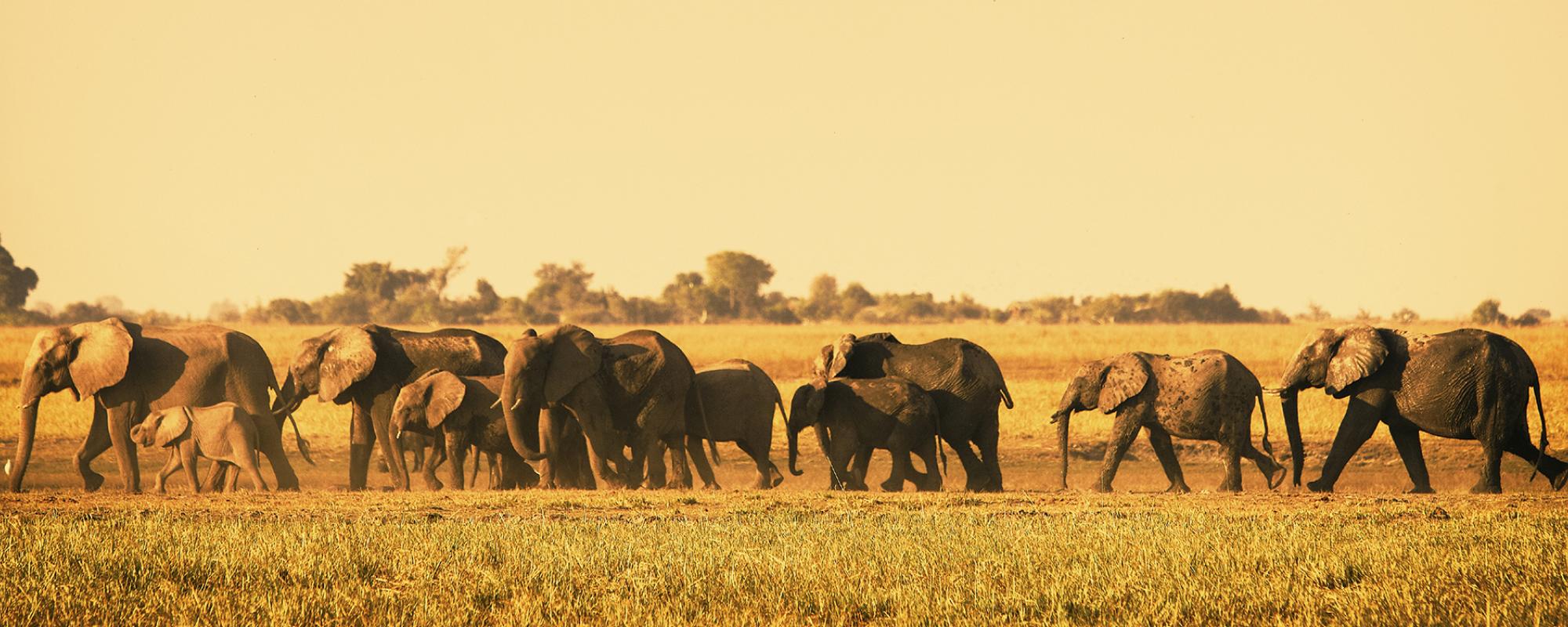 ALTERNATE:  Days 12-14 - Kalahari Desert, Botswana
In the Kalahari Desert, saltpans transform the landscape into a moon-like clay terrain where meerkats and baobab trees thrive. Trek with Bushmen to learn survival skills and ride a four-wheel-drive safari vehicle through the grasslands to see the native flora and fauna of the Kalahari.
Jack's Camp

Days 15-16 - Cape Town, South Africa
Surrounded by Atlantic surf and world-renowned vineyards, Cape Town is a stylish outpost at the edge of the earth. Ride a cable car to the summit of Table Mountain for panoramic views. Fly by helicopter to the Cape of Good Hope, taking in the rugged landscapes on your way to the end of the continent. Get up close and personal with African penguins on Boulders Beach. Or board a private boat for Robben Island, where Nelson Mandela was imprisoned.
One & Only Cape Town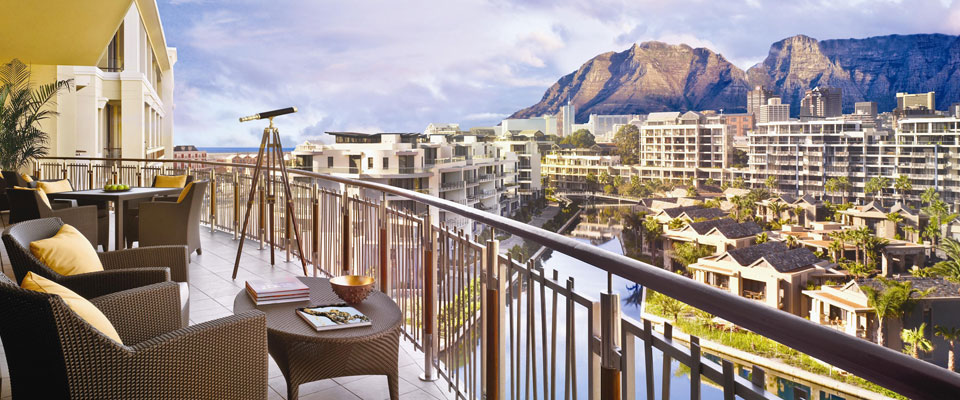 Days 17-18 - Marrakech, Morocco 

The first imperial city of Morocco, Marrakech lies in the Haouz plain at the foot of the Atlas Mountains. Discover Jemaa el-Fna Square at the heart of the Marrakech medina, an ancient walled quarter filled with narrow, maze-like streets crowded with merchants, fire-eaters, snake charmers, musicians and entertainers. Stroll through the dreamlike landscapes of the Jardin Majorelle. Alternatively, trek into the Atlas Mountains to visit a Berber village. On your last evening in Marrakech, gather for a festive farewell dinner.
The Royal Mansour
Days 19-20 - London, England // Home
Enjoy a farewell dinner and a good night's rest before returning on your independent flight home. If time permits, enjoy a stroll through neighboring Hyde Park with its sprawling meadows and Serpentine Lake. While there, head to Primrose Hill to admire some of the best views of the city.
Four Seasons Hotel London at Park Lane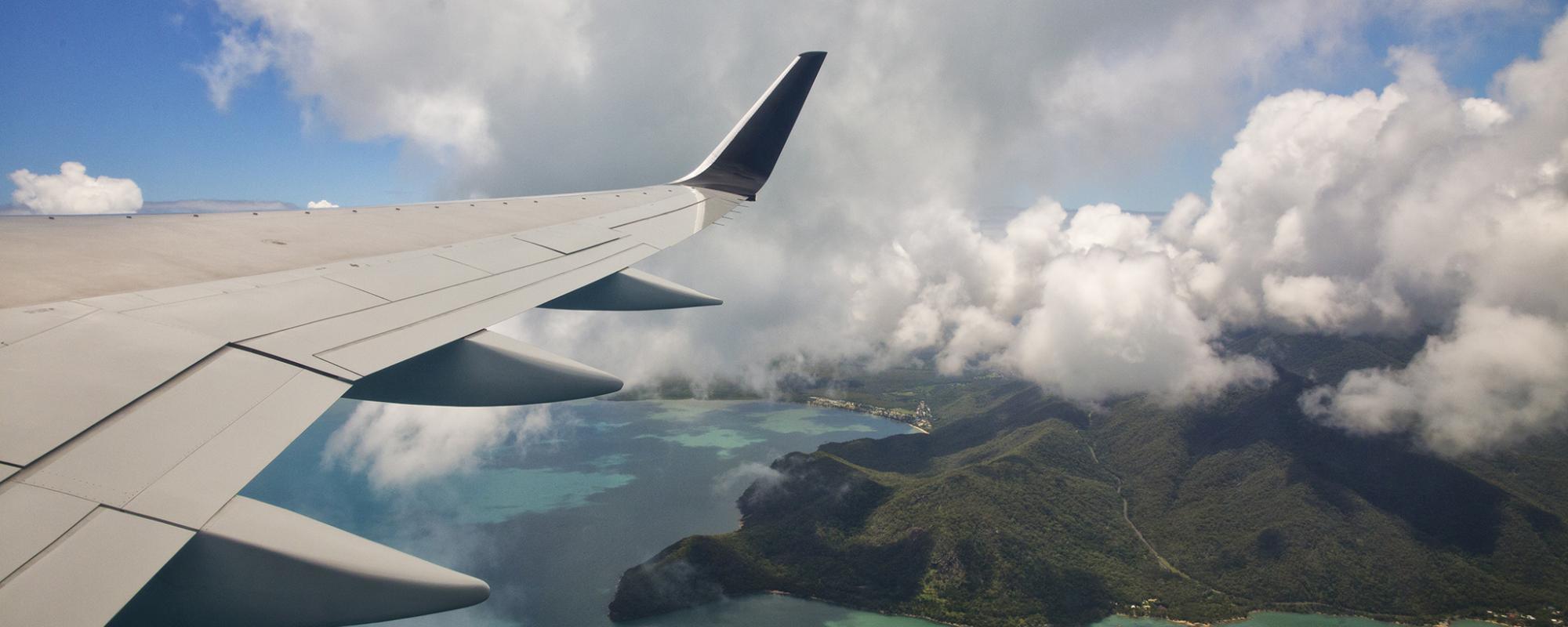 The new TCS World Travel Private Jet. Italian-leather, 180-degree flatbed seats. 52 guests - versus 239 seats on a commercial Boeing 757. Highly personalized service. Enjoy highly personalized service throughout your journey. Our experienced team facilitates all airport formalities and you never have to worry about your luggage - it just shows up in your room. Private jet tours remove the hassle from travel. Let us take care of the details so you can enjoy the journey. PREPARE TO BE SPOILED. Throughout your journey, you'll have an experienced, dedicated flight crew and Four Seasons-trained cabin staff at your service. Your flight manager possesses a sixth sense about personalizing your journey, while every member of your cabin crew makes each flight a remarkable travel experience. Our Executive Chef prepares your exclusive in-flight menus with only the freshest and finest ingredients. All you have to do is relax and savor one of the finest in-flight experiences in the world.
Call 800-757-6422 for best pricing and details.