Sri Lanka - the Island Nation just south of India
Welcome to the romance of SRI LANKA - an enchanting seaside holiday with a dash of delightful history and a big splash of cultural spice! Formerly Ceylon and before this, the isle of Serendipity, Sri Lanka dwells in the Indian Ocean. Famous for its ancient Buddhist sites and tea plantations, its biodiversity ranges from rainforest and arid plains to lush highlands and spectacular sandy beaches. Sri Lanka is about the size of Ireland - 17.4 miles off the southeastern shore of India with a population of some 20 million.

SAMPLE ITINERARY:
Day 1:  Depart U.S. 
Day 2:  Arrive Colombo CMB, where your private English-speaking driver will be waiting to whisk you away to the utterly charming and exotic Reef Villa & Spa where you will restore body and soul, relish in the exquisite beauty of the environment, and stroll along Wadduwa's palm-fringed beach. Welcome to the romance of Sri Lanka!
Days 3-4-5:  WADDUWA
For the next 3 days, revitalize on one of southwestern Sri Lanka's utterly magnificent beaches. Reef Villa & Spa is a truly spectacular villa, set in three acres of exotic tropical gardens with pavilions and reflection pools. The villa features seven unique, exclusive suites with antique four-poster canopy beds and high ceilings lined with Kerala terracotta tiles. Furnished with a combination of Colonial antiques and crafted items of Indian origin, the flooring throughout consists of Bharat hand-crafted colored tiles, beautiful and cool underfoot. Bathrooms are luxurious with free-standing hand-carved bath tubs, twin carved granite vanity basins, rain showers with polished granite screens, and stunning Venetian style mirrors. The suites, named after flowers indigenous to the island, feature shaded and spacious Burma teak verandahs with comfy chairs and Indian antique swings for private dining and relaxation.
HISTORY:  When the British voyaged to exotic and distant lands in the colonial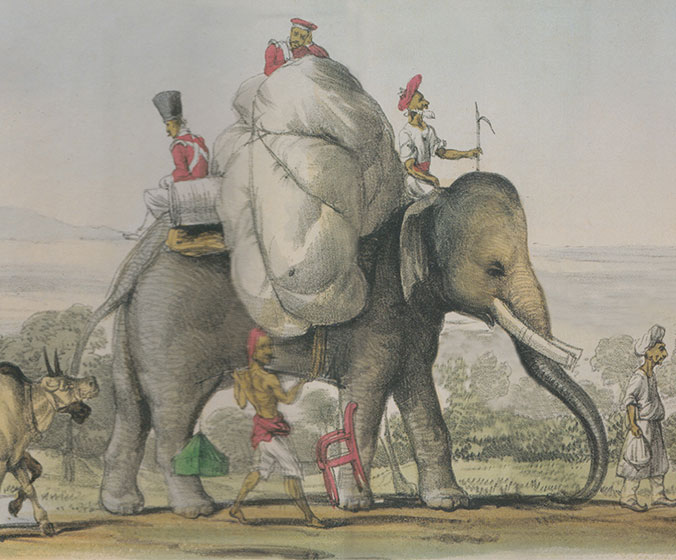 era, they desired all the comforts of home on the high seas as well as in their new residence abroad. This led them to commission the finest craftsmen to make impressive pieces of furniture by equipping themselves with portable desks, chairs, sofas, bedroom suites and punkah fans. Furniture pieces folded down ready for travel. Shining teak and brass desks, mahogany almirahs and magnificently carved four-poster beds could all be disassembled, packed up and carried on the backs of elephants. But regardless of whether the officers were sent to the jungles of India or the tea plantations of Ceylon, the mahogany dining table and chairs had to come along, not to mention the beds, bookcases, desks and gaming tables. Those items had to be relatively easy to break down and move, since the grand pianos, harps and cases of sherry and port certainly weren't. Today, long after the sun has finally set on the British Empire, the romance and elegance continues and flourishes at Reef where we transport you back, reminiscent of the days of the East India Company and the British Raj, where antique ceiling fans stir lazily in the heat, wicker chairs nestle among palm trees, and striped shadows of light made by louvered doors lie gently on shaded verandas. These elegant suites offer timeless elegance and luxurious comfort. The magnificent British campaign furniture, Bharat hand crafted colored floor tiles, antique four-poster beds and ceiling punkahs all magically transport you back to days of the Raj. The Reef's Ayurveda Spa offers a gentle introduction to Ayurveda, and this is offered in a luxurious setting where you will discover your very own oasis of enchanting tranquility.
Reef Villa & Spa | B
Day 6:  CULTURAL TRIANGLE
Second only to Sinhalese and Tamil, English is fluently spoken in Sri Lanka by approximately 10% of the population, and widely used for official and commercial purposes. It is the native language of approximately 74,000 people, mainly in urban areas. The languages spoken on the island nation are deeply influenced by the languages of neighboring India. This morning, your English-speaking driver will meet you for transfer to Colombo City Waters Edge to meet your short flight (45 min) to Sigiriya, where your next driver-guide will greet you. As it's still early morning, you will have ample time to make several significant sightseeing stops along the way to Ulagalla, where you will spend the evening.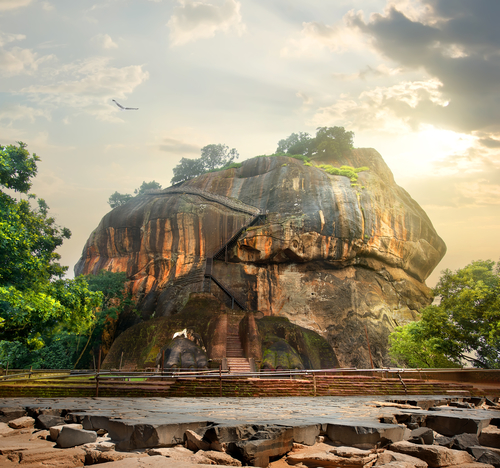 En route, explore the World Heritage Sites of the 5th century dynastic wonders: the Sigiriya Rock Fortress and the Dambulla Cave Temple - archetypes of lost cities cut out of the jungle and a pinnacle of Buddhist art. This is the cradle from which Theravada Buddhism and Sri Lanka's rich Sinhala culture spread throughout the land.

One of the most astonishing sites in Sri Lanka, the Sigiriya Rock Fortress is a massive monolith of red stone rising 600 feet from the green scrub jungle below. Fifteen centuries ago, this rock was the innermost stronghold of a fortified town, crowned by the palace of the mad genius King Kasyapa. On a small plateau about halfway up the side of this rock, King Kasyapa built a gateway in the form of an enormous lion. The name Sīhāgiri translates Lion Rock. Though the palace no longer exists, the paws of the great lion - which guarded the entrance to the summit - are still intact. A moat, rampart, and extensive gardens including the renowned water gardens, ring the base of the rock. The world-celebrated frescoes - the "Heavenly Maidens" of Sigiriya - painted in earth pigments on plaster, can be seen in a sheltered pocket of the rock approached by a spiral stairway. Sigiriya today is a UNESCO listed World Heritage Site and one of the best preserved examples of ancient urban planning.
Driving on to the Dambulla Cave Temple, Dambulla is also a UNESCO World Heritage site and the most impressive of Sri Lanka's cave temples. The cave complex houses more than 21,500 square feet of painted walls and ceilings and over 150 images of the Buddha. The largest is a colossal figure of the Buddha carved out of rock spanning 46 feet. There are five separate caves, and the largest cave dates from the 1st-2nd century BC. The paintings on the ceiling so closely follow the natural folds of the rock that many mistake the surface to be of cloth.
Arrive this afternoon at Ulagalla – your luxury oasis for the evening. Once the ancestral estate of local nobility; this hotel 28 km south of Anuradhapura features a 150-year-old mansion at its center, with 20 private ecologically-built villas spread across 58 acres of lush greenery. With its own solar farm generating half its energy requirements, this ecologically-sustainable resort is truly a unique boutique hotel. Each of the 20 "chalets" at Ulagalla is over 850 square feet in size equipped with high-end entertainment systems and private plunge pools. All offer glass-walled panoramic views of the scenic, unspoiled, natural paradise filled with bird and animal life. Each chalet is a sanctuary in which to hide yourself away from the cares of the world and to be treated like royalty.
Ulagalla | B - D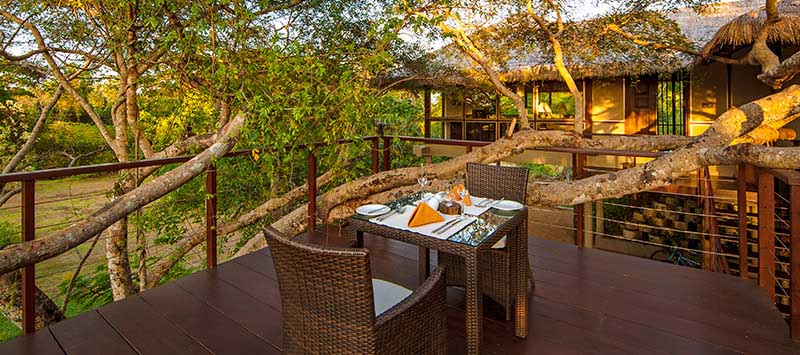 Day 7:  KANDY 
This morning, continue on to Kandy, set on a majestic lake encircled by
lush green hills. Kandy was the last capital of the venerated 16th-century Kandyan Kings, who fiercely and successfully defended their kingdom against Portuguese and Dutch invaders for 300 years until it eventually fell to the British in 1815. Despite British rule, Kandy has maintained its position as the Sinhalese cultural epicenter and important spiritual pilgrimage for Buddhists. Many of the legends, traditions, and folklore are still lovingly kept alive here. While in Kandy, you'll have the chance to explore the most revered Sri Dalada Maligawa, also known as the Temple of the Sacred Tooth Relic. Sri Lankan Buddhists believe that they must make at least one spiritual pilgrimage here during their lifetime.
En route to The Kandy House, your haven for this evening, visit the delightful Ceylon Tea Museum. Until the 1860's the main crop produced on the island of Sri Lanka, then Ceylon, was coffee. But in 1869, a coffee-rust fungus killed most of the coffee plants and estate owners had to diversify into other crops in order to avoid total ruin. The owners of Loolecondera Estate had been interested in tea since the late 1850's and in 1866, James Taylor, a recently arrived Scot, was selected to be in charge of the first sowing of tea seeds in 1867 on 19 acres of land. Using his bungalow verandah as the factory and rolling the leaf by hand on tables, Scot made some initial experiments. His first teas were sold locally and were declared delicious. By 1872, Taylor had a fully equipped factory and, in 1873, his first quality teas were sold for a very good price at the London auction. Between 1873 and 1880, production rose, and the first vessel recorded as carrying Ceylon tea to England was the steam-ship 'Duke Argyll' in 1877. Rapid expansion of the Ceylon's tea industry in the 1870s and '80s brought a good deal of interest from the large British companies, which took over many of the small estates. Four estates were purchased by a grocer whose name is almost a synonym for tea: Thomas J. Lipton … and the rest is history. The Ceylon Tea Museum at Hantane, 3 km from Kandy city, consists of four floors. The ground floor and second floor exhibit very old items of machinery, and the first floor consists of a library. The third floor is allocated to tea sales outlets where a selection of Sri Lanka's fine tea is available, and the entire top floor is a tea cafe. A panoramic view of the Kandy town surrounded by the beautiful Hunasgiriya, Knuckles Range and the Matale Range of hills can be viewed through a telescope mounted on the fourth floor.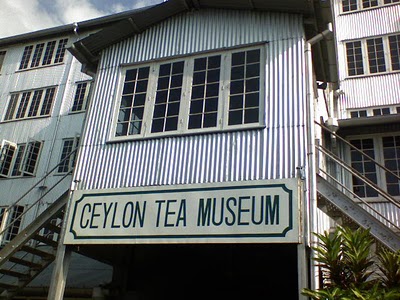 Arrive this afternoon at The Kandy House, an ancestral manor house hotel built in 1804, rich in history and exquisitely restored. Its nine rooms are named after Butterflies which thrive in Sri Lanka, and are styled individually incorporating local fabrics and elegant furniture of various generations. Relax this evening in the serenity of the gardens, where a stunning infinity pool has been landscaped into the hillside overlooking the rice paddy fields.
The Kandy House | B

Days 8-9:  TEA COUNTRY 
Today, head into hill country. The three-hour drive to Hatton is filled with the most dramatic and enchanting scenery in Sri Lanka, climbing its way through bright green hills blanketed in tea, lush valleys, misty mountains, and rushing waterfalls. You'll also catch your first glimpse of the 7,360-foot Adam's Peak, Sri Lanka's most holy mountain and spiritual pilgrimage for Buddhists, Muslims, and Christians alike. You'll begin to feel the distinct and pleasurable change in temperature as you slowly ascend toward your final destination. Nestled into the heart of tea country, you'll find the 5 unique, classic colonial bungalows of Ceylon Tea Trails. These secluded Relais & Chateaux bungalows were home to the British tea estate managers. They have been meticulously restored and are elegantly appointed, set amidst colorful gardens and stone pathways. Upon arrival, you'll be welcomed with high tea and homemade scones on the veranda, where you can relax and enjoy magnificent views.
Your home for the next two nights serves as an ideal base for exploring the surrounding area. You may choose to trek through the endless maze of tea trails, watching the plantations come to life: pickers diligently at work filling their large wooden baskets full of bright green tea leaves, children holding hands on their way to school, devotees praying at the small Hindu temples that dot the landscape. You'll also have the opportunity to visit a working tea factory to observe the entire manufacturing process and taste the final product. In the evenings, you'll be treated to delectable feasts of Sri Lankan and British-inspired cuisine, followed by a glass of port by a roaring fire.
Ceylon Tea Trails | B - High Tea - D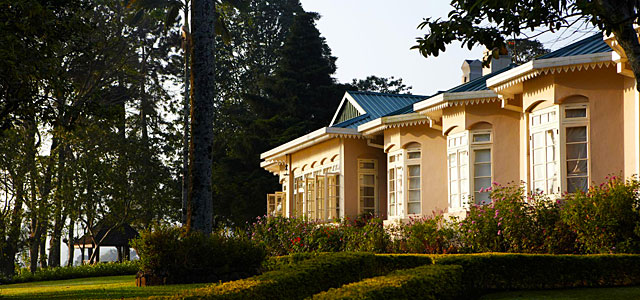 Days 10-11:  GALLE

Your driver will meet you at 7:15am for transfer to Castlereagh Resevoir – Hatton where you will board a sea plane bound for Koggala Lagoon. The tea plantations and tropical jungle gradually give way to the sparkling palm-fringed coastline of the Indian Ocean. At Koggala, another driver will meet you to drive you on to the colonial fort town of Galle, situated at the southwestern tip of Sri Lanka. As you pass through the imposing fort gates, you are instantly transported to the erstwhile colonial era. Galle is the country's oldest living city and has a unique fusion of European and Arabic cultural and architectural influences. It rose to prominence as a port of call for Chinese, Persian, Arab, and Indian traders, later followed by Portuguese, Dutch, and British colonialists, all leaving their indelible mark on this enchanting seaside town. Spend your time leisurely exploring within the crumbling fort walls of the Old City. The 16th-century Galle Fort is a World Heritage Site. Spanning more than 90 acres, it is Asia's best preserved and largest surviving fort built by European occupiers.
The best way to soak up the charm of the Old City is by taking a stroll around the thick granite walls of the fort. This one-hour circuit is most enjoyable at sunrise and sunset as the air is cool and the light is long and low. The real allure of the Old City is found in simply wandering through its warren of narrow alleys and side streets, replete with colonial homes with original archways and verandas still in use every afternoon, 18th-century churches, mosques, museums, and impressive art galleries. The daily "passeggiata" on the Fort's Ramparts takes place in the late afternoon, just as the sun begins to set. An opportunity for the community to gather and catch up on the happenings of the day, this centuries-old ritual is best begun from the lighthouse, walking clockwise around the temple.
Home-base yourself for the next two days at Amangalla.
A stately grande dame in the city of Galle, Amangalla has the period charm of a bygone era. Built in 1684, the historic edifice retains its heritage in every architectural and decorative detail. Set within Galle Fort's historic walls, Amangalla is part of Sri Lanka's living heritage, imbued with colonial gentility and contemporary energy. Polished teak floorboards date back to the building's origins, and the interiors are decorated with antiques that span centuries. The windows look out over the 36-hectare hexagonal stone fort, the Fort's quaint lanes and ramparts, and the hotel's 200-year-old gardens. Set within its ramparts, Amangalla is an integral part of the UNESCO World Heritage Site. Centered within Amangalla's gardens and bordering the 21-meter pool, the Pool Courtyard contains five shaded pavilions on one side and a number of sunloungers shaded by palm trees on the other. For a delightful afternoon, poolside service is provided and light meals and snacks are available. Perhaps one afternoon you will want to shop for a brilliant Ceylon Sapphire. These are mined locally in the gem fields of Sri Lanka. 
Amangalla | B - Afternoon Tea
Days 12-13-14:  WELIGAMA
This morning, a 30-minute coastal drive brings us to the southernmost tip
of Sri Lanka. The name Weligama, literally means "sandy village" which refers to the area's sand-swept bay. The area is also famous for its distinct stilt fishermen, who erect a single pole in the chest-deep water on the beach, just few meters off-shore, and perching on a cross bar and using bamboo fishing rods, they cast their lines out beyond the surf break to catch small fish. Emerald and sapphire hues adorn Weligama's curvaceous coast. It is here in this dramatic setting where you will reside for the remaining few days of your journey.
Cape Weligama, a Relais & Chateaux luxury resort, is nestled into the natural slopes of Weligama's headland. The resort features a collection of private villas and suites, each with butler service, and each room is named for a distinguished explorer or writer whose historic Ceylon journey captures the spirit of Cape Weligama. Cape Weligama boasts what is likely the best infinity pool in Sri Lanka! A breathtaking crescent-shaped Moon Pool, curving 60 meters around the cape's summit, drinks in every inch of the spectacular 270-degree coastal views.

Aside from a myriad of water sports, Cape Weligama's luxury catamaran redefines whale watching, taking you beyond the bay area to open waters to witness Blue Whales, Sperm Whales and Dolphins. Away from the idyllic coastline, explore Sri Lanka's lush rural hinterland of sleepy villages, paddy fields, meandering lagoons and ancient temples by a guided bicycle ride. Best of all, opt to have a "spa day" at the resort's dedicated Spa Villa. Organic homegrown Sri Lankan spice scrubs made from clove, nutmeg, sweet orange and sandalwood relieve stress and naturally attend to travel weary muscles.
Cape Weligama | B - High Tea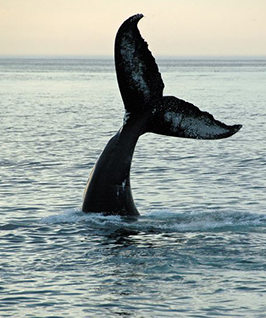 Days 15-16:  COLOMBO
This morning your driver will meet you for the trip up the southwestern coastline of the island to the city of Colombo. Upon arrival in Sri Lanka's, capital city, you will find yourself nestled between leafy Park Street and the lakeside Buddhist shrine of Gangarama at Residence by Uga Escapes. Residence is among the most unique boutique hotels in Colombo. Built in the nineteenth century by a wealthy barrister, Sheikh Salehboy Moosajee, the halls and ballrooms of this grand Victorian townhouse once welcomed British governors, Indian maharajas, European nobility and the cream of the colonial Ceylon society. Its great halls, expansive gardens and stables were designed to host receptions and entertain guests on a grand scale. This urban delight, quietly tucked away in the midst of this bustling city, is a haven of tranquility boasting eleven unique suites. 
Enjoy the remainder of the afternoon and this evening at the Residence and in the city of Colombo. There are plenty of things to do in Colombo. This typically cosmopolitan Asian port city offers stylish contemporary eateries, galleries and museums. Surprises abound in its old quarters, many of them recently renovated, where you can find great local food, discover colorful shops, or rest travel-weary feet in a tiny, convivial cafe.
Residence by Uga Escapes | B - D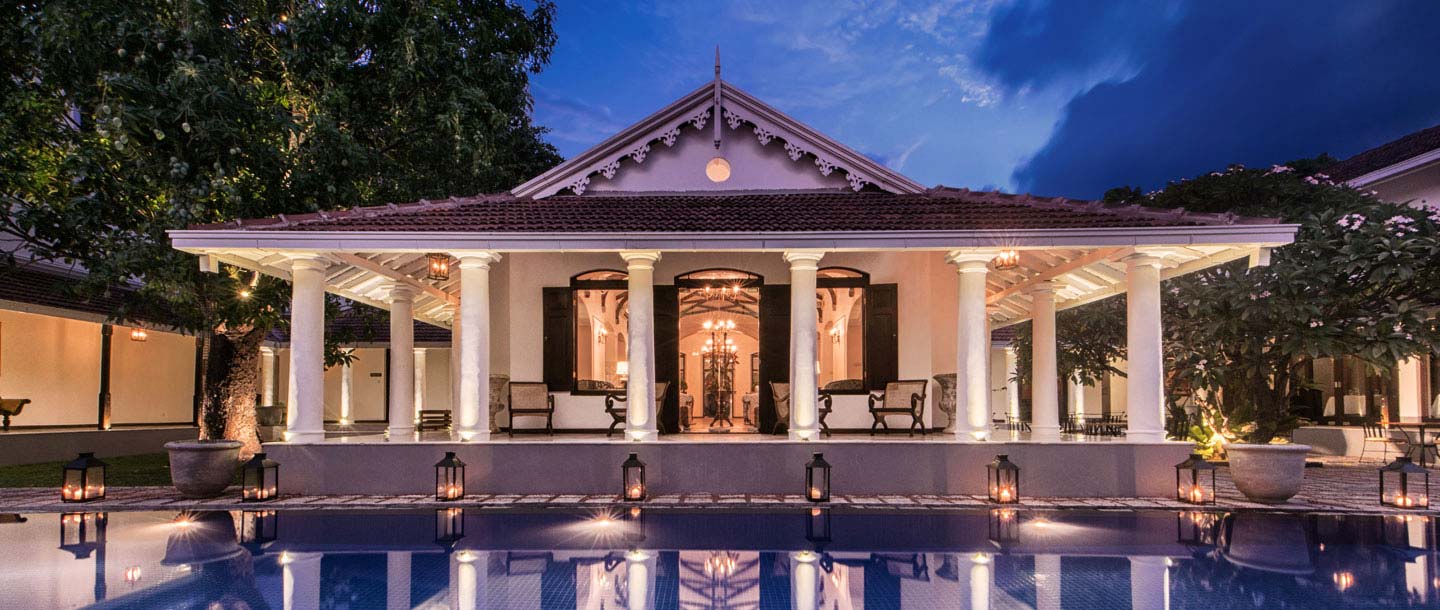 Day 16:  Depart CMB
Following dinner this evening, your driver will meet you at the Residence for transfer to CMB/Colombo international airport, where you will check in for your flight homeward bound.
A Fond Farewell - Samugænīmē - to the Land of Serendip!